Hello There Mama Bear,
Before you read on about if cloth diapering is the right choice for you, I would just like to introduce and thank the guest author of this post… Teresa who is a good friend of mine. She has been through some of life's ups and downs with me and I am happy to have her be able to share her knowledge and experience with the readers here. And without further adieu time to learn some valuable insight on cloth diapering. 🙂
Cheers,
Kacey
*Disclaimer: There are Amazon affiliate links on this page. When you make a purchase through these links, you support the site and all the work I continue to do. To all my supporters, thank you for your contribution! For more information, read Disclosure and Disclaimer and read the Privacy Policy.

First of all, let me come clean, I would not be using cloth diapers if my husband had not been so for it!
I grew up with disposables and was not really interested in washing dirty diapers. However, he grew up with cloth diapers and thought they were more hygienic AND was willing to do the extra loads of laundry himself.
Now that I have used cloth with two kids, I recommend them too, but I'm also a realist! Below is a summary of my experiences cloth diapering-the good, the bad, and the ugly!
What I Love About Cloth Diapers:
The fact is that you're not filling a landfill with thousands of plastic diapers.
There are no chemicals on your baby's skin. You are saving money.
That it keeps the baby more aware of when they've gone to the bathroom.
And last but definitely not least, you rarely if ever have to clean poop off your baby outside of the diapered area!
What I Don't Love So Much About Cloth Diapers
Cloth diapers are bulkier.
That you have to spray poopy diapers when the baby is eating solid food.
The extra loads of laundry!
I have included this handy dandy table with the pros and cons of cloth diapering to make an easy to read visual.
| | |
| --- | --- |
| Pros | Cons |
| Save money | More work to put on |
| Greener for the environment | Bulkier |
| Keep baby more aware of their elimination | Necessary accessories such as sprayer |
| No chemicals | Extra loads of laundry |
| Less diaper "blowouts" | Must change the baby every two hours |
Details, Details!
Here are a few things I think everyone should know going into cloth diapering, and if you're on the fence, it may help you decide.
I have to say, "They're harder to use!"
A typical cloth diaper has two parts, the cloth part which absorbs and the waterproof cover which keeps everything in. Although there are many designs and systems, they will all have these components.
The easiest way to look at the array of styles is that the economical types require a bit more wrangling to put on, and the expensive types are more convenient.
So you can pay more and get an easier-to-use style. We chose the least expensive type as a big part of our decision to use cloth was to save money.
Putting a cloth diaper on a baby involves enveloping their bum in the absorbent insert, fastening it, and then closing the cover over the top.
I would say putting a cloth diaper on is the same amount of work as putting on two disposable diapers.
However, "It saved me moolah!"
Using cloth can save you money.
Usually when you're told all about the savings they are assuming you are air drying the diapers. Using a dryer significantly eats into the savings.
Although, because you can use the diapers on the next child you have, diapering the following child/children (depending on how long the cloth diapers last!) is essentially free. We are cloth-diapering our second child in our first cloth diapers.
Some of the absorbent pieces will need to be replaced by the time she's potty trained, but in general everything is holding up well considering it's washed twice a week.
You may be wondering…"So you just put poopy diapers in your washing machine?"
When your baby is newborn and not eating solids, the diapers require a cold rinse before a hot wash in the washing machine with a specific laundry detergent.
When your baby starts to eat solid food, you will need to put anything solid in the toilet before you can wash the diapers in the washing machine.
So, installing a sprayer on your toilet is a good idea. We wash our diapers every three days, there are enough diapers to get us through that time and the dirty ones don't get too smelly during in this period.
So now you think…"OK, I'm on board, what do I need?"
We chose the most basic cloth diapers, which involve absorbent rectangles of cotton called prefolds and waterproof covers to go over them. Thirty or so prefolds and six or so covers are enough.
You will also need three Snappy's—these are the current replacement for safety pins—much easier to use!
The size system we chose was 0–6 months and then 6 months to potty train. So basically, we bought two complete sets of everything, one in each size.
The smaller size requires closer to thirty prefolds and about eight covers just because newborn babies need changing so often.
Another thing to know is that as your baby grows from newborn to infant and then beyond, they will stop pooping at night (if you're an expectant parent, yeah, they do this!). Now you don't want to wake them up to change them (because you never wake a sleeping baby!).
So we had a few extra absorbent fitted diapers that we used at night. We used six in the smaller size and three in the larger.
Here's a little table of what you need. It includes links to the brands I've used and recommend. I used my local cloth diaper store for pricing, but you can buy these online or even secondhand to save more moolah.
The company that made the prefolds and infant nighttime diapers I use is going out of business, so I included a link to a comparable brand.
This does not include wipes, which are an additional cost. (We actually do cloth wipes too, but I'll get into that in another post.)
There are other accessories that are needed such as wet/dry bags and a diaper pail etc. etc. but similar products like these are required even if you use disposables so I won't include them here.
Once your baby is eating solid foods, like I mentioned above, a sprayer is necessary. So I've included it here for a more fair price comparison.
If you want a post detailing exactly what you need to begin cloth diapering, please let me know in the comments below!
You may be wondering…"Are you a purist?"
No. There are circumstances for which I do use disposable diapers.
When travelling we use diapers we can toss so we don't have to worry about having the right detergent etc.
And when our children got to a certain age, they both drank a lot of milk during the night. This meant they peed a lot and rather than have them sitting in a wet cloth diaper for that length of time, we opt to keep them in an extra absorbent disposable.
(Side note: there are ways to use cloth at night if you really want to do that and sometimes even an overnight disposable can't hold all the liquid!)
My experience… "On Bulky and Blowouts"
Avoiding a blowout may or may not seem like that big a deal to you. But let me just describe one for the uninitiated moms-to-be among us.
A blowout is where your bundle of joy poops, but instead of the diaper containing the poop, it leaks. On the leg, up the back, maybe far up the back, even into baby's hair.
And then let's say the baby was sitting in their car seat when said blowout happened or maybe their rocker and now that's been blown out too.
In talking with other mothers, I've found these to be fairly common in disposables just because they're not as sturdy as cloth diapers. The two-part construction of a cloth diaper, especially the gussets on the leg and waist of the cover, means that I've maybe had one minor blow out (more of a leak really) for each child. Thanks to God and cloth diapers, I've never had to wash my car seat due to a poopy diaper.
One last note is that for many people, myself included, cloth diapers seem bulky. This is especially true because you come home from the hospital having been given a bunch of newborn Pampers. When you put the cloth diapers on it feels like your baby has a huge bum!
After a day or two you get used to seeing that larger booty. Then later when your child is toddling around and falling on their bum the extra padding seems like a good idea after all!
"All the pretty colors!"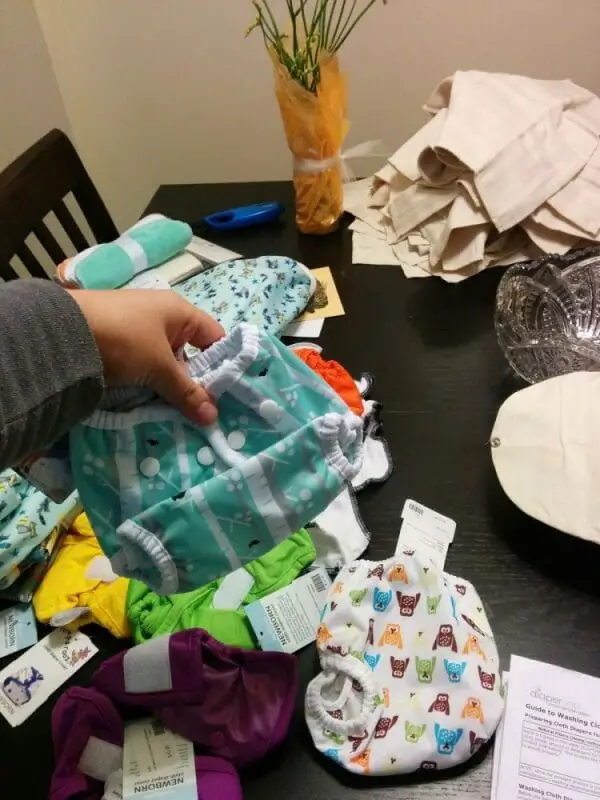 And now for the fun part! That is all the super cute and fun patterns you can get cloth diapers in!
This part is a bonus to me but I do know a mother who used the bright patterns as a way to convince her diaper-change- resistant toddler to embrace the change!!
Another cool thing is being able to buy locally produced or handmade cloth diapers made by moms and entrepreneurs like this one: Red Barn Cloth Diapers. 
I have purchased some of these diapers too and they're still good as new two kids later.
So there you have it! Congrats on making it this far! This was by no means an exhaustive (although perhaps exhausting) post on the subject.
So let me know in the comments if you want more details on anything that was mentioned above.
One day at a time!
Teresa