Description Of Journal
This is a riding lesson journal with attention to detail. Track your lessons, your riding progress, details of the barn, your instructor, the horses you ride, lesson expenses and much more!
Over 60 different pages, you can print out again and again. You and pick and choose the pages you want to make a customized riding lesson journal.
Do you get discouraged when you feel like you aren't improving, or your riding is getting worse in your lessons?
Would you be encouraged if you could see and be aware of the progress and improvements you are making in your riding?
Do you have trouble remembering aspects of your riding lessons like pieces just slip from your mind?
Would you like to be able to remember and better absorb what you work on and learn from your riding lessons?
Do your riding goals seem far away with no clear plan for how to make them happen?
Would you like to break down your riding goals into logical doable steps?
Do you want to get more out of the money you spend on your riding lessons?
This is the perfect companion to accompany your horseback riding lessons!
This 60+ page printable riding lesson binder will help get you where you want to go in your riding, in an organized way, so you can be encouraged by your progress, better absorb what you learn in your lessons, improve faster in your lessons, have a roadmap to reach your goals, and much more.
Pages Included In Journal
5 Cover Options
Binder Belongs To Page
Binder Spines For Different Sized Binders
7 Printable Inspirational Wall Art
My Riding Lesson Page Divider
About Me Page
Barn Information Page
Riding Instructor Profile Page
Lesson Horse Profile- 2 Pages
Crushing My Goals Page Divider
Riding Yearly Goals Page
Riding Mini-Goals
Riding Micro Goals
Monthly Photos Page Divider
Monthly Riding Photos Page
My Riding Lesson Journal Page Divider
Riding Lesson Tracker
Rider Evaluation Chart
Horse Evaluation Chart
A-Ha Moment Tracker
Improvement Tracker
Lesson Mood Tracker
Quick Lesson Review
Lesson Notes
4 Pages of Lesson Review
My Lesson Homework Page Divider
Homework Sheet
Riding Exercise Vault Page Divider
Riding Exercise Table Of Contents
Riding Exercise Record Sheet
Equestrian Milestone Page Divider Sheet
4 Pages of Riding Milestones
2 Pages of Off Horse Milestones
My Riding Gear Page Divider
Inventory of Riding Gear
Riding Outfit Planner
Equestrian Love It List
Equestrian Gear Wish List
Equestrian Expenses Page Divider
Lesson Payments Tracker
Equestrian Expenses
Savings Goal Tracker
Calendar Printable Sticker Designs
Monthly Calendar Page
And there is a guide to go along with the pages, which I provide a link to in this PDF.
Images Of Binder Pages
I have included just a handful of visual page examples from the many pages included in this binder.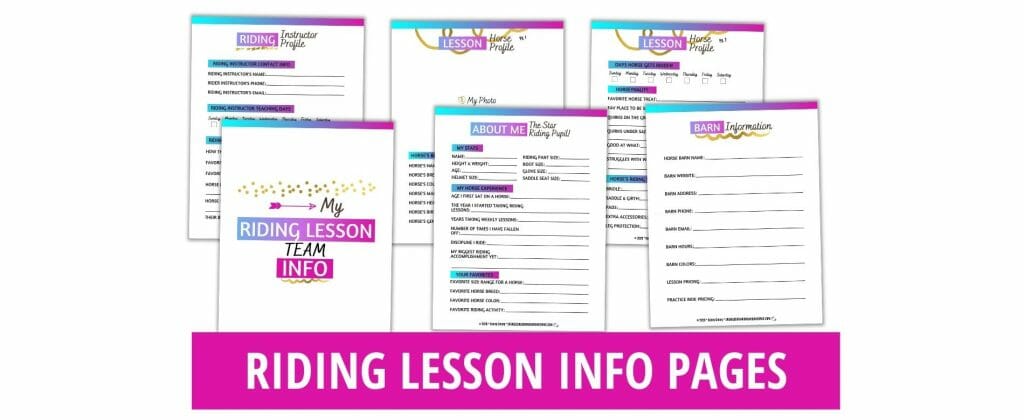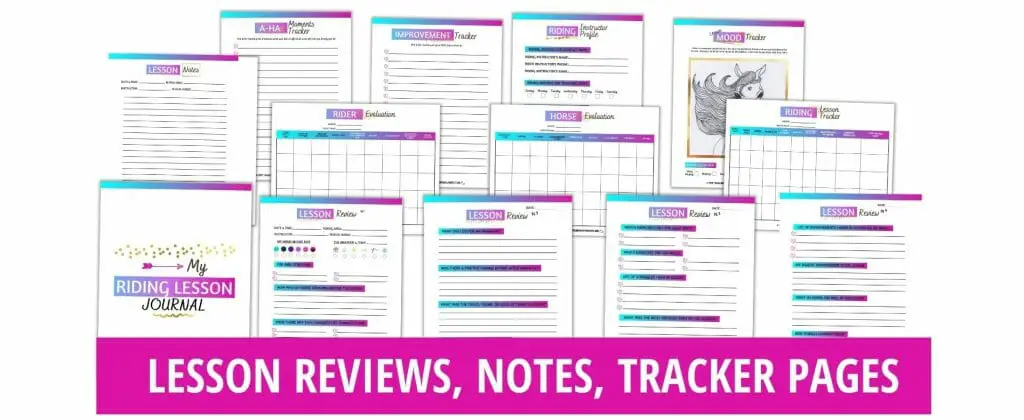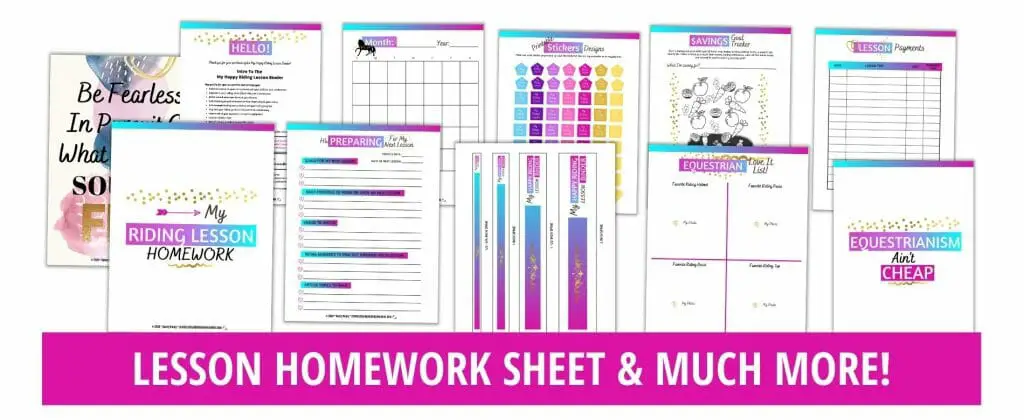 Why You Should Buy This Riding Lesson Binder
This journal is suitable whether you own, lease a horse or you just take weekly riding lessons.
However, this journal is completely lesson-focused! So if you are looking for a riding journal or planner where you are riding on your own. This is not for you. But I am creating a future binder for that purpose.
The My Happy Riding Lesson Binder will totally organize all aspects of your horseback riding hobby.
Benefits of the My Happy Riding Lesson Binder: 
better absorb what you learn in your lessons
become a better rider and progress faster
feel accomplished by being able to see your riding progress and milestones
feel encouraged and motivated to keep improving as a rider and equestrian
become more aware of your riding abilities
become more aware of your riding weaknesses
layout your riding goals so they aren't so intimidating and feel attainable
see patterns in your riding lessons, like cause and effect from the environment and other aspects
keep track of your horse-related spending and budget
keep track of your information pertaining to your barn, lessons, and the horses.
make the most of your riding lessons
feel all happy, put a smile on your face, and much more!
You can pick and choose the pages you want to print and refer to the table of contents for quick reference to the page numbers.
Supplies You May Want For Your Printable Journal
Being Transparent: If you purchase through the links below I will get a small percentage of the price you pay for qualifying products, with no extra cost to you.
About Buying Digital Product
PDF Instant digital download (nothing will be shipped). The download will pop up in a lightbox after your purchase. You will also be emailed the download to the email you provided.
This product is a DIGITAL DOWNLOAD! Once paid for, you will receive a PDF that you will download onto your computer, and print out yourself. You will not be receiving a physical product!
You can print it out as many times as you like for your own personal use, but don't give it to anyone else. For the original customer's personal use only. You may only make copies for yourself.
Not for resale or distribution in any form, physical or digital. Copyright Kacey Cleary, joyfulequestrian.com.
The file sent is in a PDF format. Many computers already have Adobe Reader on them, but if your laptop, PC, or mobile device doesn't have a PDF reader of some kind on it, you'll need one to view your printable. The most common one is Adobe Reader and it's free. You can download it here.
If you're not able to find the file once it's downloaded, try looking in Downloads under My Computer or use your computer's search with the title of the file for where it could be hiding.
Consider purchasing as a gift for a fellow equestrian who takes riding lessons. When choosing to gift you can create a personalized message and pick a specific delivery date.
The price is set to about the cost of a riding lesson. Of course, it varies where you take riding lessons?
Price: $30.00
Digital download (1 PDF)
I hope you love this riding lesson binder and get good use out of it!
Cheers,
Kacey Cleary