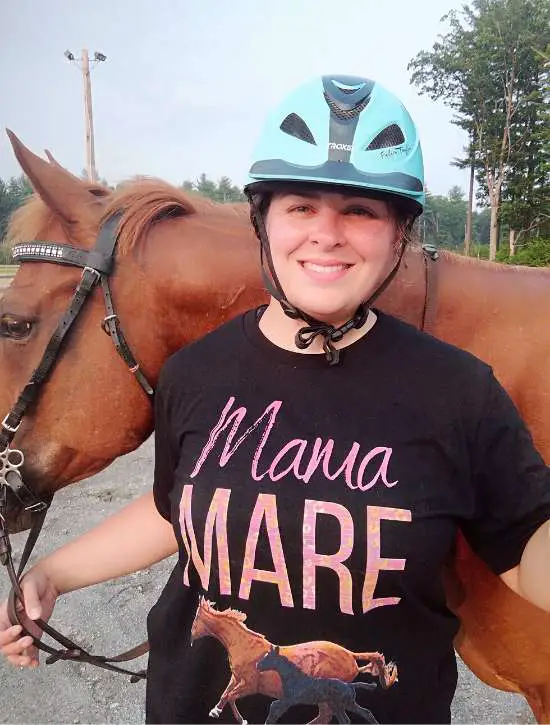 Hi there, my name is Kacey Cleary.
Horses are my passion and have been since I was a young girl.
I love teaching people everything I have learned about horses and riding from over the years and everything I continue to learn, because the learning never stops.
Currently I am a stay at home mom to a busy boy who loves all things, cars, trucks, tractors and vehicles. He is obsessed with these things like I was obsessed with horses. I guess being passionate about something runs in the family. Part of me wishes he loved horses too so we could relate in that way but I don't love him any less for it.
I blog as an outlet to stay connected with horses and the equestrian community. My world once revolved around horses and my career with horses. But after getting married and having my first kid a lot has changed.
Qualifications
A.S. in Equine Industries from University Of Massachusetts Amherst
Instructors License with Massachusetts
Certification With The American Riding Instructors Association- Level 1 Eventing & Dressage
Resident Student At Bascule Eventing Farm
My Riding & Lesson Experience
I have been riding horses for about 24 years.
I took regular weekly and or bi weekly lessons for about thirteen years from when I was 8 years old until I was about 21 years, in hunter jumper, dressage, eventing and natural horsemanship. Since I was 21 I have periodically taken riding lessons for months at a time.
On top of my regular riding lessons as a kid I would work on the weekends in exchange for free riding time. I started doing this when I was 10 years old throughout my teenage years.
I have ridden at many different farms and have learned that every barn is different, instructors are different and you have to learn to adapt to the barn you are at and their ways.
I would usually ride difficult lesson horses that were tired of their jobs or really too green to be lesson horses. Sometimes I wished I had well trained horses to learn on but that wasn't my experience. I like to think that the difficult horses made me a better rider but I think it made it harder and longer for me to learn properly.
I did get the opportunity later in my riding journey to take lessons on an FEI level dressage horse, Grand Prix Jumper, and an Intermediate Level Event horse and the difference in balance, precision and control of the horse is amazing. It feels like riding in a dream.
was in Pony Club for a couple of years but only ever got my D2. Not have the money for showing or a horse to ride for Pony Club made it very difficult back then. You needed your own horse or at least the money to lease one along with all the Pony Club expenses. It was disappointing as I was usually the horse manager not the rider at rallies and I didn't get opportunities to move up in my ratings. So I left after a couple years. However I did get first places as the horse manager and at Quiz Rally.
Riding Instructor Experience
I learned the basics of teaching in college.
I really got started with teaching lessons when I was a resident student at Bascule Farm. Many students came from a Groupon promotion we did. I think we sold about 400 or more. It was a crazy number. But I got a lot of experience from that working with many different students.
I started my first lesson program when I moved back home, at a barn as an independent contractor. I had use of the horses and tack, did my own scheduling and marketing and earned a percentage of the lesson money.
A few years of teaching as an independent contractor I decided to rent a barn nearby my home and start my own boarding and lesson business.
After a couple years I stopped my business due to the property not being an ideal fit with no indoor in New England and horrible hard footing during any cold weather.
Soon after ending my business I got married. During this time I worked at Dover Saddlery warehouse for a short time which reminded me of an equestrian home depot, also worked at an event barn for free lessons, and then started a job soon after as a barn manager at a therapeutic riding farm, eventually becoming both barn manager and a riding instructor.
But after getting pregnant with my son, I decided to leave my job at the end of my pregnancy and become a stay at home mom, with hopes of returning to teach riding lessons again someday.
Horse Training Experience
My first time riding a totally unbroke horse was my cousin's two year old appaloosa named Arizona. I was 10 years old and a green rider myself. Not a good combo. My job was just to sit there and hold on while my cousin lunged me on the horse. Well he tripped in a divot and bucked after. I went flying into the fence and hung on to the fence for a good few seconds before I registered that I flew off.
REST OF THIS PAGE STILL WORK IN PROGRESS! 🙂 My son Colton wants my attention right now. To Be Continued.