Do you hate when you waste your money on a product you thought would be okay but ends up being the wrong size, not being what you wanted or not being as good as you thought? You are here because you are looking to buy riding boots for horseback riding, most likely english boots since I put english equestrian boots in the headline.
If you are interested in western style boots check out my other beginner guide on riding boots which include both english and western riding boots.  What Kind Of Shoes To Wear Horse Riding: A Beginner Rider's Guide
As you probably have figured out equestrian footwear is not cheap. I would know… I have gone through many pairs of boots throughout the years I have been riding.
I understand you want to do research before deciding on which boots are right for you and your budget, so you can make the best possible decision. But that can be difficult when you don't know much about horse riding footwear or what to look for in a good pair. 
Good news: I can help you figure out which riding boots are the right choice for you so you make a smart decision when buying your next pair or your first pair. 
That's right! I am going to guide you along and give you tips to help make your boot shopping experience less of a headache.
Do you like the sound of that? 
Let's get started then!
First of all there are a couple of different boots you may want to consider as an english rider. These are tall boots and short boots.
Tall boots and short boots come in two types. Tall boots can be field boots (laces) or dress boots (no laces). Short boots which are ankle height boots can be paddock boots (come with zipper or laces) or jodphur boots (no laces or zippers.)
Winter fleece lined riding boots are also an option and comes in both tall boots or short boots. Winter boots are a good idea if you are located in an area where it gets cold and you want to keep your toes toasty warm.
When you are looking to buy riding boots you want to make sure they are safe for riding, good quality and fit well. If your boots are leather, expect a breaking in period, where the boots need time to loosen up and become more flexible. Finally, you want to make sure you take good care of your boots so they look smart and last longer.
Let's face it, even with the 3 main points to look for in equestrian footwear, it can be overwhelming trying to figure out and choose which riding boots you should buy with so many options. 
So we will start with a large selection but narrow down our search as we go until you only have a small handful of choices to pick from that will work well for you. I am also going to recommend boots I personally like to use myself if you were wondering what they were.
Bear with me as we go through this process of narrowing down the selection. The first step is figuring out what kind of riding boots you need.

What Kind Of Riding Boots Do You Need?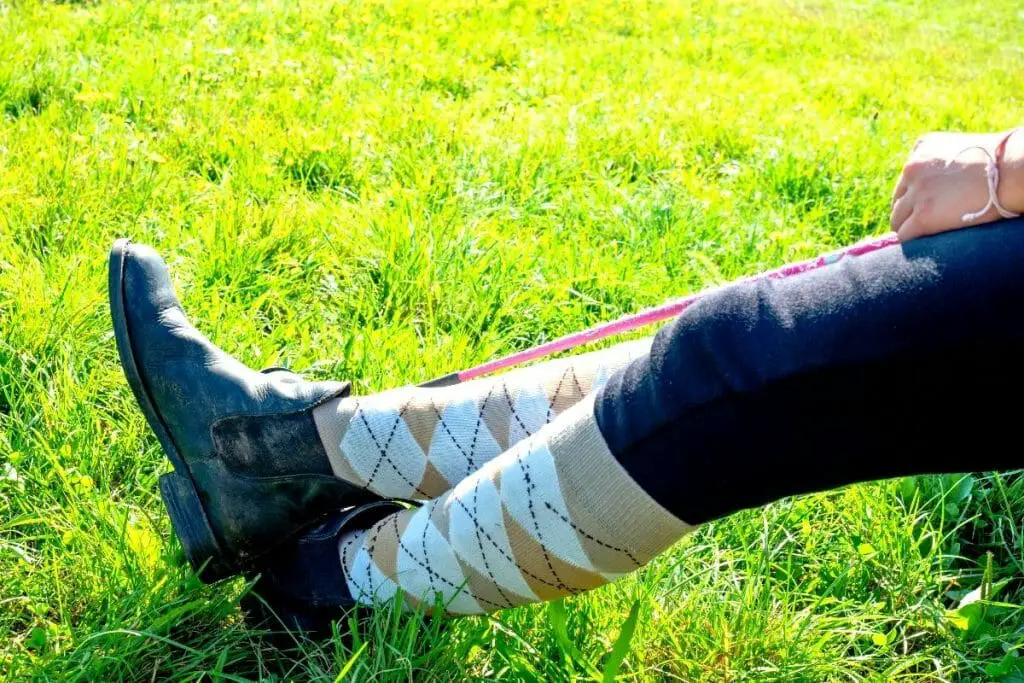 The types of boots you need will depend on what kind of riding you will be doing. Do you plan to compete or just ride recreationally? Check out the bullets below to get a better understanding of the boots you will want to consider.
Riders Under 12 In Competition 
Generally English riders under 12 will wear jodhpur boots with jodhpurs pants which are longer than breeches and usually have a strap that goes under the boots to keep the pants from rising, along with garter straps under the knee.
Jodphur boots are slide-on short boots, unlike paddock boots which have laces or a zipper but look similar. This is most commonly seen in hunter/jumper and equitation riding. In show jumping and eventing tall boots and breeches are more common, unless the rider is very small or young where there are not tall boots small enough.
Jodphur boots are also worn for saddle seat riding.
General Schooling/Lesson Rides
Paddock boots are commonly used for casual riding and rider's usually wear half chaps with them as well. Although there are some riders who prefer to wear tall boots instead, which is fine.
Either paddock boots or tall boots are appropriate. However paddock boots are more commonly worn because they tend to be more comfortable than tall boots.
When showing tall boots must be worn unless the rider is 12 years or younger which they can wear jodhpur boots and garters.
In general dress boots (tall boots without laces) are worn by fox hunting and dressage riders. Although field boots (tall boots with lace closure on the front of the ankles) can also be worn.
Field boots (lace-up boots)are more often worn for eventing, hunter/jumper, and equitation riders.
Again in saddle seat jodhpur boots are worn.
Now that you have gone through this section, think about whether you need tall boots? If you do which kind of tall boots? Or do you need jodphur boots? If you don't need either of these then paddock boots would be a good option.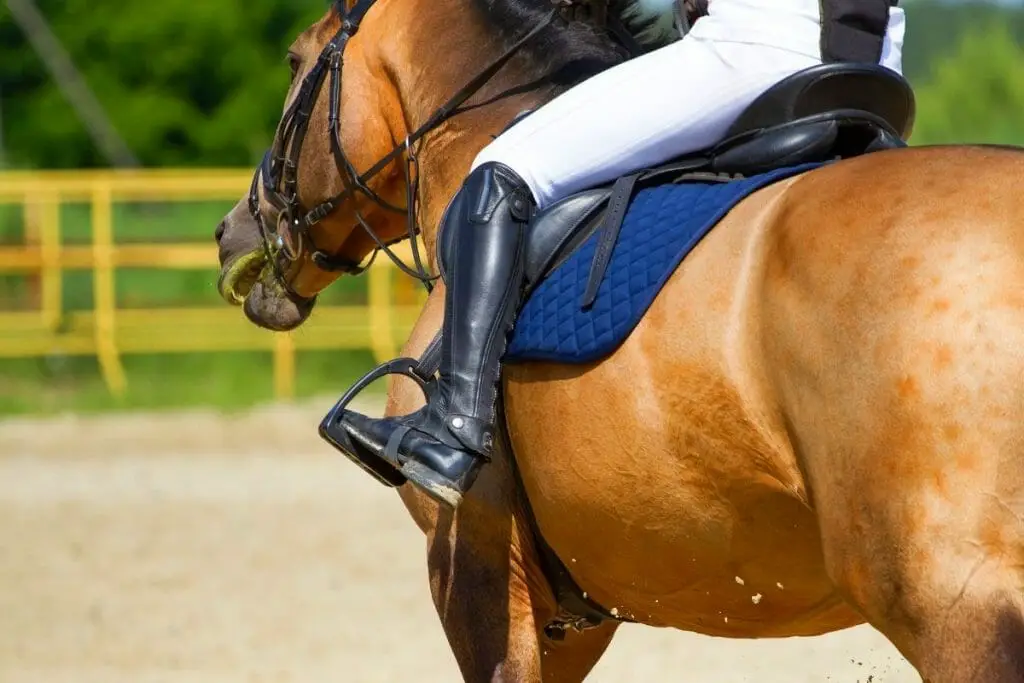 Why paddock boots?:
Easier to put on and take off.
Cool down faster after riding, simply take off half chaps.
Typically more cost effective even with the purchase of half chaps separately.
More comfortable although this can also depend on the brand and quality.
Can be worn without half chaps, on hot days. (Though I get rubs on my calves without half chaps.)
Good now you have narrowed down to either a certain type of tall boots or short boots. Before we continue to cover what to look for when choosing your riding boots, let's go over the basic safety features you want in riding footwear.
Safety Standards For Riding Boots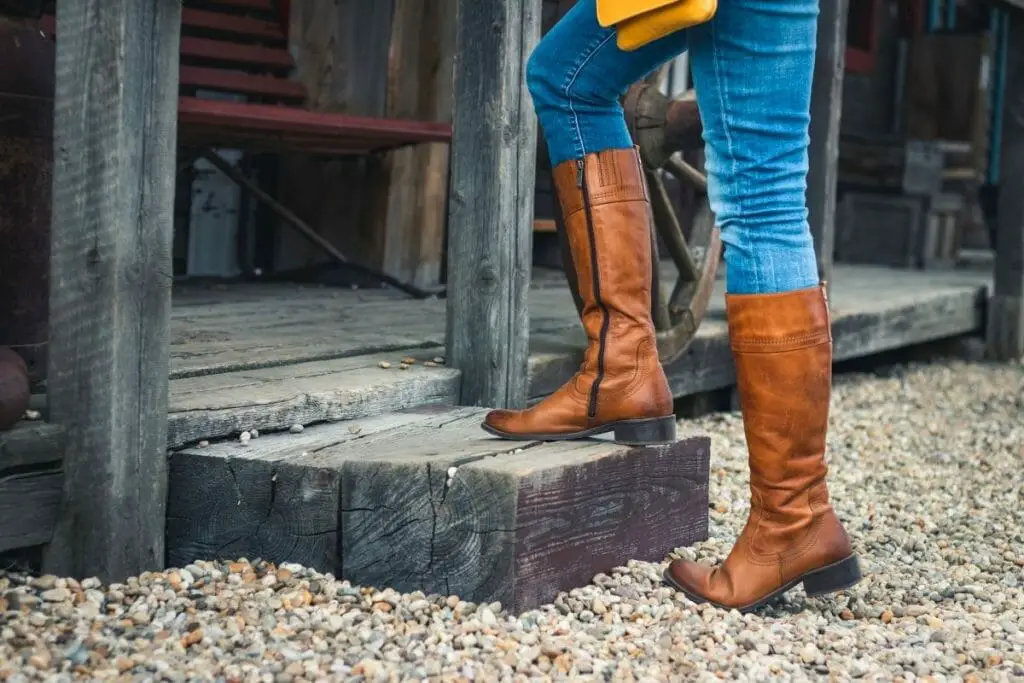 What's the difference between riding boots and regular boots which you see at stores selling footwear? When you buy a riding boot from the tack shop they are designed to offer you stability and safety when riding horses, while regular boots at a department store typically are not.
But what are the key features you want to look for in proper footwear for horse riding?
Fully covered foot and heel.
A defined heel that is 1- 1 1/2 inches high.
Avoid heavy treads. You want fairly smooth soles with small treads. (Regular boots often times have a thicker deeper tread.)
Support over the ankle.
Hard protective toe.
No zipper, buckle, or protrusion on the side that goes against the horse. (Many regular boots have this problem look at the above image.)
Where To Find Riding Boots?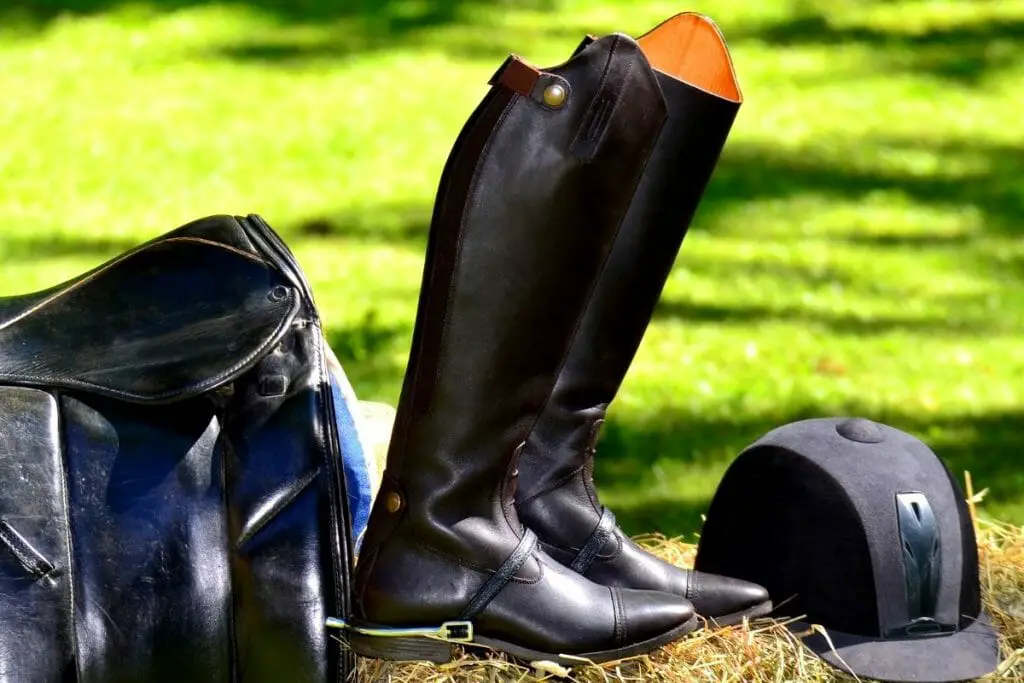 You know the type of boots you want to buy. Now you also know the standards that make footwear safe for riding horses. But where do you find them? Walmart, Kohls, Macy's, Footlocker? These places do not typically carry what you are looking for!
Although I have to admit I did find a pair of boots very similar to paddock boots from Walmart, that I bought when starting out years ago. So it is possible, but they were not intended to be sold as riding boots from Walmart and the ankle support was questionable.
You will find proper riding boots at tack shops which can be brick and morter buildings or online ecommerce stores. You may also find these on Amazon, or Ebay. If you are strapped for extra cash to invest you may be able to find already-owned boots on Facebook Marketplace, Ebay, Craigslist, or sometimes horse rescues will sell used donated equestrian and horse products to raise money.
These are all different places you can find riding boots available. But before going out and buying a pair there is still more to think about before you decide.
Your Boot Buying Budget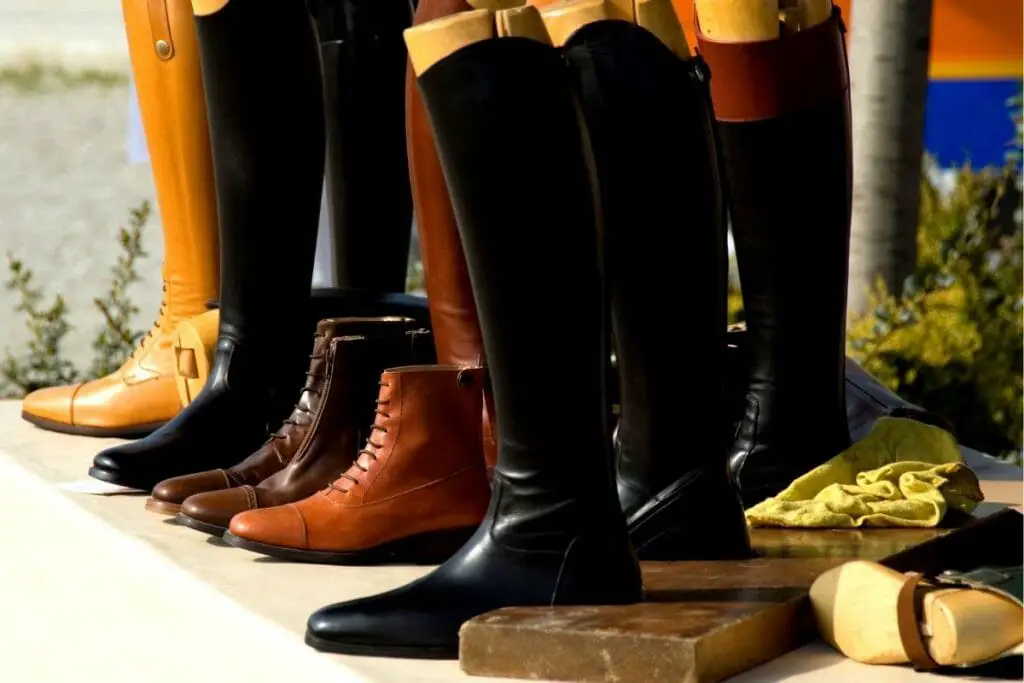 Everyone knows the term 'you get what you pay for.' Well the same is true with equestrian boots. Less expensive boots tend to be lesser quality than higher priced boots.
So you don't want to go for the cheapest riding boots available, but it is understandable that you probably can't afford the most expensive pair which can be up in the thousand dollar range. Riding is an expensive hobby and horse riding boots are an investment.
Expect to pay around $150 for decent new leather paddock boots and around $350 for decent new leather tall boots. The price can be more or less but I have found these are the minimum for good quality riding boots that are new.
This being said you can spend less but you will have to expect the boots quality will more than likely be lower. Your better off buying a good quality boot that is used and still in good shape.
So your step now is figuring out what you're willing to dish out as your max budget.
What Kind Of Material Do You Want?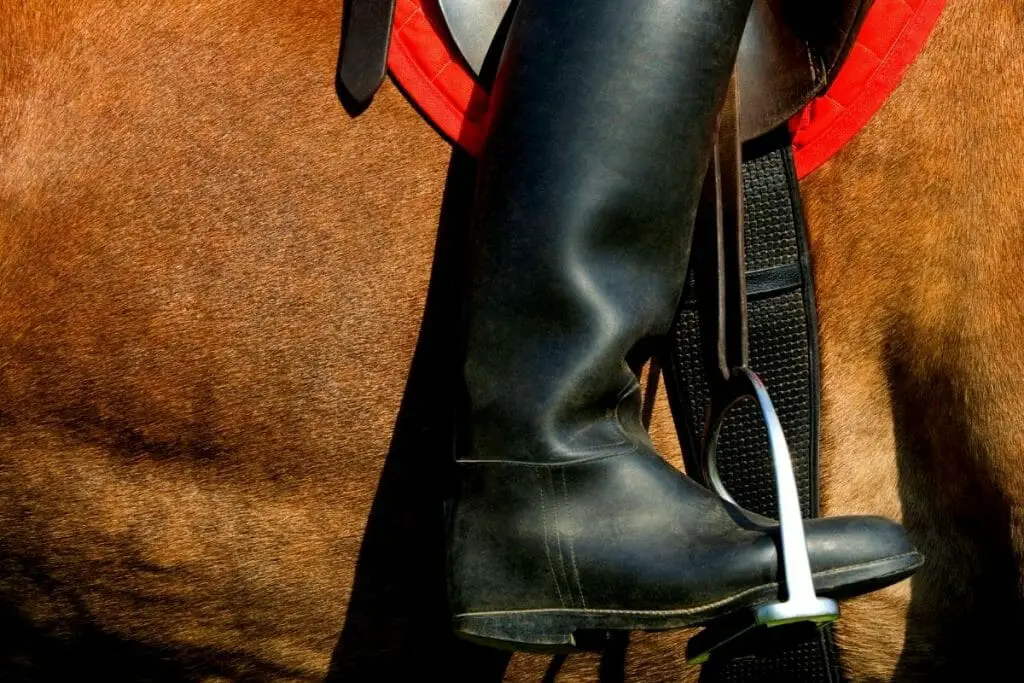 Leather boots are the most common, expensive, long lasting and comfortable material option for riding boots, but there are other options available. If you are vegan and don't want to use leather products, there are companies that sell footwear with synthetic materials, such as faux leather and rubber.
I don't suggest rubber riding boots because you get hot and sweaty when you ride and the rubber doesn't breathe. Put simply, your socks will be soaked and your feet will smell.
Synthetic leather is much less expensive than leather and is a vinyl type of material. It can be a bit stiff compared to leather but does break in a little bit. Synthetic leather is also more prone to cracking than real leather and doesn't last as long.
All riding boots tend to have rubber soles on the bottom with thin treds, to keep from getting foot stuck in the stirrup. But insole material can vary.
So unless you have issue using real leather riding boots, I would suggest you pass on the synthetic leather. Though it can be a good option too if you are not sure whether you want to keep riding in the long term. Such as you are testing out the waters with horseback riding.
With this knowledge your step now is to choose the material you want your boots to be made of.
Riding Boot Fit & Comfort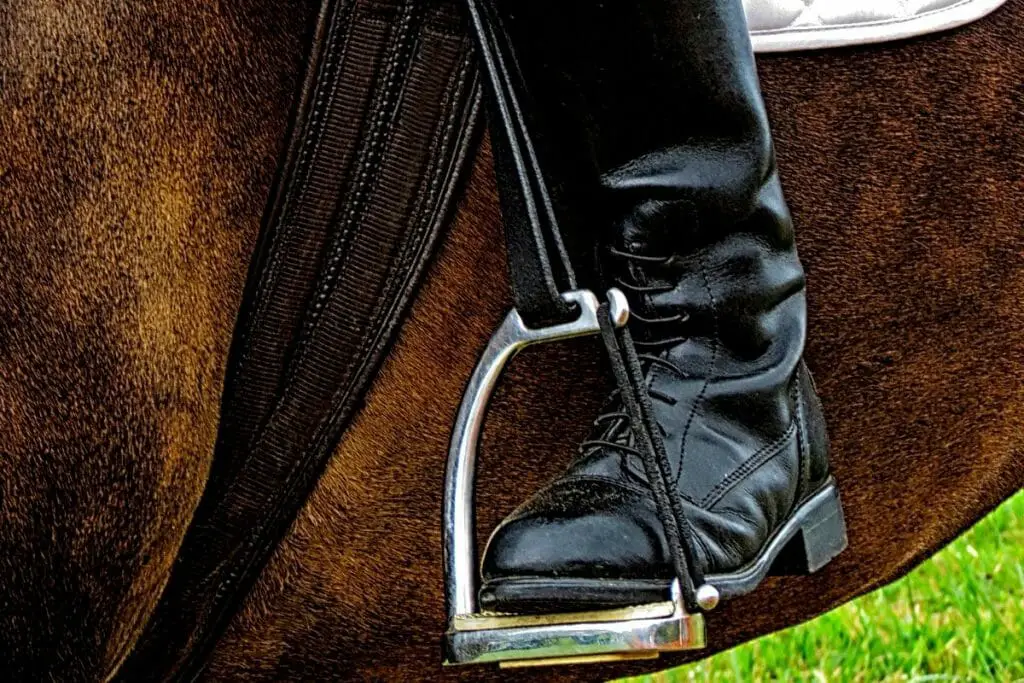 You have chosen the type of boot you want, you know your budget and you know the material that you want.
Now you will want to know what to look for to find the best fit and comfort for your feet and legs. Okay friend this section may seem like a lot, so try your best to get what you can from here. Jot down key points if that will help you.
So your best bet at this point would be to go to a physical store to try boots on.
But it is possible to find a good pair just shopping online with careful consideration and researching reviews you find around the internet.
Your Calf & Ankle Size
If you are purchasing tall boots your calf and ankle size will matter. What size are your calves? Do you have thin calves or wide calves, thick ankles or narrow ankles. This will affect the size of tall boots you buy. Tall boots typically come in thin, regular, wide and sometimes extra wide.
You will find a section below were I tell you step by step how to take measurements to find the correct sized tall boots for you. Then following that there is another section where I give tips for how the tall boots should be fitting when they are on.
If you are purchasing paddock boots and you have thick ankles, laces are better than zippers. The zippers have less give and can feel tight or like they are pinching… I would know as much as I like the ease of a zipper, I have thicker ankles. With laces the boot can open up more by loosening the laces.
Laces are also more comfortable with riders who use shorter stirrups and have more bend in their ankle. The zippers can also cause a pinching feeling in this instance.
Your Shoe Size
Of course you need to know your shoe size, but if you are not trying the boots in person you should research reviews to find out whether people say the boots runs true to size, run on the small side or on the big side.
Also consider the socks you will wear under the boots. If they are thick or thin. Thicker socks you may want a little more wiggle room for your toes.
Your Foot Width
How wide are your feet? There are different kinds of toes on horse boots. Most boots are tapered and pointy, but there are some that have a round toe which are great for people who have wider feet.
I think I have seen square toes as well, which are even less uncommon. Unfortunately as great as round toed boots are for people with wide feet they are not very popular and are more difficult to find.
Your Sole Comfort
Support and comfortable soles. Don't want to feel every pebble and stone you step on? Some riding footwear have very thin soles and no support which are pretty uncomfortable to walk around with.
Then there are better quality boots that have some support and have a thicker cushioning for maximum comfort. I suggest you find a pair with a good sole, you will be much happier and more comfortable. This is something you will have to research in the reviews if you are buying online.
I hope you jotted down some notes here so you will be closer to finding boots you will be happy with.
Last Decisions When Choosing Your Riding Boots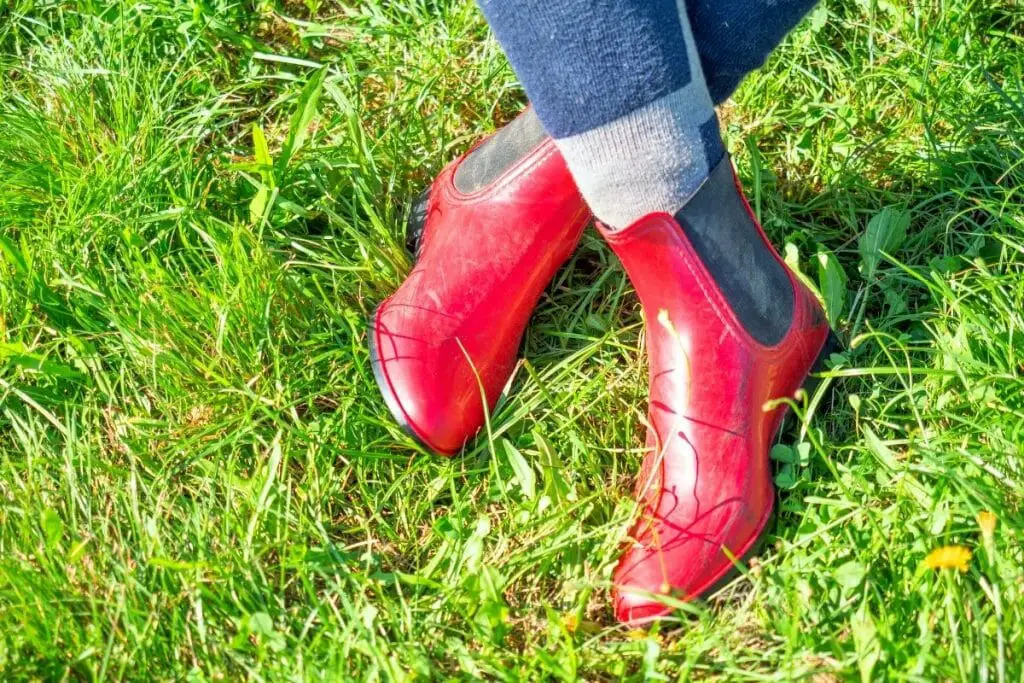 At this point horse riding footwear selection should be much narrower. Your choices are much more limited with all your criteria. You are at the end where you make the decision on which boots you want to buy.  
The last considerations would be the extra features and boot style. Some boots have a waterproof coating, some have anti-microbrial linings in the boot, or lining that are more breathable.
Once you decide on any features you want you can choose the boot based off which you think looks the best. Unless your left with only one choice left. 
Or there may be no boots available with what you want in your price range. In this instance you either need to sacrifice one of your criteria or features or you will need to raise the budget.
You could also check out the boots that I love to wear and buy again and again right below!
Make sure you keep reading after that too because I have the tall boot measuring guide and fit tips, then I also cover breaking in your new boots and tips for taking good care of them, so they last a long time!
Riding Boots I Recommend
My favorite brand of boots that I have been using for years and years with horses has been Ariat. They are very comfortable well-designed boots and last for a long time if you take good care of them.
For paddock boots, I recommend the ARIAT Heritage IV English Paddock Boot (Amazon). I like the boots with laces better than the zippers because it is more adjustable around the ankle if they need to be tightened up more or loosened. I currently just ride in tall boots because that is what I have but I plan to buy these again. I like being able to take my half chaps off after I ride especially in the heat.
For tall boots, I recommend the ARIAT Women's Heritage Contour II Field Boot (Amazon). These are the boots I wear right now. They are really comfy for tall boots and the leather is nice and supple. With other tall boots, I have owned in the past, right above the ball of my foot the leather gets all cracked and worn down pretty quickly.
My Ariat tall boots have not had that problem. The only problem is I got them in the height size tall and I can't zip them up all the way.
I bought them used for a super-duper price at a horse rescue that made it worth buying despite being too tall. They fit great in every other way. Seeing as I am not showing right now I just deal with it.
I suggest you get correct measurements to make sure you get the best fit.
For winter boots, I recommend Mountain Horse Rimfrost Rider III Boots (check out on horse.com). These were my first winter boots. They kept my feet toasty warm. The ankles start off stiff and they aren't the most comfortable to walk around in, as these are synthetic boots. Riding they are pretty comfortable and the ankle support is great. Over time they do loosen up a little bit in the ankle.
How To Measure For Correct Tall Boot Size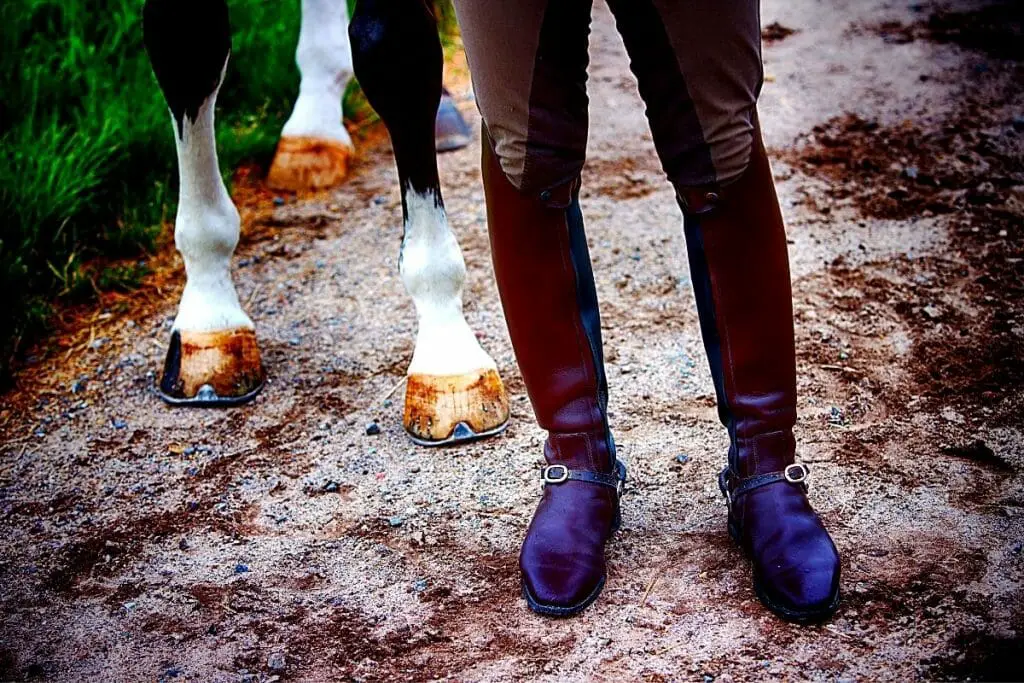 Make sure you wear the breeches and socks that you will normally wear with your tall boots, when you do the measurements.
Get a measuring tape, a pen, and paper to write down the measurement.
Wrap the measuring tape around the widest part of your calf.
Write down the measurement in inches and centimeters because different brands use different measurement units.
Sit in a chair.
Measure with the tape from the floor by your heel to the bend of your knee.
Getting A Good Fit With Your Tall Boots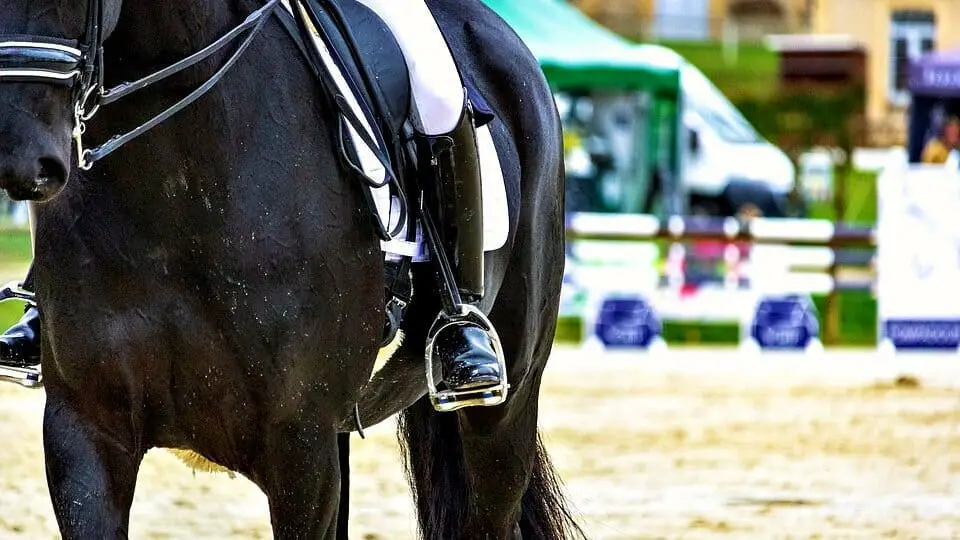 Wearing properly fitting boots is important because ill-fitting footwear can be distracting and uncomfortable while you ride.
Tips for Tall Boot Fit
Make sure your feet feel comfortable, not too tight and not sliding around in the boot. Wear the socks you will normally wear while riding.
When you buy tall boots brand new they will be a bit stiff, because it takes time for the leather to soften and become broken-in. Once they're broken in they will slide down and be looser around the calf.
If you want a snug fit on the calf, get boot leg width true to size.
If you like a relaxed fit or tend to fluctuate with your weight get a size up on boot leg width.
Tall boots that are too short on the legs are not that flattering. If you are in-between sizes for height go with the taller size. Once broken in they will relax and the height will go down a little bit.
While waiting for the tall boots to break in and for the height to lower, use heel lifts from the drugstore. This will help alleviate rubbing behind the knees.
Breaking In Your Boots
Don't use water to break in your boots. Though this can help the leather to become more pliable, immersing boots in water can cause them to shrink. Water could also warp the leather and cushions in the soles.
Don't use heat to break in your boots. Prolonged heat exposure can cause drying up and cracks.
Use a good leather safe oil like Leather Honey Leather Conditioner (Look at on Amazon).
Wear the boots around your home with comfortable socks to help prevent rubs, a few days for a week or two to help them break in.
How To Care For Your Boots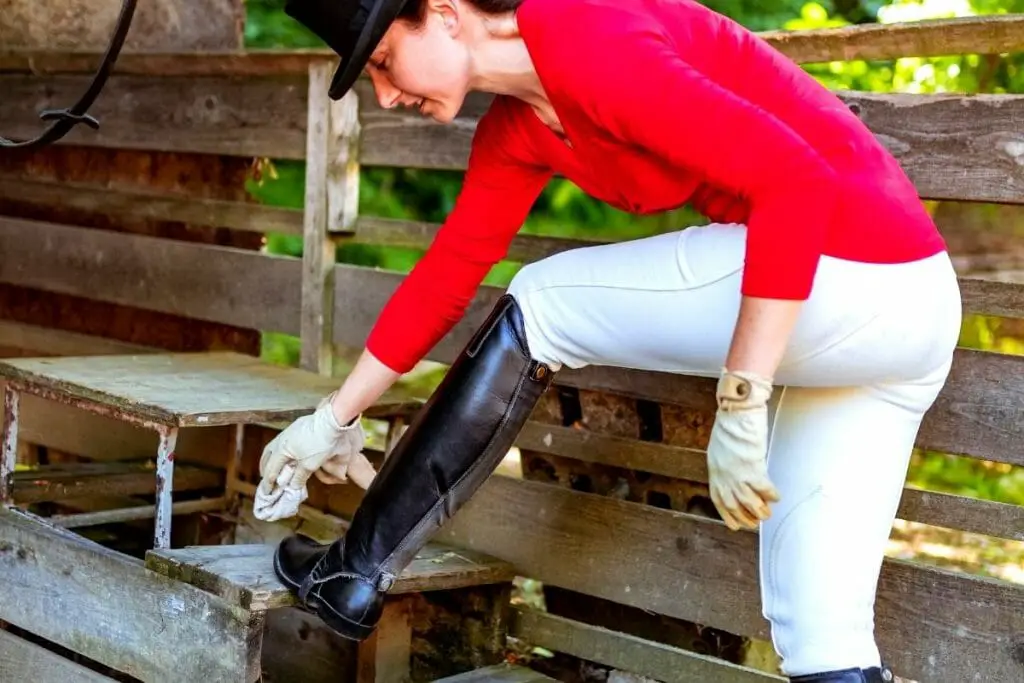 If you want your boots to keep looking new and last longer make sure you are properly cleaning and caring for your boots.
To keep your boots in good shape follow these guidelines.
1. Use a damp cloth or sponge after every use to wipe off any dirt, manure, or horse hair from your boots. These can cause cracks, abrasions and rot the stitching.
2. It is best to use cleaning and conditioning products that are specifically designed for boots, instead of using a tack cleaner. Using household cleaners on your boots could potentially damage the leather permanently.
3. For getting your tall boots to shine, apply a cream or polish made for boots with a soft rag, then use a boot polishing brush to buff. Finish with another clean rag until the boot is nice and shiny.
4 When it is wet and muddy use rubber covers over the bottom of your riding boots. After using let boots air dry with covers off, as condensation can build up.
5. Never let your wet boots be kept near heat sources such as space heater, fireplace, wood stove or direct sunlight as this will cause the leather to crack.
6. For tall boots use boot trees to maintain the shape of the boot. I like to use plastic inflatable boot trees but they also come wooden and plastic hard pieces. Make sure boots are dry inside before putting in the boot trees.
7. Make sure you store your boots are stored free from rodents and in a place with temperature-control like in your house.
8. For tall boots use boot bags. To keep your boots protected from dust, getting scuffed, consider getting boot bags.
9. When putting on tall boots with zippers make sure you pull down zippers all the way before putting on.
10. Every once in a while if your boots have zippers use a toothbrush and water to brush the zipper and remove any dust or sand in there.
English Riding Boots FAQ's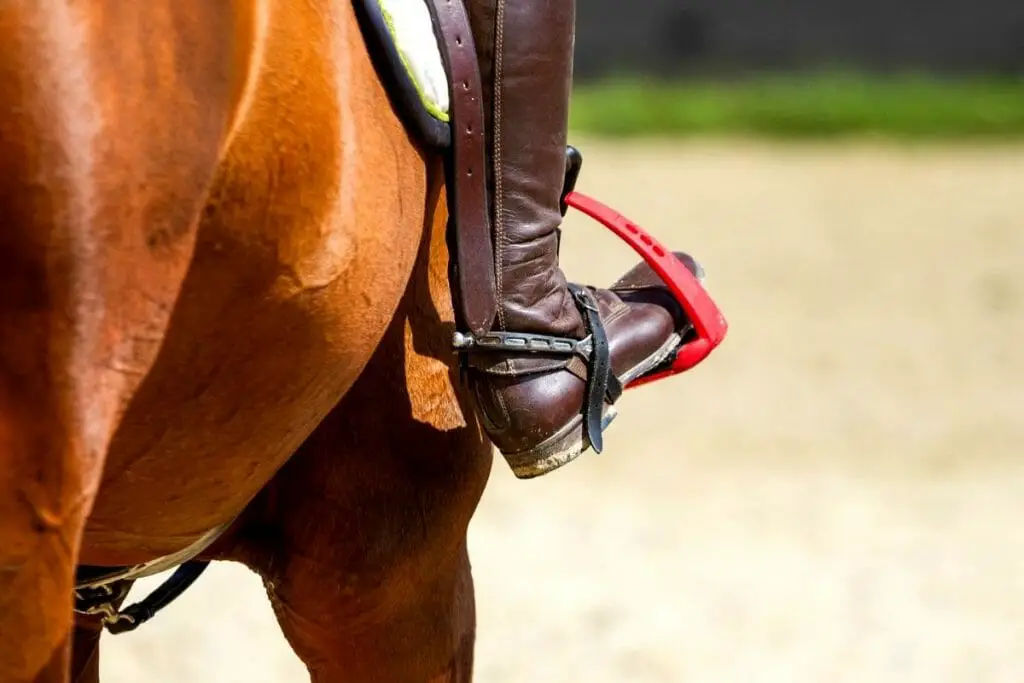 What boots are best for horse riding? The best boots for riding are boots that are specifically made for riding and are horse riding safe.
Do You Have To Wear Half Chaps With Paddock Boots? No you don't but you feel more secure and comfortable with half chaps. Without them you can get rubs on your calves from the stirrup leathers.
What are the best English riding boots? In my opinion I think Ariat boots are the best english riding boot brand and no I am not sponsored by Ariat. I have always loved the quality and comfort.
Can I wear western boots for English riding? Not for competition but for recreational riding that should be okay. However the problem with western boots is you can't wear half chaps and the english stirrup leather will rub your calves just like with paddock boots.
Are short or long riding boots better? This is really a matter of opinion. Each has their pros and cons. One is not better than the other. First it's about what you need. Then what you want. I prefer paddock boots for recreational riding.
How should English riding boots fit? It depends on whether you have tall boots or short boots. I explained above, how tall boots should fit and how to measure for tall boots. With paddock boots you want to make sure you have enough room for your feet to wiggle your toes and not feel squashed. But you also don't want your feet to be sliding around the boot. Your ankles should have some support but not feel like they are being pinched.
What are the most comfortable riding boots? I think Ariats are great. there good quality leather and layered soles offer good support and extra comfort compared to many other riding boot brands.
Can you walk in riding boots? Horseback riding boots don't typically make good walking boots, unless you have a pair that fits well, is very supportive and comfortable.
What are riding boots made of? Riding boots can be made of leather, synthetic leather or rubber, and the bottom of the boots tend to be rubber.
Can you Wear Sneakers Horseback Riding? No this is a bad idea, unless you are riding bareback. Even then wearing sneakers around horse's is not recommended because the toes are soft and don't offer protection to your feet in the event that you get stepped on by a horse. For other reasons scroll to the section about which talks about safe footwear for horse riding. Sneakers do not fall under safe footwear.
Conclusion
Let's recap the steps for choosing your riding boots. By the way this is just my recommendation it is not the only process you can use when picking out your new equestrian footwear.
So here is a list of the steps:
Decide on the type of riding and whether you will be casually riding or competitively riding.
Make sure boots fit within the basic safety standards.
Know where you will look at available boots whether at a local tack shop or online.
Figure out your max budget.
Decide on whether you want leather or synthetic.
Figure out the boot size you will need research whether boots run big, true to size or small.
Measure your legs for tall boots and use your measurements to the brand's size charts.
Decide whether you need boots that give you more room, such as laces instead of zippers, round toes for wide feet etc.
Find boots with reviews that say they have comfortable soles so you won't feel every rock and pebble.
Decide on the other features and styles you want and adjust the budget if needed.
After you complete the least don't forget about breaking your new boots in and making sure you take good care of them so they last a long time! I hope you found this helpful!
Please add any other advice that was missed in the comments below to help out other readers.
Cheers,
Kacey
Kacey has been riding and working with horses since 1998. She got an A.S. in Equine Industries from the University of Massachusetts Amherst, where she was also on the UMass dressage team. She was certified by the American Riding Instructors Association and is licensed to teach riding in Massachusetts. She has been a barn manager and has run a boarding and lesson barn. Kacey was a working student at several eventing and dressage barns. She has owned horses, leased horses, and trained horses from untouched to green as well as retrained racehorses. For more on Kacey, you can look at her About The Blog page.