A guest post by David Garcia from Horsezz.
Some horse owners may neglect barn safety as they think nothing dangerous could happen there. And they are wrong. Believe it or not, about 30% of injuries happen near the barn. Moreover, most of them are preventable. That's why all the staff and visitors have to be aware of safety rules. And as with any other facility, a barn must be always kept clean and secure. 
No doubt, housing a horse comes with  high responsibility. Maintaining an equine-friendly barn is a crucial part of horse ownership. Here are detailed guidelines and tips that will help you get the hang of horse barn safety.
General Barn Safety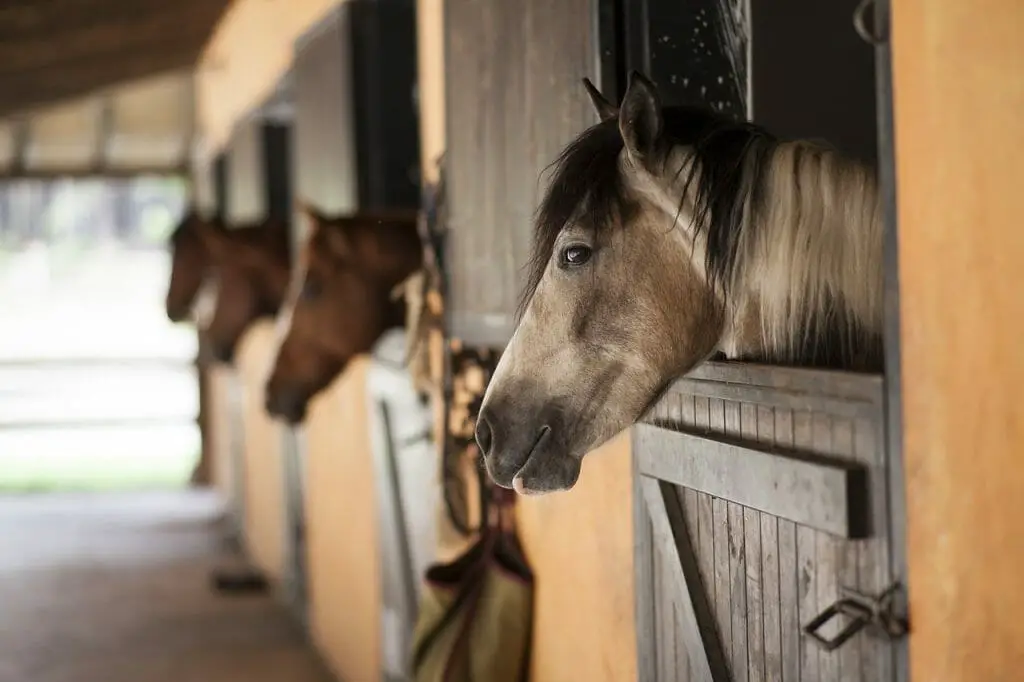 Barn Entrance and Aisle
Such high-traffic areas must be wide enough so the horseman and the horse can pass through freely. Make sure the aisles are decluttered so there's nothing to trip over. Provide a secure environment for you and your companion. As for the aisle width, it should be at least 12 feet wide to fit two equines and handlers. There should be enough space to move and turn around. You'll also need some area to dodge away  in case the horse kicks.
The barn height is another crucial step to consider. The ceiling must be high enough to deal with a rearing horse. This will prevent the animal from striking  it's head. While installing the light bulbs, make sure your horses won't reach them. You can also set protective cages on the bulbs to prevent them from breaking. Providing enough lighting is especially important when cleaning, grooming, and clipping. 
The floor in the barn should be non-slip so the horses and handlers won't slide and fall down. Get rid of the clutter to provide a safe entrance when turning in and out. Don't store tack boxes in the barn aisles unless there's enough room to handle the traffic. There should be no extension cords on the floor. The animal may stumble over it and shock itself.
Inform the riders that mounting horses is not allowed in the barn. Turn the equine out from the facility first.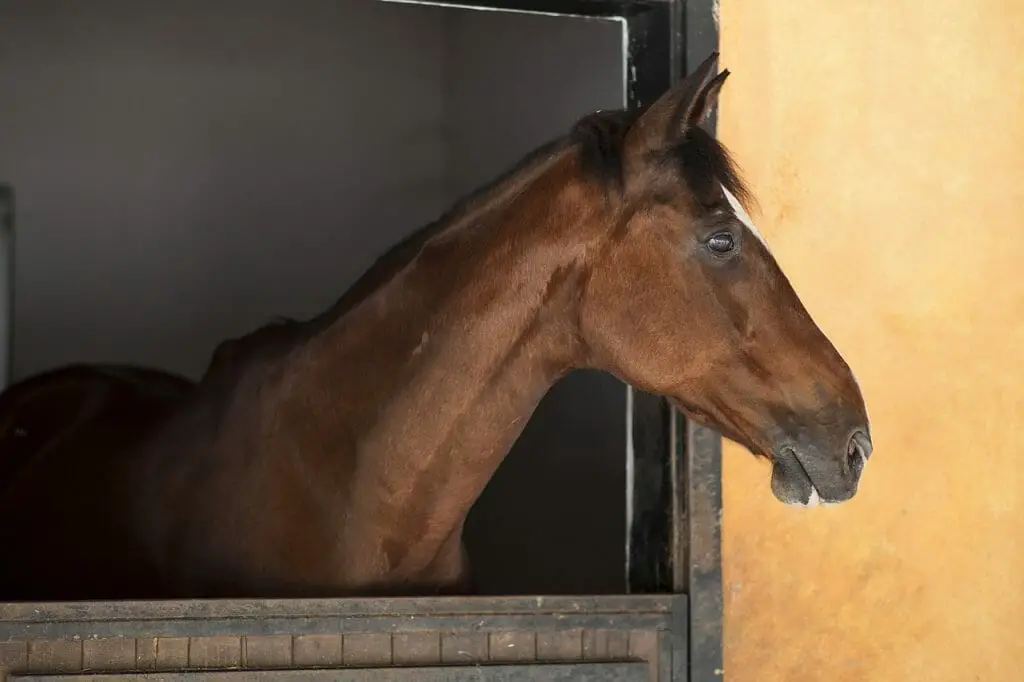 Barn Stalls
Providing a safe environment in the stalls is crucial, especially if your equine spends most of its time there. Here are some safety measures to follow in the horse stalls.
Check if the box stall size is appropriate for your companion. An average horse needs a 12×12 feet box stall to feel comfy. There should be enough room to stand up, lay down, and rest. The horseman needs enough space to turn around when the horse is in.
The stall doors can be sliding or swinging. Sliding doors feature easy access but they are pricey. Swinging doors are a more common option. Consider outward swinging doors as they provide more area for movements. Inward swinging could limit the space for a horse and a handler. Install door latches that work for horses – they should have no sharp edges. The  latches must be secure enough to keep the door closed so the animal won't escape.
The windows must be horse-friendly too. Protect them with bars or mesh.The fewer objects inside the stall, the better.
Keep all your barn-related stuff organized. There should be no sharp tools nearby the horse so the animal can't reach them. While working, make sure you have an emergency exit in case of a horse's misdemeanor. It will help to escape quickly and avoid injuries. Don't latch the stall doors when you're inside with your companion.
Fresh air affects barn cleanliness and the horse's well-being. Don't forget to check the air quality on a regular basis. Urine-soaked bedding and excessive dust could lead to respiratory health issues. Thus, daily stall cleaning is a must. Look for horse-friendly cleaning products to disinfect the facility.
Stall cleanliness and condition has an impact on safety. Check the walls for rusty or loose nails. The same goes for broken boards and mesh. If you notice a potential safety hazard in the stall, fix it immediately. Insulate the walls if needed – they should withstand the horse's kicks. All the feeders and waterers have to be in a good condition.
It's recommended to have two exits in the facility. The first leads to the barn aisle and the second has direct access to the outside from the stalls. This option is great to reach the horse quickly in case of a fire emergency. And you don't need to enter the horse barn. Keep a halter and a lead rope in a quick access area in case of an urgent need.
Print out and hang posters with all the necessary information. This includes contacts of the owner, barn staff, vet, and farrier. It's also good to include important information regarding your horse's needs and insurance that may save time in the future.
Barn Maintenance
Keeping a barn organized and tidy promotes safety for humans and horses. Everything should be stored in its own spot and put back after being used.
Frequent sweeping is needed. Remove the feed leftovers to prevent rodents. These troublemakers could spread diseases and damage the equipment. Apart from rodents, you have to deal with birds' droppings and nests.
Check if your tools and tack are in safe areas so they can't hurt handlers and horses. Remove all the debris and dirt after farrier and vet visits. Keep hay in a safe place away from equines. Get rid of the baling twine once you open a hay bale. This will prevent tripping over it. Check the property for poisonous plants to horses (Oleander, Acorns, etc).
Cleaning a barn is a regular routine for horse owners. Keep the facility clear of urine, manure, dust, dirt, and bird droppings. Clean stalls promote healthy living and aging. Use specific products for insect and parasite control.
Buckets, waterers, and feeders must be cleaned regularly. Make sure there is no standing water which could lead to attracting insects.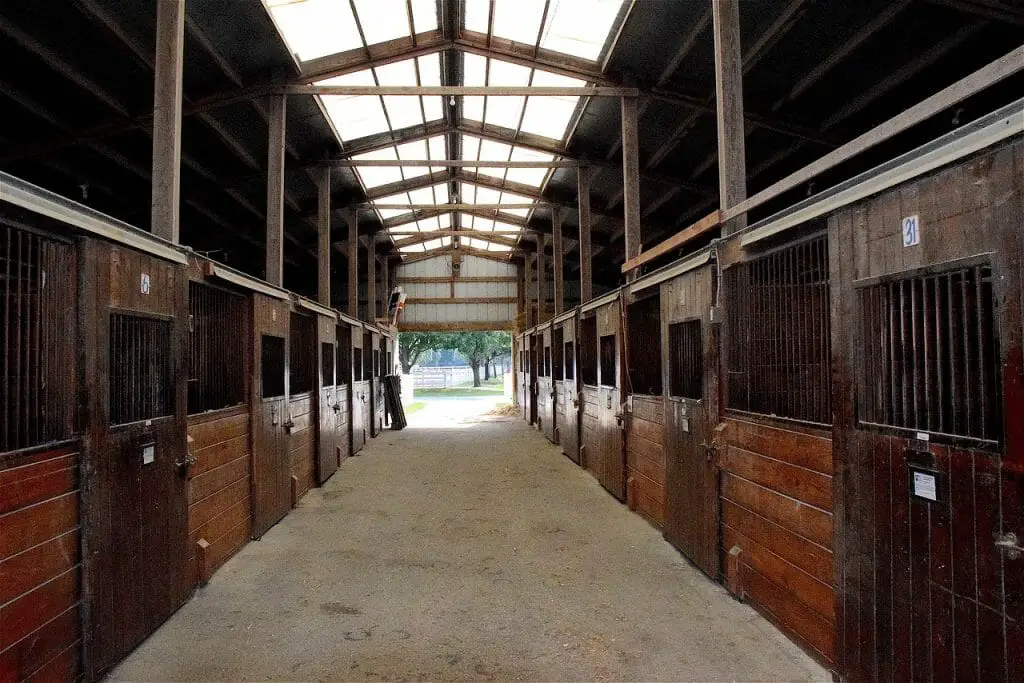 Barn Tool Storage
Think of barn storage areas that are safe for horses and humans. All the tack, gear, barn tools, and feed should be kept in their own separate areas. Make sure the storage spot is out of the entrances and aisles. Don't lean the equipment against the walls as they could fall down and spook the animal, instead hang them up with racks and hooks.
Horse food and supplements must be stored securely and be inaccessible to rodents and insects. Don't keep the feed nearby the horses as they could start badgering until you treat them.
Fire Safety
If you store flammable materials in the barn, there's a risk of a fire emergency. Here are essential fire safety tips to prevent barn fire and injuries.
No smoking!
Keep the barn clear of the cobwebs.
Keep combustible material out of the barn.
Don't store hay in the stable.
Check electrical wiring frequently. Check for faulty wiring and fix it immediately.
Use anti-chew extension cords and keep them away from horses. Don't use cords with cuts.
Don't overload electrical outlets. The number chords plugged in should be equal to the amount of wall outlet plugs, no more.
Don't leave running devices unattended.
Don't leave gas devices unattended.
Keep a first-aid kit for horses and humans and hang a poster with their location.
Install fire extinguishers near each exit. Make sure they are up to date. Learn about their types and how to use them properly.
Provide easy access to the water supply outside the barn so the firefighters could reach them flawlessly.
Post emergency phone numbers.
Post the facility's physical address and contacts to notify about your location.
Post an emergency plan.
In a Nutshell
Follow these horse barn safety tips to make the facility horse- and human-friendly. The tips mentioned in this article will reduce the risk of severely getting hurt.
Horse owners have many aspects to consider including in terms of barn safety. So remember, keep the facility clean, remove sharp tools, store the tack properly, declutter the entrances, and more. Once you handle all of these, you'll provide a secure and comfy environment for you and your companion. Stay safe!