Affiliate Disclosure: Sparkles Rainbows and Unicorns is a participant in the Amazon Services LLC Associates Program, an affiliate advertising program designed to provide a way for websites to earn advertising revenues by advertising and linking to Amazon.com
Whether you are looking for extra protection just starting out riding or are a more experienced rider that needs a vest or wants extra security, you are going to want to learn everything you can to find the best options for what you can afford.
In this article, I have already done the research for you, along with testing out various body protectors. I will share the best body protector I have tried. I will also share the best body protector I have researched and recommend. I hope to answer all the questions you may have about body protectors.
You want to make sure you are getting a body protector that is tested and certified but at the same time not overly restricting while you ride and also the best bang for your buck.

Comparing The Top 6 Body Protectors
To help you get a better idea of what's out there for body protectors I have made a comparison table with different body protectors that have good safety standards.
Body Protector
Material Type
Font Closure
Safety Standard
Notes
Avg
Price
Racesafe PROVENT 3.0
segmented perforated foam panels
zipper
BETA 2018 Level
No shoulder adjustments but attachable shoulder pads available
$275
Ovation Comfortflex
foam panels
zipper
ASTM/SEI and BETA 2009 level 3
Stiffer foam
$175
Kanteq
new foam material in large, well-shaped panels
zipper
BETA 2009 Level 3
20% more shock absorption
& shoulder protection
$475
Airowear Outlyne
large pieces of shock-absorbing foam
covered zipper
BETA 2009 level 3
Doesn't need heat for foam to be more flexible
$385
Charles Owen JL9
Gel foam wraps around like a turtle shell
covered zipper
ASTM/SEI, BETA 2009 level 2
Needs heat from body to become more flexible. Perforated in back.
$300
Champion Adult Titanium Ti22
Segmented perforated foam panels
zipper
BETA 2018 Level 3
No shoulder adjustments
$400
Recommended Body Protector
While their is no perfect safety vest that I know of, after researching many different body protectors I found the one I think is the best. I recommend this body protector and plan to buy it myself. It is the Racesafe Provent 3.0 (available on Amazon). I chose this body protector for several reasons.
Well-priced safety vest for the quality at $290
Safety Standard: European & BETA 2018 Level 3 protection
Lightweight for a BETA Level 3 vest
It's a breathable vest with perforated foam
It is flexible with a segment style body.
Comes in a range of sizes, from XS-XL in short, regular and long
There are shoulder pads that can be purchased additionally for extra padding and protection.
All the reviews I have read around the internet and in forums have been mostly positive. Riders seem to love this vest.
One of the cons however is that it does not come in a variety of colors.
What's The Best Body Protector For My Child?
I would recommend the Racesafe Provent 3.0(available on Amazon) for children same as adults.  For the reasons I listed above.
They also make the vest in a range of youth sizes.
However what matters the most is children use proper fitting equestrian safety vests, that have been tested and approved.
Do I Need A Body Protector?
For everyday riding and lessons you don't need a body protector.
However, for the cross-country phase of eventing competition or while schooling cross-country courses, a body protector is required.
Air vests are another consideration for additional safety precaution. But are not required for any event.
Why Would I Want To Wear A Body Protector While Riding?
You may choose to wear an equestrian safety vest for extra protection while riding a young horse, jumping, going on a trail ride, or if you are a beginner equestrian.
Some riders like to wear body protectors because it helps them to feel more confident and secure. Wearing a riding body protector gives additional protection and reduced the risk of injury.
The primary function of body protectors is body protection, to preserve your vital organs, muscles, ribs, and spine under the covered area of the vest, in the event of a fall or kick by the horse.
Many riders have said that they believe their falls and injury outcomes could have been much worse without a body protector.
There have been studies done to prove horse riding body protectors greatly reduce the chance of a torso injury in the event of a fall.
Now we will go over more on body protectors and what I recommend for a good protector.
How Does A Body Protector Work?
A body protector has great absorption properties. It is commonly made of foam and compresses under pressure.
It is fitted snugly around your upper body and forms to your body shape for the best protection.
The foam is meant to absorb and spread out the shock during impact most often due to a fall or kick by the horse.
What Are Body Protector Standards For Safety?
But be aware there are different standards and testing for body protectors and some are uncertified body protectors having not even been tested.
All testing is voluntary and this is not to say that non-tested vests may not offer as much protection as the tested and certified versions, but you have a guarantee of a certain level of standards if you go with a certified vest.
Here is a list of different certification standards and testing for body protectors.
ASTM/ SEI
ASTM F1937-04 – Standard Specification for Body Protectors Used in Horse Sports and Horseback Riding
ASTM (American Society For Testing And Materials) is the most common certification. However this is just a set of standards that need to be met. The SEI certification means that the body protector has passed the ASTM standard and has been tested by SEI.
Tip: Be careful to make sure the body protector is both ASTM and SEI approved! If it is just ASTM approved it means that it has not been tested.
BETA 2009 & BETA 2018
British Equestrian Trade Association, Body Protector Standard – There are 3 levels of protection: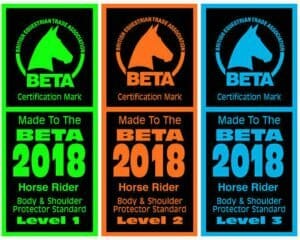 Level 1- Body Protectors (black or green label) Protectors providing a lower level of protection that is considered appropriate for licensed jockeys. "WARNING: This level 1 garment is designed to meet the weight restrictions that apply to licensed jockeys while racing. It is not intended for use in general horse riding as it provides significantly less protection than a level 2 garment, which is the minimum recommended for normal riding."
Level 2- Body Protectors(brown or orange label) Protectors providing a lower than normal level of protection that is only considered appropriate for use in low-risk situations.
Level 3- Body Protectors (purple or blue label) Protectors providing a level of protection that is considered appropriate for normal horse riding, competitions and for working with horses.
The BETA Body Protector Standard is the newer standard. The body protectors are both approved by the association as well as tested. It is said the standards and level of testing are slightly more rigorous than the ASTM and SEI standards and testing.
Tip: Check with your riding association. Some riding associations are now requiring the body protectors to be a Beta 2009 or 2018 level 3 in order to compete in the cross country jumping phase.
SATRA
Shoe and Allied Trades Research Association – An independent British testing company that certifies vests along with other safety equipment like steel toe boots and safety glasses.
EN 13158- Testing standard used for body protectors sold in Europe.
SATRA is able to test all aspects of EN 13158 and carry out EU type-examination for CE marking against the PPE Regulation 2016/425. SATRA is also a British Equestrian Trade Association (BETA) approved test house for its BETA body protector scheme.
This is a mandatory declaration that the product conforms to the European Directive for Personal Protective Equipment. Basically, if the body protector is BETA approved it also has the CE mark. The CE mark means it passed the EN 13158 testing.
For more information and up-to-date lists of approved body protectors, look at the following websites: ASTM: www.astm.org, SEI: www.seinet.org, SATRA: www.satra.co.uk, and BETA: www.beta-uk.org.
When choosing your body protector either Beta 2009 or 2018 level 3, or a protector that is ASTM and SEI certified are both good choices. You will know the body protector has met standards, passed testing and has some degree of protection.
Body Protectors I Have Tested
Out of all the body protectors I have ridden in over the years I have found the best to be the Charles Owen JL9 (available on Amazon).
What I liked about the Charles Owen JL9
It is ASTM/ SEI approved.
It felt like a good fit and formed well to my body.
This protector becomes more flexible when it warms up from body heat.
The foam is perforated to help make it more breathable.
I did fall off with it and didn't even get the wind knocked out of me, neither was I sore the next day. Make a big difference compared to without. Unfortunately, I have fallen off more times than I can count.
How Do I Measure Myself For A Body Protector
Here I will include the basic steps to measure your body in order to determine the correct size body protector you need.
You will need:
a soft fabric measuring tape
a pen
paper to write down your measurements
If you are interested in The Racesafe Provent 3.0 they have their own Racesafe Fitting Guide, which tells you how to measure for fit and to make sure it fits correctly for these particular body protectors.
Video-How To Fit A Racesafe Body Protector:
Chest measurement: Measure around the largest part of your chest, making sure that the tape is level and snug but not tight. (Most important measurement to determine size)
Waist measurement: Check your measurement for your natural waist. Your natural waist is the narrowest point between the bottom of the rib cage and the pelvis. Most vests have side adjustments.
Back Measurement: Measure the length of your spine while sitting in a saddle or a chair. Run the measuring tape from the bone on the back of your neck down to wear the body protector should finish, or 4 inches above the chair.
Body Measurement: Take the measuring tape just below the ribs, up over the shoulder & down to the level point on the back, meaning across from where you started just below your ribs.
Compare Measurements: Use your measurements to compare with the manufacturer's size chart for whichever body protector you are interested in. Choose the size that has the closest measurements to yours. If your measurements don't match up with the manufacturer's size chart and are in between sizes, choose the smaller size, because body protectors are supposed to fit snugly against your body.
How effective the body vest will be depends on if the fit is correct or not.
How Do I Know The Body Protector Fits?
Depending on the brand and style of body protector, each will fit you differently. It is super important that you get a good fitting body protector and you might have to test out different brands and styles until you find the right body protector for you. If you are worried about the fit, ask a knowledgable instructor or trainer to take a look and give their advice.
Loosen all of the closures and flex the body protector before you put it on.
Put the body protector on.
Fasten the chest, waist and shoulder closures making sure the fit is very snug.
Take a look at how much room you have left for further tightening or loosening.
If you can't tighten it up much more or if you can't loosen it anymore then you will need the next size up or you should try a different type of vest.
Tip: If you have a body protector that forms to your body as it warms up while you're wearing it, make sure that you readjust the closure after 10-20 minutes.
Check the front length of the body protector which should cover your breastbone or sternum down to your bottom rib.
Make sure the neckline and shoulders lie flat against your body. If the vest is not able to do this and is pulling away from your body you need to try a shorter length.
Tip: Some of the body protectors have shoulder adjustments while others don't. With shoulder adjustments, you can adjust the length. However, if the vest does not have this feature then you will want to try that protector in a different length or a different body protector altogether.
Now its time to make sure the back length is correct. You are going to want to sit down in a chair.
Imitate all the riding positions you would be doing if you were riding.
You want 3-4 fingers between the bottom of the body protector and the saddle. If the body protector is too long it can bump on the saddle and rise up while you are riding. This ends up affecting the rest of the fit, is not very comfortable and interferes with your riding.
When Should I Replace My Body Protector?
Your body protector should be replaced every 3-5 years at the very least. This is because even with no visible damage the impact absorption qualities start to deteriorate after a while and the protector loses part of its impact protection value.
Body protector technology is continuing to change and advance. Past body protectors with older standards are becoming obsolete.
You don't need to replace the vest after a fall except in certain circumstances. Make sure you look over the body protector for any damage. If you see some indents know that it is normal for the foam to compress after impact.
Now wait 30 minutes to an hour and check those indents you found earlier. If they are still there the protector needs to be replaced because the foam is no good at this point and no longer considered safe.
8 Ways To Take Good Care Of A Body Protector
A quick wipe down after each use– Use a rag or a sponge with fresh water and wipe down dirt and dust. Let air dry.
Good Cleaning Once In A While– Every once in a while or when dirty clean your body protector by hand washing with a sponge and fresh, warm, soapy water. Clean thoroughly. Let air dry.
Check your body protector after a fall– As was just mentioned about when to replace a body protector. Part of taking good care of your body protector is making sure it is still safe to use.
Don't keep your body protector in a hot place– Keeping your body in your car where it can get intensely hot or direct sunlight will cause the foam to deteriorate faster.
Don't keep your body protector in a damp or dirty place-Dampness will cause mildew and potentially mold, and leaving it around the barn dust will accumulate, and get into the velcro enclosures.
Close velcro enclosures– To help prevent dirt, hay, and hair from getting stuck in the velcro
Hang up your body protector with a coat hanger– So that the vest doesn't get stepped on or smooshed and warped over time.
Keep zipper zipped up– To help the protector maintain shape and protect the zipper.
Tip: If your vest uses PVC nitrile foam store your body protector in a warm but not hot place, then when you put it on the protector will be more flexible and ready to go.
Conclusion
Wearing a body protector other than cross country eventing is a personal choice. For the same reason you wear a helmet… safety and protection are also why you would want to consider wearing a body protector.
Wearing a body vest regularly will make riding safer for you and will prevent further injuries in the event of an accident. Something for you to think about.
Cheers,
Kacey
Kacey has been riding and working with horses since 1998. She got an A.S. in Equine Industries from the University of Massachusetts Amherst, where she was also on the UMass dressage team. She was certified by the American Riding Instructors Association and is licensed to teach riding in Massachusetts. She has been a barn manager and has run a boarding and lesson barn. Kacey was a working student at several eventing and dressage barns. She has owned horses, leased horses, and trained horses from untouched to green as well as retrained racehorses. For more on Kacey, you can look at her About The Blog page.