So you need to buy some breeches for riding and want to get a pair that is right for you. I am going to recommend breeches that are my favorites at this point and I think you will love too.
But I am also going to walk you step by step so you know the process of finding the right breeches for you and narrowing down your choices because we all have different body types.
My Recommendations On Breeches
I have tried many different riding breeches over the years but these are my favorites. I will keep this up to date if I happen to find breeches that I like more.
Schooling
Kerrits Flow Rise Performance Tight (Amazon). These, are just pull on riding tights. They are super stretchy, airy and comfortable. It feels like I am wearing leggings, but they are more durable and have a heavier duty waistband.
Ovation Women's Celebrity Slim Secret (Amazon). The material is more structured than the Kerrits. These breeches were very flattering on me and I really liked the bottom of the breeches were stretchy and non-restrictive.
Hunter/Equitation
Ovation Women's Celebrity Slim Secret (Amazon). I recommend these breeches again because they look classy at a good price. The pockets are a nice touch and they come in different shades you can choose from.
Dressage
Romfh Isabella Full Seat Full Grip Breech (Amazon). These breeches look great and they are comfortable. I preferred these breeches even over a pair of custom breeches I owned.
Show Jumping and Cross Country
Kerrits Griptek II Full Seat Breech (Amazon). The fit wasn't perfect, it felt a little restrictive wearing it and it wasn't the most breathable breeches. So why am I recommending these breeches? Because you stick to the saddle like glue! Maybe these breeches are more suited for cross country for more security. But just the secure feeling you get alone makes them worth it.
Denim
Horze Kaia Women's High waist Denim Silicone Full Seat Breech (horze.com) These are the closest to the Horze Denim breeches I had in the past that I really liked. The full seat was suede, not silicone. But they were my favorite jean breeches. They are super flattering, thick material and pretty comfortable.
Winter Breeches
Kerrits Fleece Lite Riding Tight (Amazon). These riding tights are warmer than regular breeches but not for the coldest temps. Comfortable yes, both flexible and lightweight, unlike fleece breeches I have had in the past that felt restrictive in the knees. They do stretch out a bit so take that into consideration when sizing.
For really cold temps I wear long johns under the breeches. Still searching for really warm breeches for those below 20F days. Living in New England it can get pretty cold in the winter.
Decide Whether You Need Breeches For Show Or Schooling Use?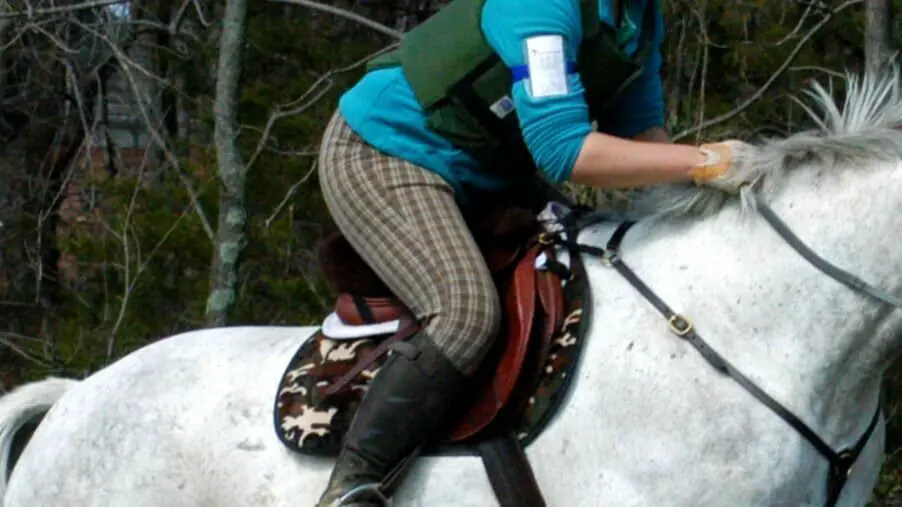 If you are going to be showing you want to have a separate pair of breeches that you only wear for competition. This way they are not worn out, and stay clean.
The breeches you want to wear for showing can be much different the breeches you want to wear riding on the trail, in a lesson, and schooling. The colors will be more traditional, and features you want will depend on the discipline of riding you are in.
You may want show breeches for:
Competition
Riding in clinics
Riding demonstrations
Riding lessons with instructors who expect classic clean riding attire.
Schooling breeches are something you will need either way. Start with one pair but you may want several if you are riding regularly. There are many colors to choose from, styles and designs. You can be much more creative with your breeches for recreational use.
Schooling breeches are okay for:
Riding lessons where attire just needs to be safe and functional
Practice, schooling, recreational rides.
Trail riding
Do You Want Full Seat Or Knee Patch Breeches?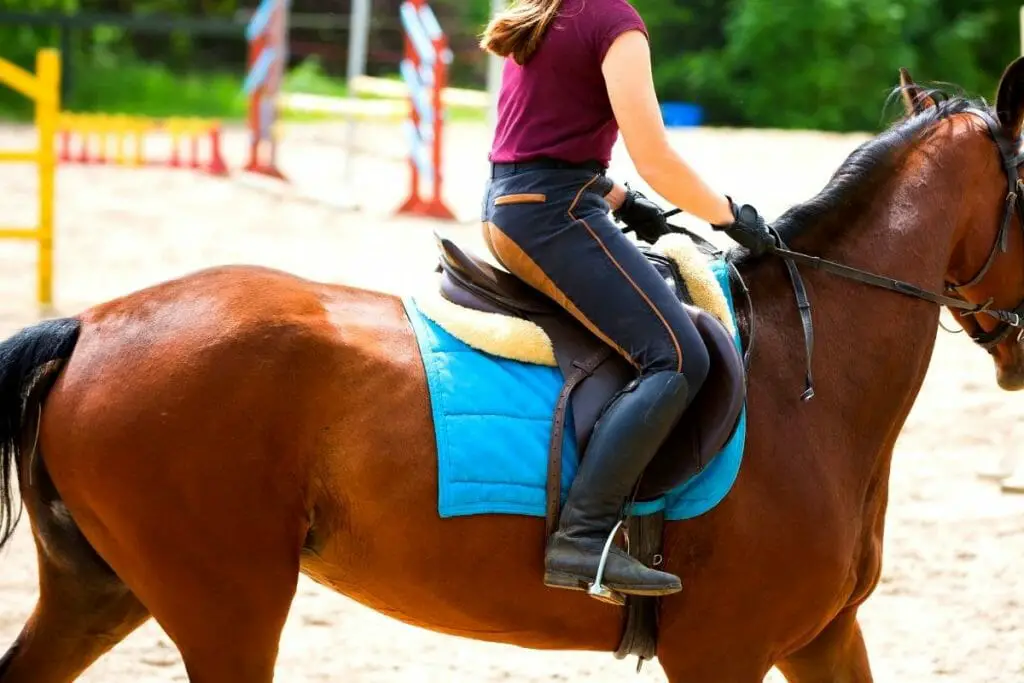 These are two main seat styles to choose from although each type of seat style has some different variations.
Full seat breeches have a patch from the upper calves all the way up to cover the bum.
Whereas knee patch breeches just have patches at the upper calve and cover the inner knees.
These different seats have pros and cons. Use these to help you decide which to go with.
Full seat breeches:
Feel more secure
Seat grips saddle more
Feel more restrictive
Knee patch breeches:
More freedom of movement
The seat is more slippery in the saddle
Less secure feeling
What Kind Of Waist Rise Do You Want, Low, Mid or High Rise?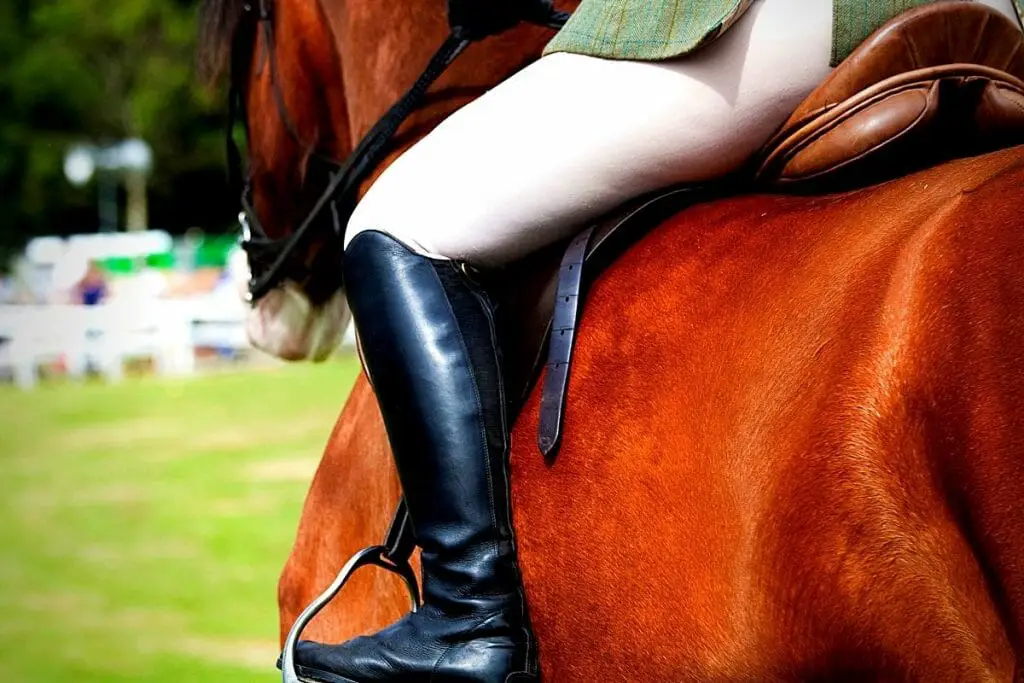 Breeches can come in low rise, mid rise and high rise. The best rise for you depends on your body shape and what you feel most comfortable in.
For me a low rise is not a good choice. I have a bigger booty and legs and if I bend over they will go too low. I would prefer a mid or high rise.
If you have a shorter torso and the pants give you adequate coverage then a low rise may be a good choice.
If you have a bigger upper body then you won't want to go for a low rise because your love handles and stomach may muffin top out. A mid rise would be better.
If you have a pear shape high rise will give you more coverage and probably be more comfortable.
Straighter body types do well with low rise.
These are just some tips, not rules. Choose what you feel you look best in and feel most in.
Do You Want Your Breeches Stretchy Or More Firm And Structured?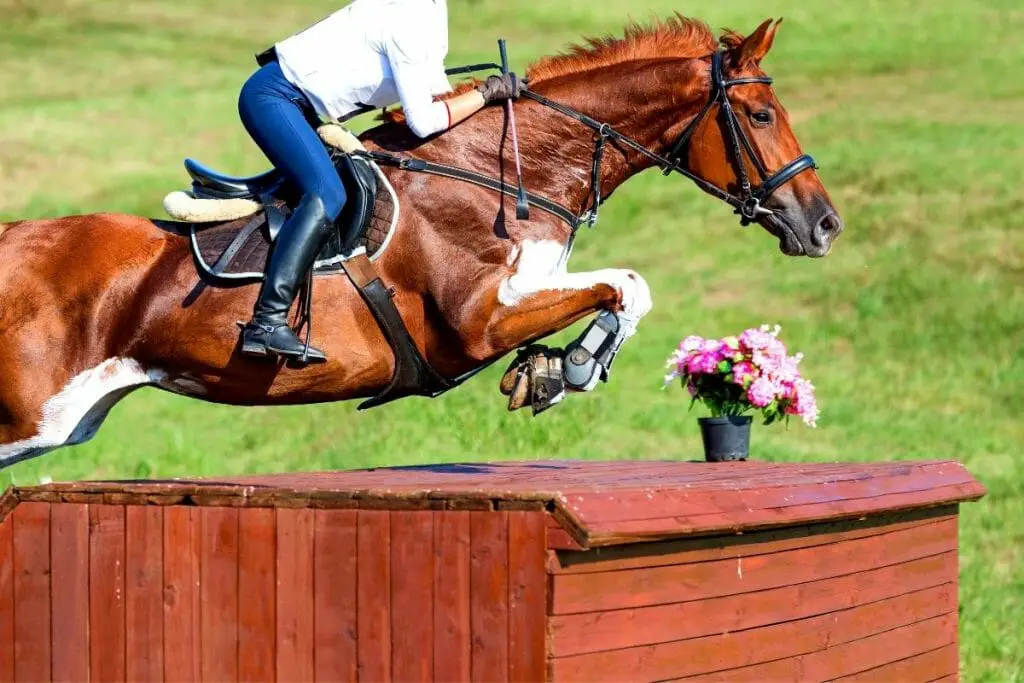 Different breeches use different materials. Some breeches are more flexible and stretches like a lot of riding tights and some are more firm and structured. The next step in narrowing down your search for breeches is to choose if you want the more structured feel or the stretchy feel.
To help you decide here are some points about each.
Stretchy Breeches
Good flexibility and freedom of movement
Not always flattering when you have extra chunky bits like me.
Some can be thin and more see-through and feel like there is not much to these breeches and riding tights
Structured Breeches
Feels a little more restricting
More flattering smooths over chunky areas a little bit
More solid fabric and less see-through, with the exception of some white breeches. It can feel like you have more coverage.
Do You Want Leather/ Calrino Patches Or The Newer Silicone Patches?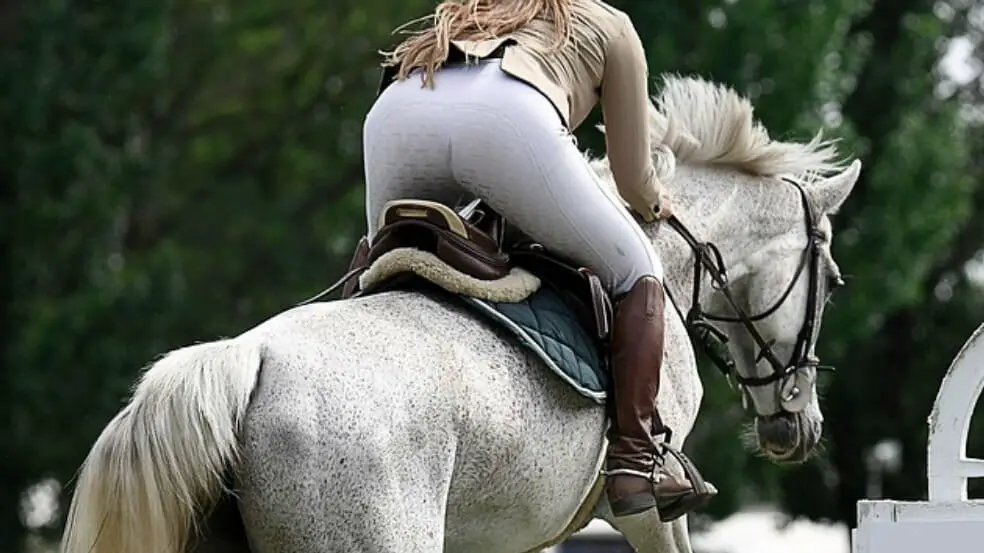 Patches can come in smooth or suede leather. Calrino is faux suede leather, many breeches use, which is very close to regular suede but cheaper.
However recently silicone breeches have been becoming more and more popular. So which material should you go for?
Leather and Calrino Patches
Not as breathable, easy to get sweaty in warm weather.
Not as much stretch with full seat breeches.
More comfortable for rising trot and coming up out of the saddle, has grip but not as much as silicone.
Able to move more in the saddle, don't feel as stuck.
Silicone Patches
Tend to be more breathable because the silicone is not solid. It comes in dots, or designs to allow airflow through the fabric.
Because the patches are not solid and are dots of silicone or designs the breeches stretch in those areas easier.
Very grippy good for sitting trot or when you want that extra grip in the saddle.
Other Features To Consider
There are more features to consider when looking at breeches to buy. So I am just going to list the rest off here so you can figure out what you may want to include while narrowing down your search to find your perfect pair of breeches.
Pull-on breeches usually no belt loops
Button up and zipper breeches
Side zip breeches
Front pockets
Back pockets
Velcro at the ankle
Elastic at the ankle
Some have stretchy material on the lower calf and some don't.
Euro fit- This just means that you have seams going along the back down your legs as if you are wearing full seat breeches even if they are knee patch. Many find this flattering.
Thinner waistband with belt loops for thinner belt.
Thick waistband for with belt loops for thicker belt.
Colors– Breeches come in different colors some more traditional and some more colorful and fun. Competition depending on your discipline they have specific common colors on the traditional side. Recreationally you can do whatever colors you like.
Color Breeches For Different Riding Disciplines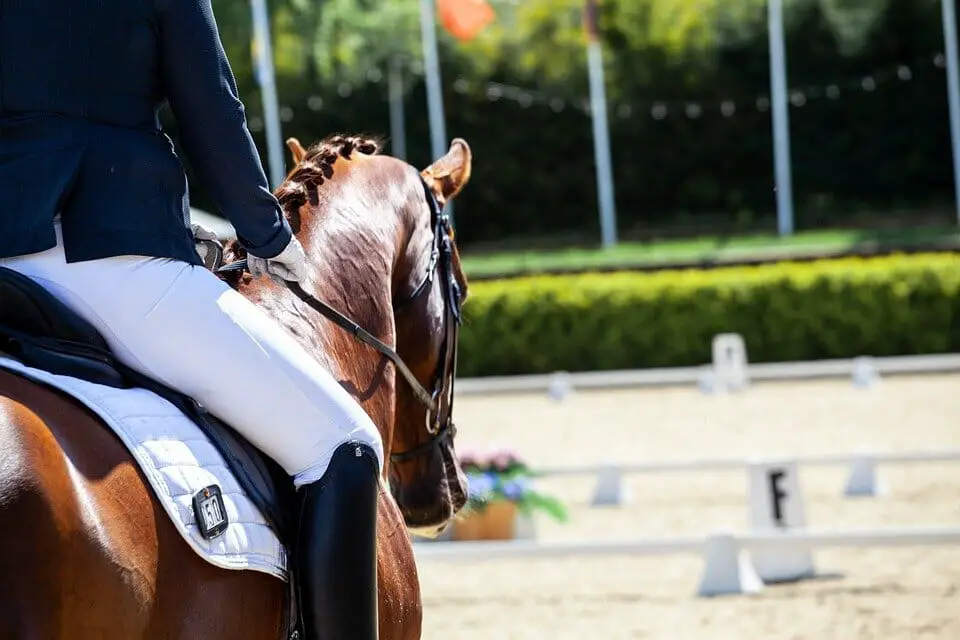 | | |
| --- | --- |
| Riding Discipline | Color Of Breeches |
| Dressage | The most common color for dressage breeches is white. However, some riders go with a light beige or khaki. |
| Eventing  | Wear any color breeches you want for cross country, but for dressage and stadium jumping, you want to wear white or light colored breeches. |
| Hunter & Equitation | "Earth" tone breeches such as beige, khaki, grey, and rust are appropriate. |
| Show Jumping | White and earth tone colors are appropriate. |
| Clinics | You want to dress as if for competition because it is considered respectful to the clinician, so go with light-colored earth tones or white. |
| Casual Riding | – You can wear whatever color breeches you want. |
Conversion For Woman's Pant Size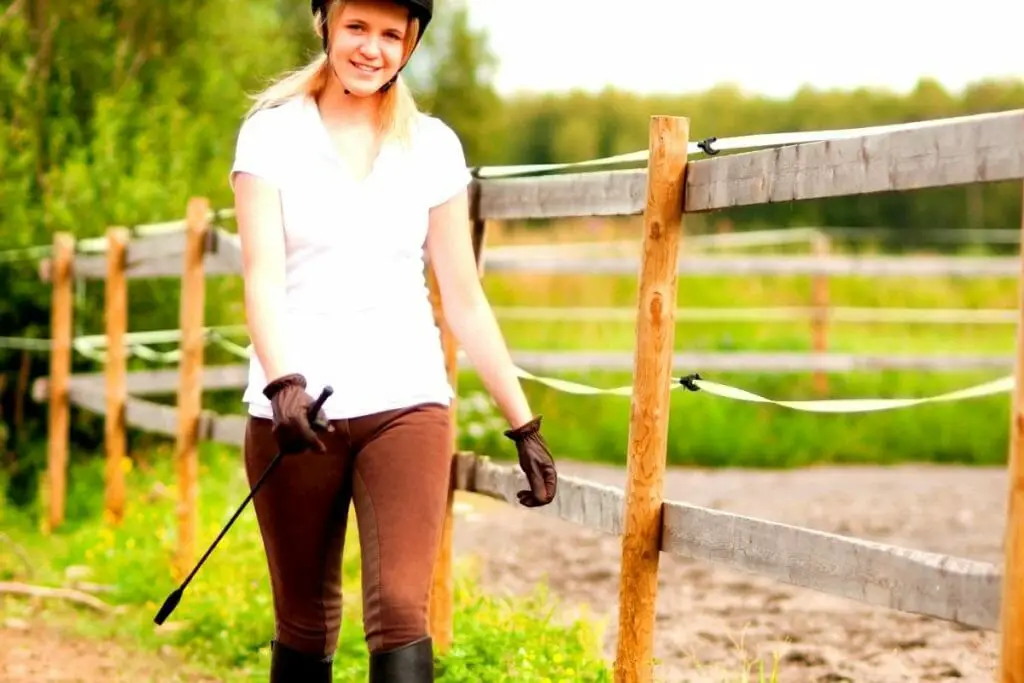 This is just a general sizing conversion to give you an idea of your breeches size. You will want to take measurements and know if they run big or small or just right.
| | |
| --- | --- |
| Women's Pant Size | Breeches Size |
| 2-4 | 24 |
| 4-6 | 26 |
| 6-8 | 28 |
| 8-10 | 30 |
| 10-12 | 32 |
| 12-14 | 34 |
| 14-16 | 36 |
| 16-18 | 38 |
| 18-20 | 40 |
Measuring For You Breeches Size
Certain brands of breeches will have you measure different areas. These are the usual areas you want to measure.
Grab a pen, paper and measuring tape.
Measure the fullest part of your hips.
Measure 2 inches under your belly button for the waist.
Measure for your inseam which is from your crotch to your ankle.
Now you have basic measurements and can compare against the manufactures sizes to find breeches in your size. Keep in mind sometimes they are not on point with sizing, it is just a basic guideline. Be sure to look at reviews and see if the fit tends to be true to size, runs small or runs big.
Tips For Finding Good Fitting Breeches
You want your breeches to be snug with no loose, baggy areas or wrinkling. This can cause rubbing and doesn't look nice.
The legs should not be so tight that they feel restrictive, or cutting off your circulation.
For knee patch breeches make sure the patch is in the right spot over the inside of your knees.
The length of your breeches is a personal preference, you can wear a shorter or longer leg.
The rise is from the crotch to waistband. If you get a gap in the back of the waist it may be you need a higher rise. Mid rises are ideal for most riders and it controls tummy more than low rise breeches.
Caring For Your Breeches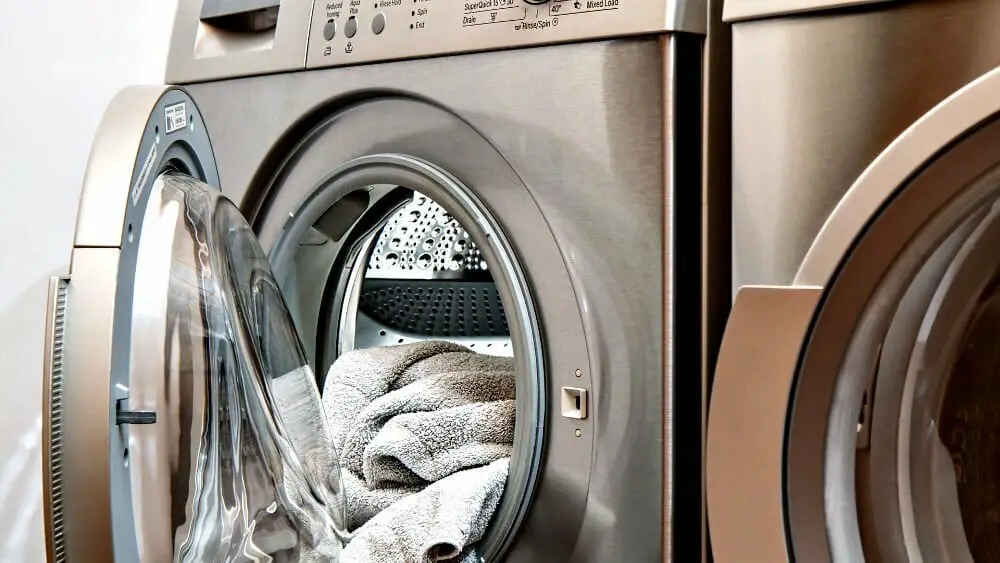 Turn your breeches inside out before you wash them to help keep them from fading out.
Always air dry your breeches don't add any heat or sunlight.
Use a mild detergent, okay to use with leather, such as leather therapy (Amazon)
If your breeches have leather and it gets hard after drying or washing use a leather conditioner.
What brand of breeches are your favorite?
Cheers,
Kacey
Kacey has been riding and working with horses since 1998. She got an A.S. in Equine Industries from the University of Massachusetts Amherst, where she was also on the UMass dressage team. She was certified by the American Riding Instructors Association and is licensed to teach riding in Massachusetts. She has been a barn manager and has run a boarding and lesson barn. Kacey was a working student at several eventing and dressage barns. She has owned horses, leased horses, and trained horses from untouched to green as well as retrained racehorses. For more on Kacey, you can look at her About The Blog page.