Western and Dressage riders who in the past were commonly seen riding without helmets are wearing them more and more often now.
This is because wearing a helmet is important for your safety. Your helmet is the number one piece of gear that could save your life or prevent brain damage in the event of a fall or an accident.
Should You Wear A Helmet When Riding A Horse?
Is the risk of having brain damage or worse really worth the reason why you don't want to wear one?
Even wearing a helmet isn't fail-proof, you can still get a concussion when hitting your head in a fall, but…
The American Medical Equestrian Association calculates that ASTM/SEI approved helmets have reduced all riding-related head injuries by 30% and severe head injuries by 50%.
The second most helpful piece of gear that can help protect you in a fall would probably be the body protector. Check out my Helpful Buyers Guide On Equestrian Body Protectors.
Can You Use A Bike Helmet For Horseback Riding?
The better question would be, should you use a bike helmet for horseback riding. There are some barns that don't require riders to wear helmets at all, though most barns these days do, because of liability reasons. 
A bike helmet is a dangerous helmet for horseback riding. You should not wear a bike helmet and expect it to have the same safety standards as a properly approved horse riding helmet.
If you are going to be riding a horse you will want to wear an ASTM/SEI-approved riding helmet. Then you know it has been tested and proven to withstand the rigors of falling off a horse.
Get A New Riding Helmet
So let's get started and answer your questions so you can get your fancy new helmet.
And it should be a new helmet. Buying a used helmet is a no-no.
You don't know if the helmet has had an impact in a fall which in that case the foam would have been compromised or if a previous person had lice. Plus think about their sweaty head in that helmet.
How Much Are Riding Helmets?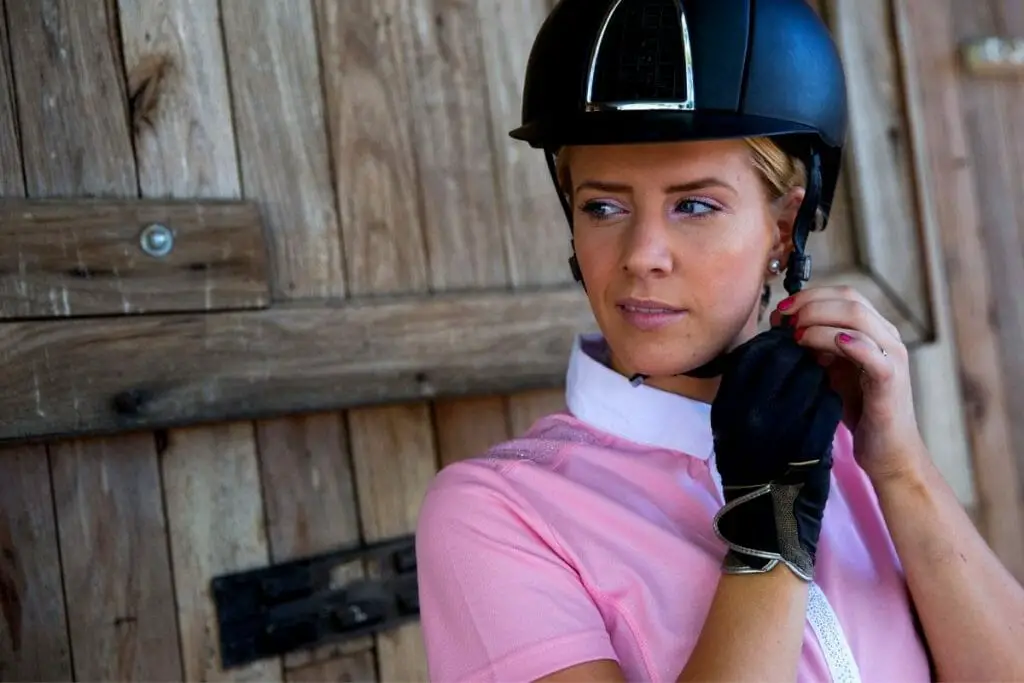 Price ranges of horse riding hats can range depending on the type of helmet, materials, level of protection, and brand. The average helmet used for lessons and everyday riding is between $80 and $100.
But schooling helmets can range from $40-$300, while show helmets can range from $100-$1500.
Where To Buy A Riding Helmet?
You can buy a riding helmet at your local tack shop, Tractor Supply, or online such as Amazon, Ebay, or an online tack shop like Dover Saddlery, Smart Pak Equine, Horse.com, Equine Collections, or more.
Is It Okay To Buy A Helmet Online?
You can buy a helmet online but it is smart to try the helmet on in person at a tack shop to find the right size first.
You can buy directly online but you will need to know your measurements and this is best if the helmet is adjustable, so there is a little room in case you don't order your exact size.
How To Choose A Horse Riding Helmet? What To Look For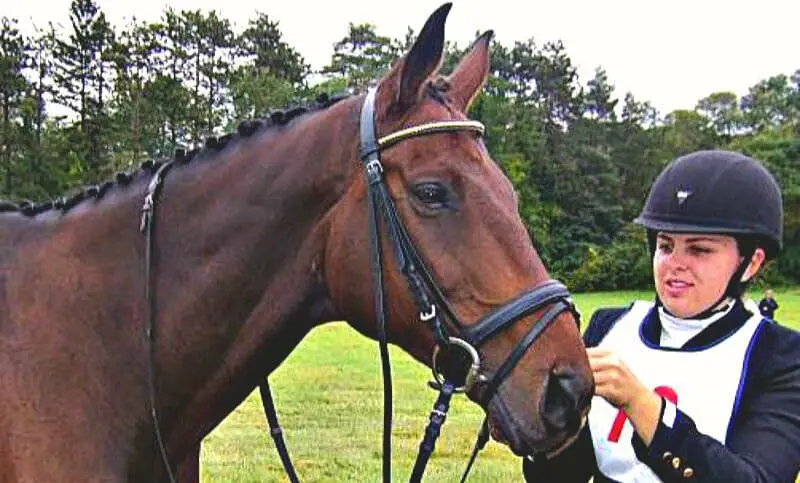 Obviously, you'll want a helmet that meets or exceeds the most common horseback riding safety standards, but what other factors should you look for? Here are some things to consider:
Helmet Shapes Everyone has a different head shape. Some helmets are better suited for oval-shaped heads meaning narrower on the sides and a longer front to back. While other helmets are suitable for a rounder head meaning equal side to side and front to front.
Types Of Helmets– If you are going on long trail rides you may want a lighter weight heavily ventilated helmet. For western riding, there are western-style helmets and Resistol makes a helmet that looks like a cowboy hat. For cross-country jumping, you may want a more protective helmet with good ventilation.
Recreational riding or also showing? Schooling helmets and show helmets are different. Schooling helmets tend to be more ventilated and colorful, while show helmets are more traditional colors like black, sometimes velvet, suede, smooth leather or carbon. If you will be competing you will want both a show and schooling helmet.
Helmet fit. Aside from the shape of the helmet. You want to find a helmet that fits your head size correctly. I will explain how to make sure the helmet fits further down the guide.
The Price. How much are you comfortable spending? You are going to wear your helmet for a long time, 3-5 years unless it needs to be replaced sooner because of a fall. So it may be worth spending a little bit more to get the helmet you actually like.
The looks. The last thing to look for is the look of the helmet. You've narrowed down your choices now you can choose which helmet you think looks the best.
The Best Horse Riding Helmets For The Price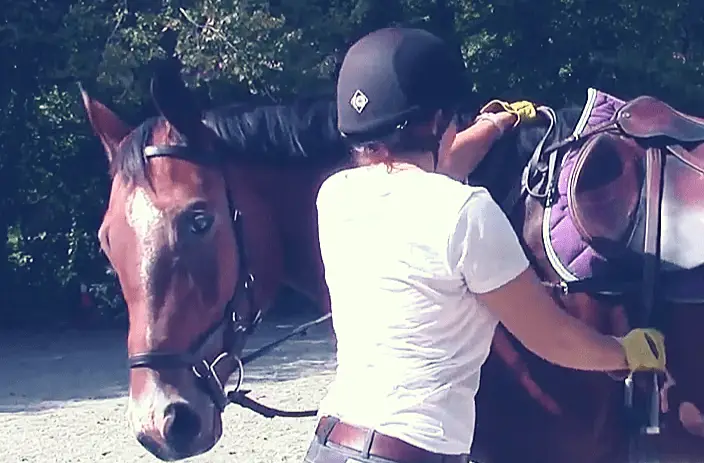 Troxel, Tipperary, and Charles Owen Are My Favorite Helmet Brands For Quality and Price!
Recreational and Schooling Rides- I recommend 2 helmets.
The first is the Fallon Taylor Troxel Helmet (Amazon) because it is light and airy, the price isn't too expensive and the designs and colors are super cute. It has a dial you can use to tighten up the helmet. This is the helmet I currently use. It does run on the smaller side. It is best to go one size up than what the chart says.
The second helmet is the Tipperary Sportage Helmet (Amazon). I like that the back of this helmet comes down more offering more protection and it has a really comfy fit, as well as great ventilation to keep your head cool and is super lightweight.
Show- For a show, I like my Charles Owen Gr8 (Amazon) which is a classy-looking helmet, it is suede, has a great fit, and is comfortable.
Cross Country Helmet– I have 2 recommendations.
I recommend the Tipperary Sportage Helmet also for Cross Country because the back of the helmet protecting more area and because of the amazing ventilation and lightness. You can get pretty sweaty out cross country and this is a great helmet.
The second recommendation is The Charles Owen Pro II Plus Helmet (Amazon), it has high safety standards, is a skull cap so you can wear a cross country cap and it has great ventilation. I have not used one of these. This is based on people I know that use them. They find them well-fitting and comfortable as well. When I start going cross country again I want this helmet.
Safety Standards For Horse Riding Helmets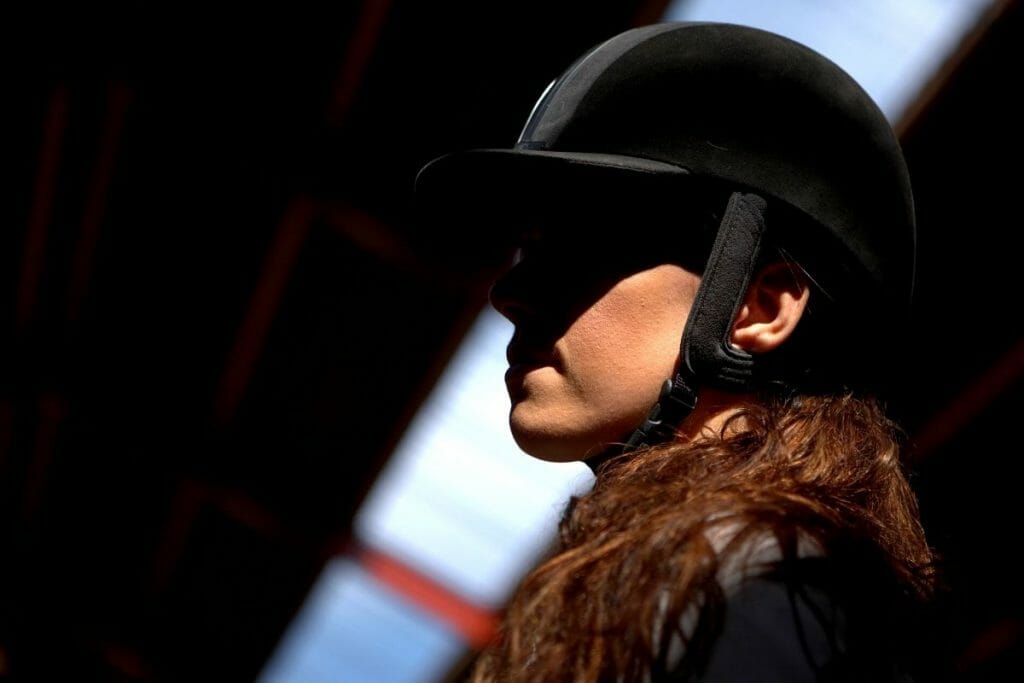 These safety standards for equestrian helmets are met through testing that simulates riding accidents such as falls, kicks and some standards include getting crushed. To pass the helmet must be able to withstand the testing. Each safety standard is given numbers by the organization that created it.
In the United States, ASTM F1163-15/ SEI is the popular standard for riding helmets. Check out this article on EQUUS Riding Helmet Safety Standards Explained for more information about the testing for this standard.
European standards VG1, PAS 015, EN 1384:2017 are similar to the ASTM/SEI but considered slightly higher standards as they add penetration and crushing to the test.
The best standard to go by is SNELL E2001. It does what the other standards do but also more. Highest crush resistance rating, higher fall for impact test, and visor check for rider's field of vision. Though keep in mind there are only 4 helmets with this rating and they are expensive.
MIPS Brain Protection Program– MIPS stands for Multi-directional Impact Protection System. This is a fairly new technology in helmets that can help to reduce harmful forces in certain impacts where there is rotational motion. The system allows for the helmet to rotate slightly as your head rotates which provides added protection.
What Size Helmet Do I Need? Measuring For Helmet Size
Get a measuring tape, a pen, and paper to write down the measurement.
Wrap the measuring tape around your head, so that it goes around the widest part of your head. just above your eyebrows, over your ears, and over the bump in the back of your head.
Compare your measurement to the manufacturer's size chart of the helmet you are interested in.
Now you know what helmet size to try.
How Should A Horse Riding Helmet Fit?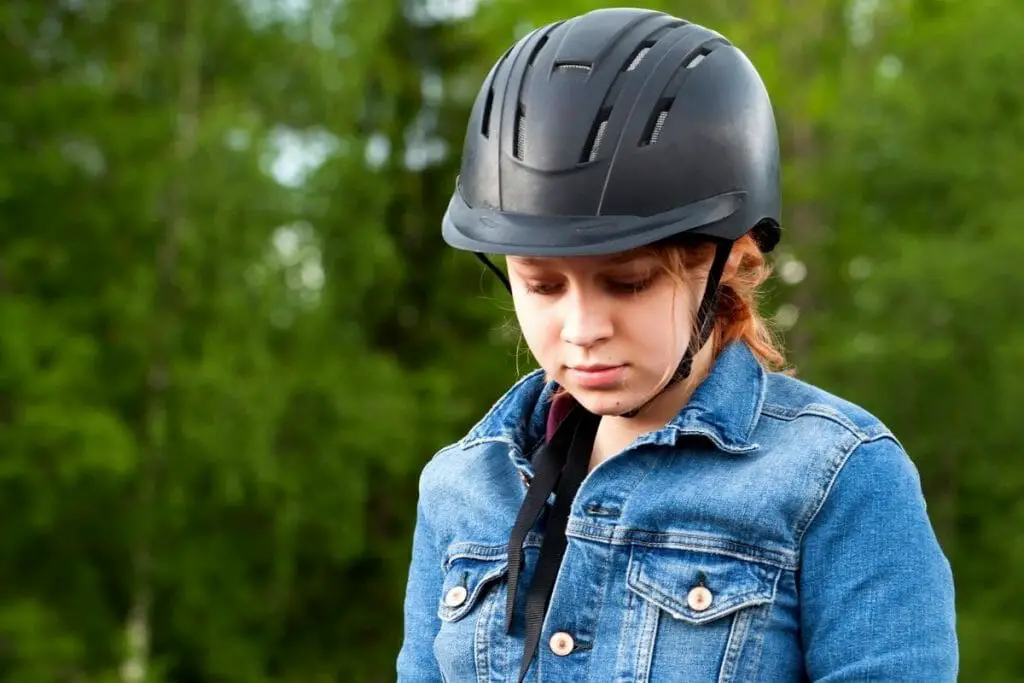 To make sure you find a helmet with a good fit I suggest you go to a local tack shop. This way you can try on the helmet and know the helmet fits before you buy it and then buy it cheaper online.
The helmet fit is important. If the helmet doesn't fit right then you won't get proper protection.
Follow these steps to make sure the helmet fits properly.
Put the helmet on in the size you measured for.
The helmet should feel like equal pressure all the way around which allows the helmet to absorb the shock in an event of an accident.
If the helmet feels like it was to rise upward it is too small.
If the helmet is sitting low and loose on your eyebrows it is too big.
You want your head snug. You should be able to move your head up and downside to the side and the helmet won't move out of place.
Then holding the brim of the helmet move it up and down. If it slides it is too big. You want your eyebrows to move up and down when you do this for the proper fit.
Make sure the brim is sitting no lower than 1/2″ above your eyebrows so that your vision is not blocked.
Adjust the chin strap so it fits snuggly under your chin to help keep the helmet in place.
Adjust the ear straps for comfort if there are any.
If the fit is close, only slightly too big and you are trying on an adjustable helmet, through the use of the dials, changeable padding, or ties, you can tighten them. Then make sure to repeat these tests. Otherwise, you will want to try another size, style, or brand of helmet.
Tip: If you plan to wear your hair up in the helmet. Make sure you do this when fitting the helmet. You will want a hair net or two if you have long thick hair. Put hair in a ponytail and make sure your hair lies as flat as possible under the helmet.
Note: The helmet fit may change if your hair length changes.
How Often Should You Replace A Riding Hat?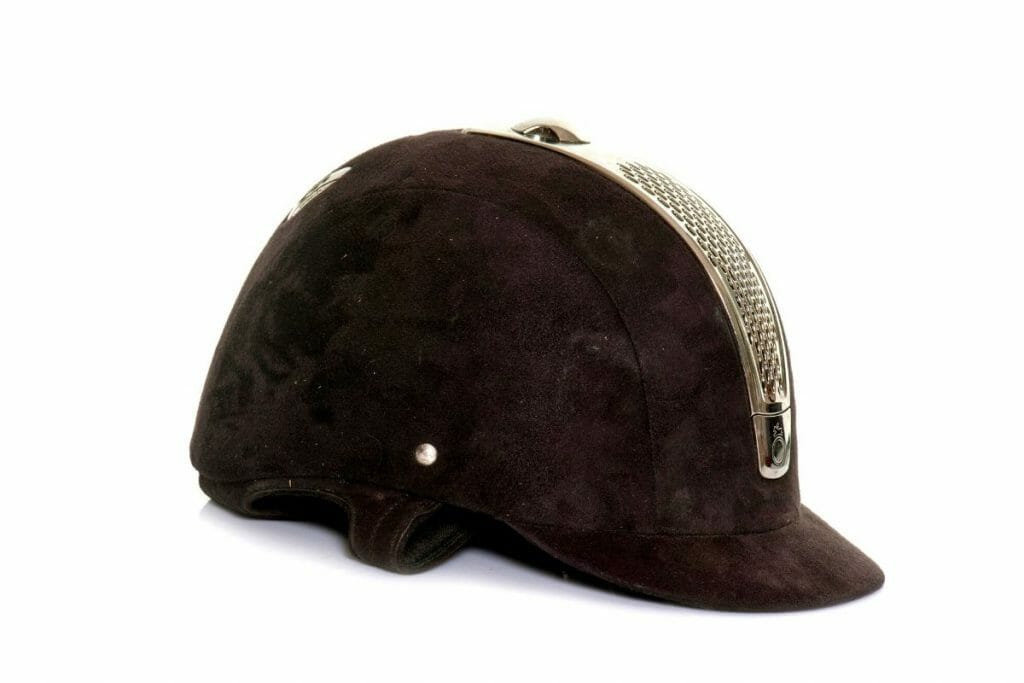 You should replace your helmet after a fall where you hit your head.
You should also replace your helmet at least every 5 years, but on average 3-5 years, because the condition of the helmet degrades over time. The foam that absorbs the shock and protects your head deteriorates over time from use, sweat, and body heat.
8 Helmet Care Tips
Tip #1: Use light soapy water to clean your helmet thoroughly, don't throw your helmet in the dishwasher or washing machine, which can damage the foam in your helmet.
Tip #2: If the helmet has a liner, you can wash that in your washer but make sure you let it air dry so that it doesn't shrink.
Tip #3: Use a helmet bag. This will help protect your helmet in the event of a fall, from getting scratched, and from getting dusty and dirty.
Tip #4: Air out your helmet when sweaty before putting it in your helmet bag.
Tip #5: Don't keep your helmet in places that are too hot like your car in the summer which can degrade the foam and cause it to no longer be safe to use.
Tip #6: Make sure you keep your receipts, product, and warranty info that comes with the helmet. Some manufacturers provide a discount for helmet replacements in a crash, based on, the age of the helmet and the time of the accident.
Tip #7: Avoid sprays like fly spray getting on your helmet as it has been proven detrimental to the integrity of the helmet.
Tip #8: If your helmet is stinky consider using a helmet deodorizer like the Charles Owen Helmet Deodorizer (Look at on Amazon). Using household cleaning products could result in the helmet material degrading faster. So it is best to use a helmet deodorizer or look at the manufacturer's warranty about what products can be used on the helmet safely.
Good luck with helmet shopping! Comment below the helmet you end up getting! Right now I mostly ride in the Fallon Taylor Troxel helmet in turquoise.
Cheers,
Kacey
Kacey has been riding and working with horses since 1998. She got an A.S. in Equine Industries from the University of Massachusetts Amherst, where she was also on the UMass dressage team. She was certified by the American Riding Instructors Association and is licensed to teach riding in Massachusetts. She has been a barn manager and has run a boarding and lesson barn. Kacey was a working student at several eventing and dressage barns. She has owned horses, leased horses, and trained horses from untouched to green as well as retrained racehorses. For more on Kacey, you can look at her About The Blog page.