Do you want to find the perfect name that will suit your beautiful grey horse? 
Here is a bunch of names for a grey horse.
If you're trying to name your grey horse, or even if you're helping someone else do it, there are many of great options to consider.
I understand that with so many choices available, it can feel overwhelming.
Luckily, you have landed on the right article. Whether you need a name for horse shows or want to look at barn names.
I have curated over 200 names of the best names for grey horses and have placed them into different categories for simple scanning, for example, names inspired by famous horses, names for gray female horses, names for dapple grays, and much more. It should be much easier to pick out the names you like.
But not only that, but I also have a printable I want to give you to help you choose the perfect name for your gorgeous grey. I call it the horsey name game.  
There are a few different ways you can play the horsey name game. You can find the instructions included in the printable. So if you think that would be helpful or make it more fun, be sure to snatch that up.
You will find is at the end of the post if you just to scroll all the way down.
Please share in the comments what you've chosen to call your grey horse; I'd love to hear it!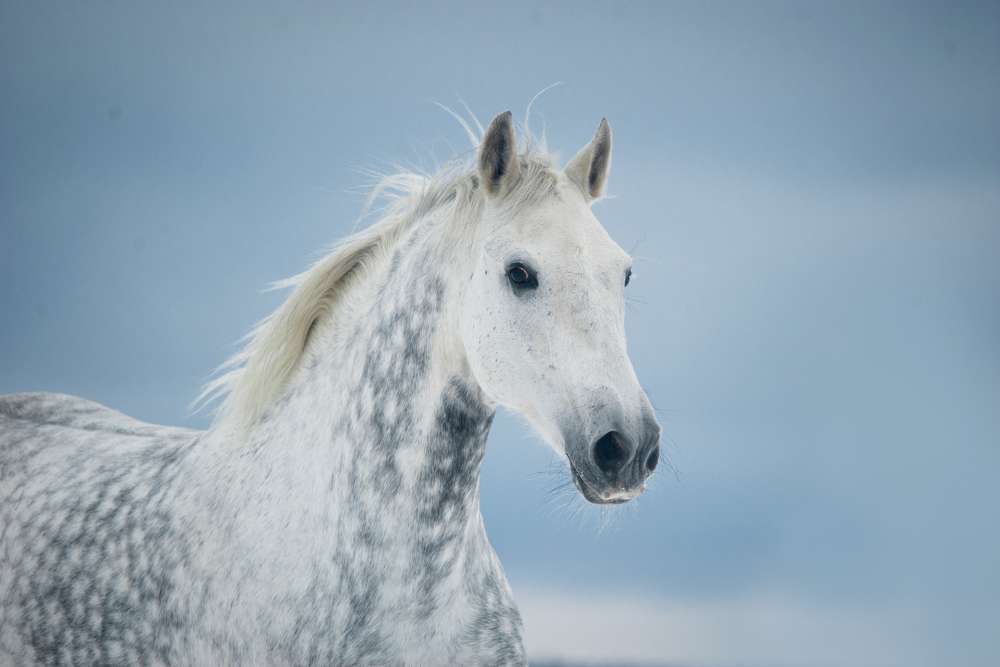 Choosing A Name For Your Grey Horse
To make your life easier, let me share a few ways you can go about choosing your grey horses name.
It could be a name based on your horse's personality rather than the color grey.
The name might refer to the color grey. 
It could be based on things that remind you of grey.
It might have a grey right in the name.
The name could be after a famous grey horse.
This is just a handful of ideas of the many options you have when it comes to picking a name for your horse.
Something To Keep In Mind When Naming Grey Horses
Grey horses often don't stay the same color; their coats change as they age. 
If a horse is a solid dark grey, they are still young, and its coat will whiten over time. 
A dapple grey will not stay dappled. The dapples will fade over time, and the coat will whiten up as well.
And a grey horse that has a white coat could develop freckles, which is known as flea-bitten grey.   
So with this in mind, if your horse's coat still has changes to go through, make sure you are happy with the horse's name no matter what color stage their coat is in.
Famous Grey Horse Names
I thought I would start this name list off with some famous gray horse names to get you inspired. 
However, I don't expect you to name your horse after a famous grey horse, because I'm guessing you probably want something a little more unique. 
Please let me know via the comments section if my assertion is incorrect.
Misinformation About Supposed Famous Grey Horses
Before I get started, I just want to say that I have noticed some misinformation around the web about some famous horses being grey when they are not.
It actually gave me a little chuckle, but also… why? 
I will share two horses that I found had misinformation about there color on the web.
Seattle Slew and Secretariat. 
These are two famous racehorses I have seen described on the web in some articles as "grey horses," and they are in fact not grey.
I actually had Breyers of these horses as a kid, but I have also seen pictures of these horses, and I have owned thoroughbreds who were descendants of both of these horses.
Seattle Slew was a dark bay or possibly a seal brown, and Secretariat was a chestnut. Now that that is cleared up, let's begin.
Famous Grey Horses
| | |
| --- | --- |
| Arrogate | Highest earning thoroughbred racehorse in North America. Sadly, he died in 2020 due to an unknown illness. |
| Black Tie Affair | Thoroughbred racehorse brought over to the United States from Ireland. He was named the 1991 United States Horse of the Year. He died in 2010 due to laminitis. |
| Cozzene | A thoroughbred racehorse that earned the Eclipse Award for American Champion Male Turf Horse. John A. Nerud, a member of the US Racing Hall of Fame, bred and raced him, and his son, Jan, trained him. |
| Decidedly | American Thoroughbred racehorse is best known for winning the Kentucky Derby in 1962. |
| Desert Orchid | Dessie, a British Thoroughbred racehorse, was highly respected and admired in National Hunt racing, where he was loved by fans for his aggressive front-running style, strong will, and wide range of skills. Timeform said that he was the fifth-best National Hunt horse of all time. He raced with five different jump jockeys over the course of his career. |
| Gato Del Sol | American Thoroughbred racehorse best known for his win in the 1982 Kentucky Derby. |
| Grey Way | He was a champion New Zealand Thoroughbred racehorse known as the Washdyke Wonder. Grey William sired him at Washdyke, near Timaru, in 1970, out of the mare Waybrooke, who was named 'Broodmare of the Year' in the 1977-78 season. Phar Lap was another great racehorse born in this region. |
| Gunsynd | Thoroughbred racehorse won the VRC Horse of the Year award in 1972 and was inducted into the Australian Racing Hall of Fame. As a tribute to him, a song was written called "The Gunsynd Song," which was recorded in 1973. Gunsynd's last race was an exhibition gallop at Doomben Racecourse in 1973, which was watched by 25,000 people. In his hometown of Goondiwindi, where he was born, a statue was made in his honor. |
| Holy Bull | A champion Thoroughbred racehorse that got the 1994 American Horse of the Year honors. He sustained a career-ending injury in the Donn Handicap shortly after the commencement of his four-year-old season in 1995. |
| Lady's Secret | A Thoroughbred race mare won the American Eclipse Award and was named one of the Top 100 Racehorses of the 20th Century. |
| Lenamore | From 2005 to 2011, he competed in seven consecutive Badminton, six Burghleys from 2003 to 2011, one Olympic Games (Beijing, 2008), and one World Equestrian Games (Aachen, 2006). He holds the most British Eventing points (2,203) of any rider in history. |
| Marengo | The famous war horse of Napoleon I of France. After the Battle of Abukir in 1799, Marengo was taken from Egypt to France when he was only six years old. He was named for the Battle of Marengo, which he helped his rider get through. Most likely, the grey Arabian was born at the well-known El Naseri Stud. Even though he was small (14.1 hands, or 57 inches), he was a reliable, stable, and brave horse. |
| Merrylegs from Black Beauty | Merrylegs is a chunky gray pony. Merrylegs is 12 years old and clever. Black Beauty loves this pony. Merrylegs not only cares for and trains his young riders, but he also teaches the kids not to mistreat horses. |
| Milton | Milton was born in 1977 to Dutch Warmblood Marius and Irish Draught Aston Answers. John Whitaker rode him to success as a show jumper. He was a grey gelding with a height of 16.2 hands. |
| Monarchos | Champion American Thoroughbred racehorse who won the 2001 Kentucky Derby with the race's second-fastest winning time and the overall third-fastest time in history. |
| Mumtaz Mahal | A British Thoroughbred racehorse is described as "one of the most influential broodmares of the twentieth century" by the National Sporting Library's Thoroughbred Heritage webpage. Mumtaz Mahal is regarded as lightning quick, with flawless conformation, quality, size, and a pleasant demeanor. She was the champion in England for two years. |
| Native Dancer | He was called the Gray Ghost and was the first horse made famous by television. It was 1963, when he was inducted into the National Museum of Racing and Hall of Fame. Blood-Horse magazine placed him eighth among the top 100 U.S. racehorses of the 20th century. |
| Neptune Collonges | He was bred in France as an AQPS. a selle-français warmblood with predominantly thoroughbred parents) and trained in Great Britain. His most noted success came when winning the Grand National on 14 April 2012. AQPS stands for "Autre Que Pur-Sang". It translated as "Other than Thoroughbred" not "Other than Pure-Blood." |
| Nicolaus Silver | A thoroughbred racehorse who is most known for winning the Grand National in 1961. |
| Princess Rooney | She was a racehorse that was a Thoroughbred American Champion and was inducted into the United States Racing Hall of Fame after being the first horse to win a Breeders' Cup race and earn that honor. |
| Silver Charm | Champion American Thoroughbred racehorse that won the Kentucky Derby, Preakness Stakes, and Dubai World Cup in 1997.  He was a stud in both America and Japan before retiring to Old Friends Farm in Kentucky. |
| Skip Away | Champion American Thoroughbred racehorse that was named Horse of the Year in 1998, Champion Three-Year-Old in 1996, and Champion Handicap Horse in 1997 and 1998. He won ten Grade One races for a total of $9,616,360 in prize money. |
| Spectacular Bid | American Thoroughbred racehorse champion who won the Kentucky Derby and Preakness Stakes in 1979 and held the world record for the fastest 1 1/4 mile on dirt. He won 26 of his 30 races and set a record of $2,781,607. He also won Eclipse Awards in all three of his racing seasons. |
| The Gray Goose | Kim Walnes, an American eventer, is riding an Irish Draught Sport Horse. The couple was once rated third in the world. The Gray Goose is also renowned as Sylvester Stallone's equestrian star in the film Sylvester when he and Walnes doubled for the eventing sequences. Scenes from the pair's 1984 Rolex Three Day cross-country event were featured in the film. |
| The Tetrarch | Irish-bred, British-trained Thoroughbred racehorse. He was undefeated in a racing career of seven starts and was voted the best British-trained two-year-old of the 20th century according to the National Horseracing Museum. He did not race after 1913 and retired to stud where he became an influential sire. |
| Thunder | The stage name for the horse that serves as the official live animal mascot for the Denver Broncos football club. Thunder works as a mascot with Miles, a person who wears a horse head mask over a Broncos costume. Since 1993, three purebred Arabians have held this position, all gray horses whose coats brightened over time until they were entirely white. |
| Winning Colors | American Hall of Famer Thoroughbred racehorse and just one of three fillies to win the Kentucky Derby. She was registered as roan, although she was really gray with a white blaze on her face. |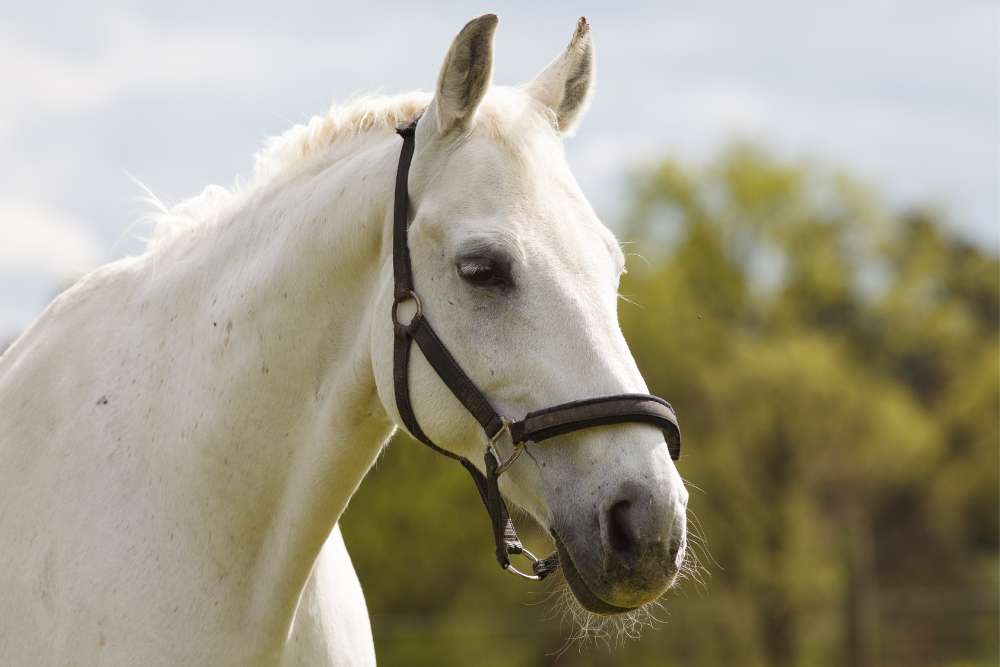 Unique Grey Horse Names
Some people like to go with popular or more common names for their horses, or maybe choose a name after a famous one, which is totally fine. 
Then there are people who would rather have a more unique name that sets their horse apart from the sea of other grey horses.
Here are 10 unique names to consider for your grey horse whether they are male or female. 
Two Bits
Agate
Akoni
Alamode
Arwen
Atlas
Charisma
Moonstone
Grey Female Horse Names
Here are some female grey horse names that fit the feminine theme.
Angel
Annabelle
Annie
Celeste
Bella
Belle
Bailey
Blanca
Stella
Tara
Mystic
Dove
Silverbell
Pearl
Frosty
Grayce
Grey Male Horse Names 
Here are some male grey horse names for your consideration. Whether a gelding or stallion find a name that suits your horse.
Applejack
Caspian
Chevy
Blanco
Coyote
Elliot
Cobalt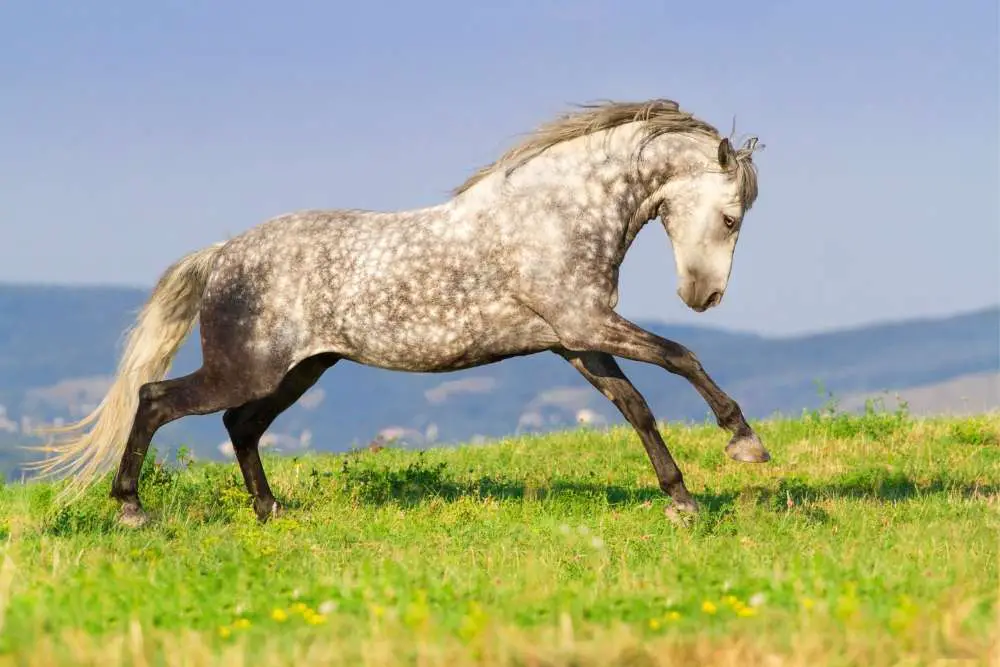 Dapple Grey Horse Names
Dapple gray horses don't keep their dark rings forever. As they age the dapples will disappear and will whiten out. But dapple gray horse names can still inspire you to find the right name for your horse.
Bubbles
Bluebell
Dazzler
Dapple Dan
Dapples
Dappley
Spot
Orby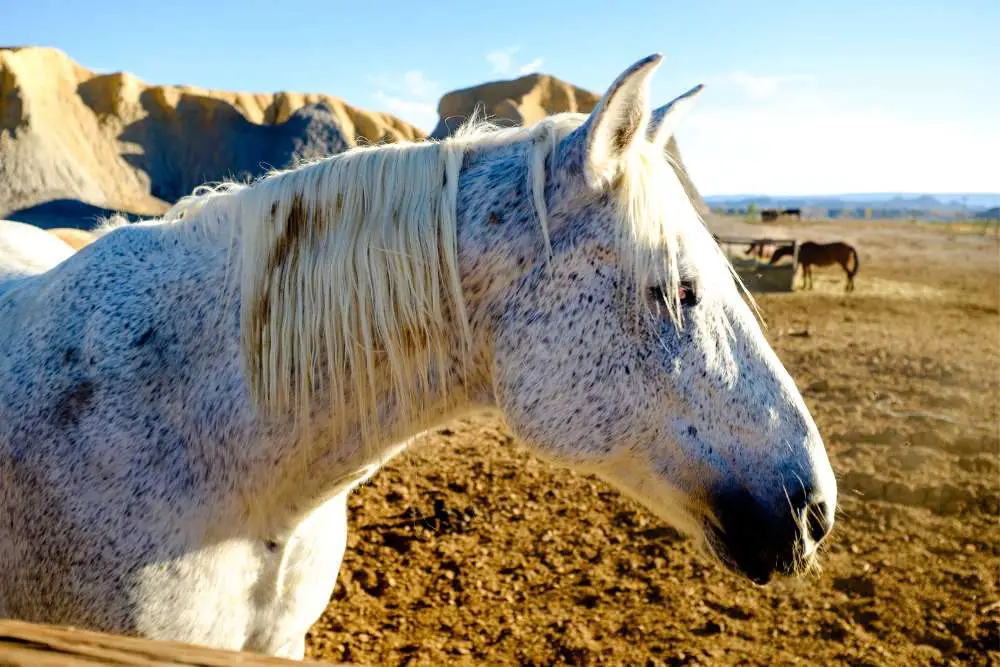 Names For A Flea Bitten Grey Horse
Most horses that are flea-bitten gray stay that way, unlike a, rose gray, or dapple-gray horse, which will change to almost pure white or eventually become flea-bitten gray.
Blizzard
Glimmer
Glitter
Freckles
Speckles
Dusty
Pepper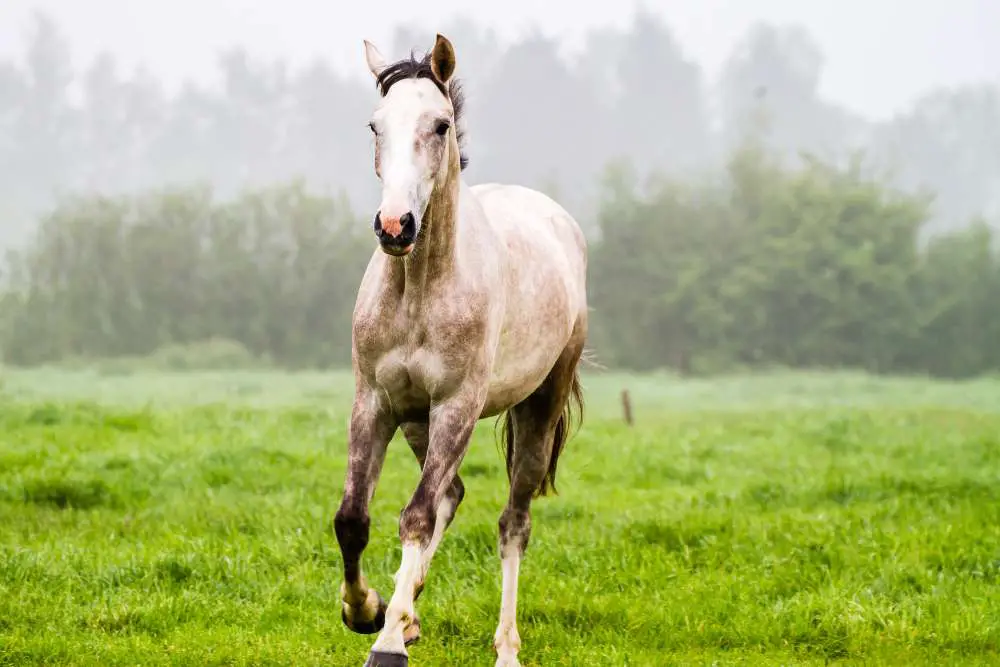 Names For Rose Grey Horses
Akela
Dante
Stardust
Dusty Rose
Stone Rose
Smokey Rose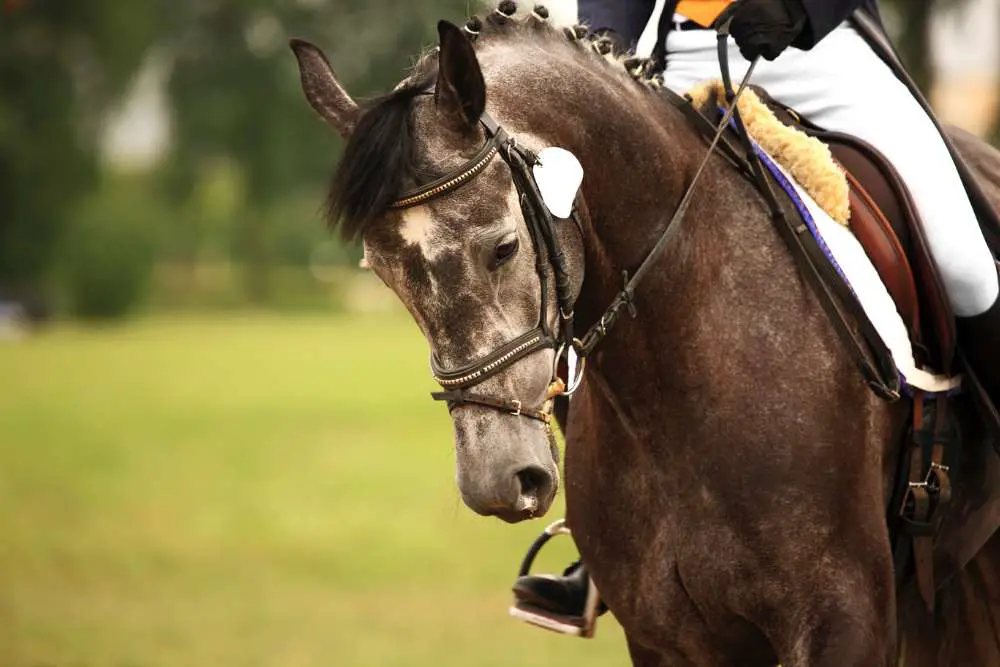 Names For Steel or Iron Grey Horses
Iron-gray horses are beautiful in my opinion. Unfortunately, their dark grey coat color eventually becomes white hair.
Boulder
Charcoal
Tornado
Slate 
Steele
Steely
Steely Dan
Graphite
Stone
Funny Grey Horse Names
Here are some perfect gray horse names for the comedic equines.
Abracadabra
Alakazam
Aluminum (or Al for short)
Chalkboard
Cobweb
Dolphin
Grey Goose 
Salty
Leadfoot
Chalky
Nimbus
Tinsel
Badass Names For Grey Horses
Bond
Bounty
Boss
Bugatti
Death Star
Denzel
Diesel
Gunsmoke
Titan
Spur
Shadowfax
Ghost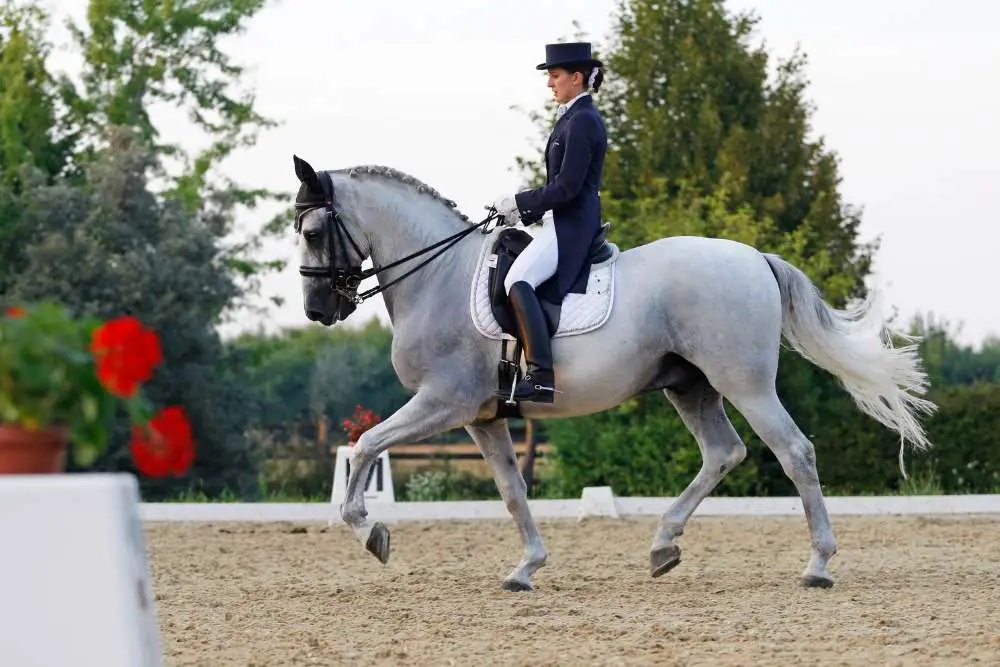 Show Names For Grey Horses
Here are some names for gray horses that compete.
 A Touch Of Grey
American Royal
Ashes Of Roses
Aurora Borealis
Bacardi Silver
Bleu Legend
Blue Ice
Blue Steel
Blue Wave
Breaking Free
Canterville Ghost
Captain America
Cloud Walker
Cloudy Moment
Dapper Dan
Dan Knight
DreamDusty Moon
Dusty Moon
Earl Grey
Evening Shadows
Ghost Town
Stormy Outlook
The Grey Lady
The Ice Man
The Silver Lining
Watermark
White Tornado
Wind Talker
Steele Sun
Steely Stallion
Up In Smoke
Stormy Drive
Storming Steed
Snowman Bridle
Snow White
Spring Rain
Silver Bullet
Silver Dollar
Silver Lining
Silver Screen
Silver Spoon
Silver Surfer
Silver Tarnish
Silver Mane
Cool Names For Grey Horses
Here are some cool names for a grey horse that you may not have thought of.
Alaska
Arctic Star
Aurora
Astra
Eclipse
Twister
Flurry
Luna
Windstorm
Cute Grey Horse Names
Here are some cute names ideas for grey horses. Whether light gray or dark gray any of these names are precious.
Amigo
Bonnie
Boo
Casper
Dolly
Snowflake
Cupcake
Tapioca
Snowball
Tonka
Tilly
Marshmallow
Moondust
Black And White Horse Names
Ace
Badger
Bandit
Checkers
Oreo
Cookies n' Cream
Sylvester
Zebbie
Cruella
Twist
Cookie
Grey Arabian Horse Names
Here are some grey horse names inspired by the Arabian Horse.
Arista
Arlen
Arsher
Artax
Zohan
Vesper
Grey Pony Names
Avalanche
Sugar
Marshmallow
Fluff
Pillow
Squishy
Bells
Tinsel
Toasty
Best Names For A Grey Horse
Cloud
Diamond
Pegasus
Moon
Sterling
Smokey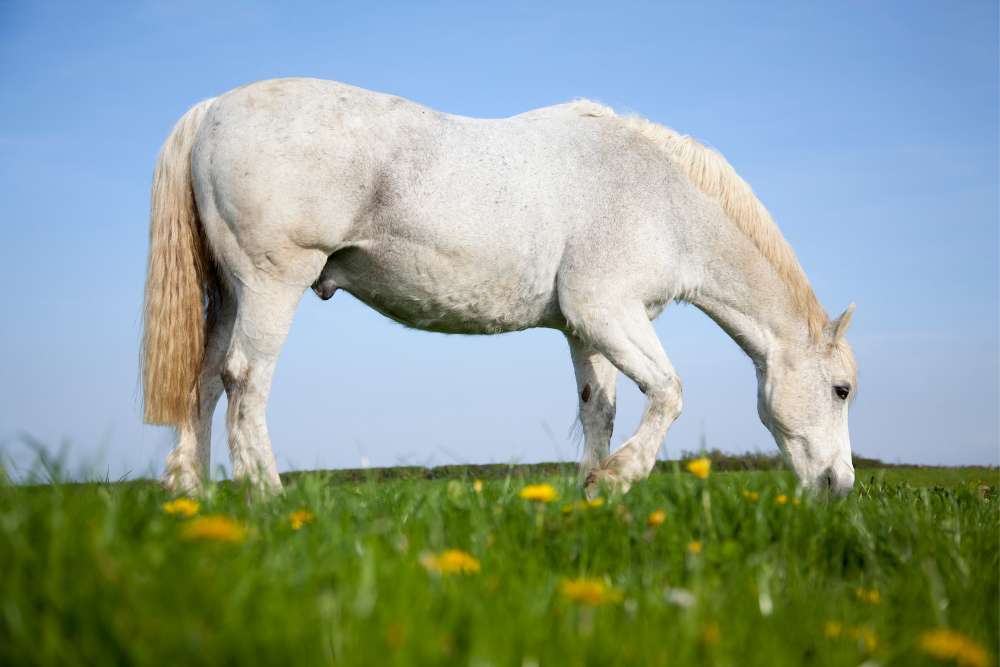 Have You Picked A Name For Your Grey Horse?
Every horse deserves a special name from a horse owner who loves them.
But choosing names for your horse can be a challenge, but with a bit of creativity and inspiration, you're sure to find something that fits your horse perfectly.
There are many name ideas but just make sure that you pick something you are going to be happy with saying over and over.
Whatever name you choose just remember it's more for you, your horse won't mind.
The Horsey Name Game Printable
This fun and easy game is designed to help you narrow down a handful of names that you like for your new horse.
With the Horsey Name Game, you can have the help of your friends and family to make the perfect decision for your new four-legged companion.
Good luck with naming your new beautiful grey horse!
-Kacey
P.S. Did you like this article? Gallop over to:
Kacey has been riding and working with horses since 1998. She got an A.S. in Equine Industries from the University of Massachusetts Amherst, where she was also on the UMass dressage team. She was certified by the American Riding Instructors Association and is licensed to teach riding in Massachusetts. She has been a barn manager and has run a boarding and lesson barn. Kacey was a working student at several eventing and dressage barns. She has owned horses, leased horses, and trained horses from untouched to green as well as retrained racehorses. For more on Kacey, you can look at her About The Blog page.