If you're blessed to have a grey or white horse in your life, you know these stunning beauties are a cut above the rest. They don't just stand out in the pasture; they practically glow.
So, it only makes sense that their names should be just as extraordinary, right? Yet, picking the perfect name that captures their essence can be a tall order.
Whether your majestic companion is an Arabian, an Andalusian, or even a spirited Mustang, you've come to the right place.
I've gathered an extensive list of 245 white horse names that are tailored just for these unique gems. From time-honored classics to some fresh and quirky picks, there's something here to make everyone do a double-take.
So, grab a notepad or your phone, because inspiration is about to strike!
Take your time and really feel out which name speaks to you and your horse. Trust me, with the list I've got for you, the perfect name is just a heartbeat away.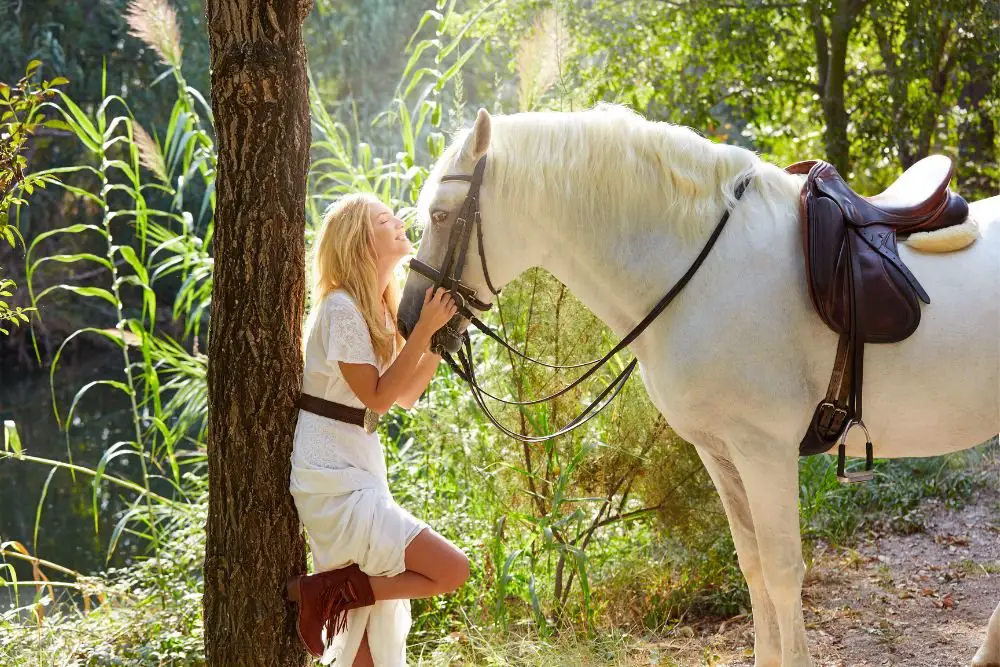 Unique White Horse Names
When it comes to unique names for your white horse, the possibilities are endless. Here are a few ideas to get you started:
Blanca
Blanche
Casper
Comet
Crystalline
Ghost
Ivory
Misty
Moon
Moondancer
Spirit
Venus
Fun Fact
Not all white horses are born white – some are born with a different coat color and gradually turn white as they age. This process is known as greying.
White Horse Names Based on Animals
Naming your horse after a traditionally white animal is a great way to give a nod to its color while still providing a unique name. Here are some ideas:
Arctic Fox
Beluga
Bunny
Dove
Egret
Lamb
Mouse
Polar Bear
Seagull
Horse Names From White Textiles
Traditionally white or off-white textiles offer interesting white horse names. Consider these:
Cashmere
Cotton
Fleece
Lace
Linen
Wool
Winter Names for a White Horse
Winter's frosty freeze can be strikingly beautiful, so these winter-based names are perfect for a gorgeous white horse:
Alpine
Blizzard
Bone-chilling
Frost
Frozen
Glacier
Iceberg
Icecap
Icy
Slushy
Snowball
Snowman
Fun Fact
The most famous white horses in literature and mythology are Pegasus, the winged horse of Greek mythology, and the Lone Ranger's trusty steed, Silver.
Weather Names for White Horses
Of course, there are other white weather conditions as well that will make good horse names. Consider these:
Breeze
Cirrus
Cloud
Cumulus
Cyclone
Fog
Gale
Hurricane
Mist
Storm
Tornado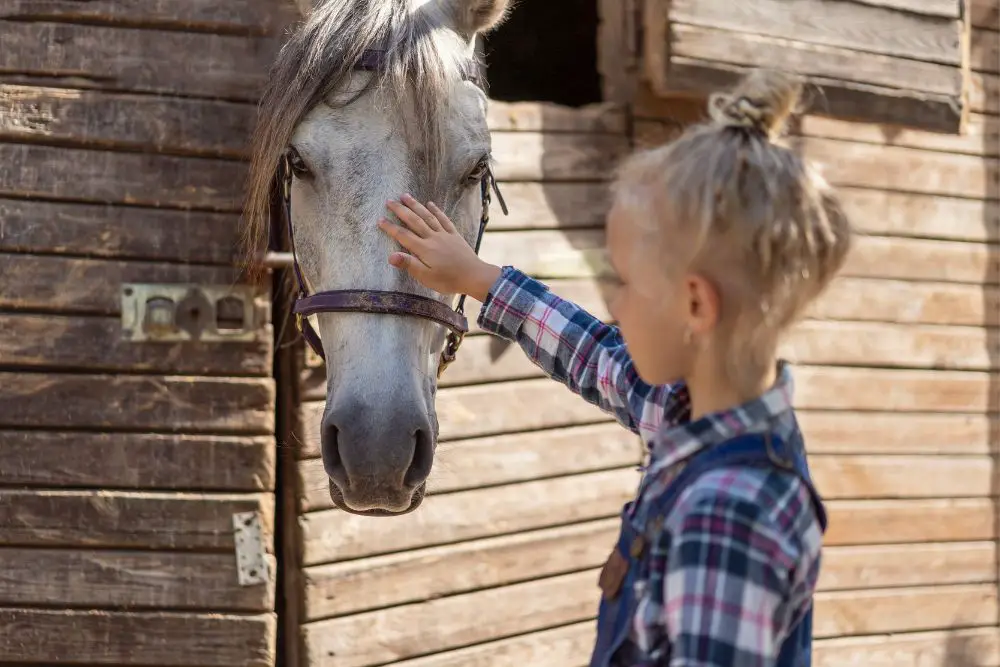 White Horse Geographic Names
You can also take your horse's name from cold places. Consider these geographic names:
Alaska
Arctic
Aspen
Greenland
Iceland
North Pole
Polar
Flower White Horse Names Female
If you have a female white horse, consider a white flower name:
Baby's Breath
Calla Lily
Camelia
Cosmo
Daisy
Jasmine
Lilac
Lily
Magnolia
Moonflower
Petunia
Waterlily
White Rose
Yarrow
Fun Fact
White horses are not actually completely white. They have dark skin and their hair lacks pigmentation, which gives them their white appearance.
Famous White Horse Names
If you're looking for famous horses to inspire your new white horse's name, you may consider:
Bach Ma- patron saint of Hanoi
Kanthaka- white horse that appears in Buddhist texts as Prince Siddhartha's favorite horse
Marengo- Napoléon's war horse
Milton- successful showjumping horse ridden by John Whitaker.
Pegasus- white, winged horse in Greek mythology
Phantom- Zorro's horse
Shadowfax- white horse ridden in Lord of the Rings
Snowman- $80 horse that on his way to a slaughterhouse and became a champion jumper.
White Flash- ridden by Tex Ritter in multiple western movies
Cheesy White Horse Names
Love cheese? Try these dairy-friendly white horse names:
Brie
Burrata
Chevre
Gouda
Gruyère
Mozzarella
Parmesan
Provolone
Ricotta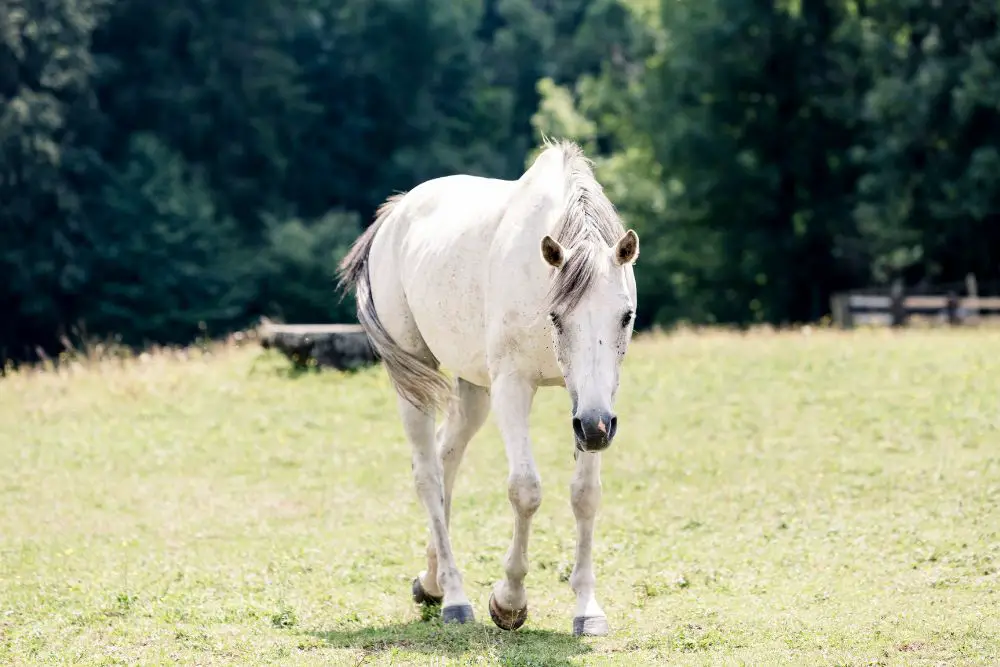 Food Names for White Horses
Any white food makes a tasty and fun horse name for your white horse. Consider these:
Almond
Chai Latte
Chowder
Coconut
Eggshell
Fluff
Lima Bean
Marshmallow
Meringue
Milk
Oyster
Pina Colada
Potato
Snickerdoodle
Snowcone
Sourdough
Sugar
Sugar Cookie
Tofu
Vanilla
White Chocolate
Gemstone Horse Names
Names based on white jewels make elegant names for your white horse. Consider these:
Crystal
Diamond
Howlite
Moonstone
Opal
Pearl
Quartz
Selenite
Glittering White Horse Names
A running white horse can look like a flash of light, so these light-based glittery names are perfect for your animal companion. Consider these:
Angel
Beam
Blaze
Blink
Bolt
Brilliance
Flash
Glare
Glimmer
Glint
Glisten
Glitter
Glossy
Glow
Halo
Lightnight
Luminescence
Luminosity
Nightlight
Pearlized
Radiance
Satin
Shimmer
Shiny
Spark
Sparkle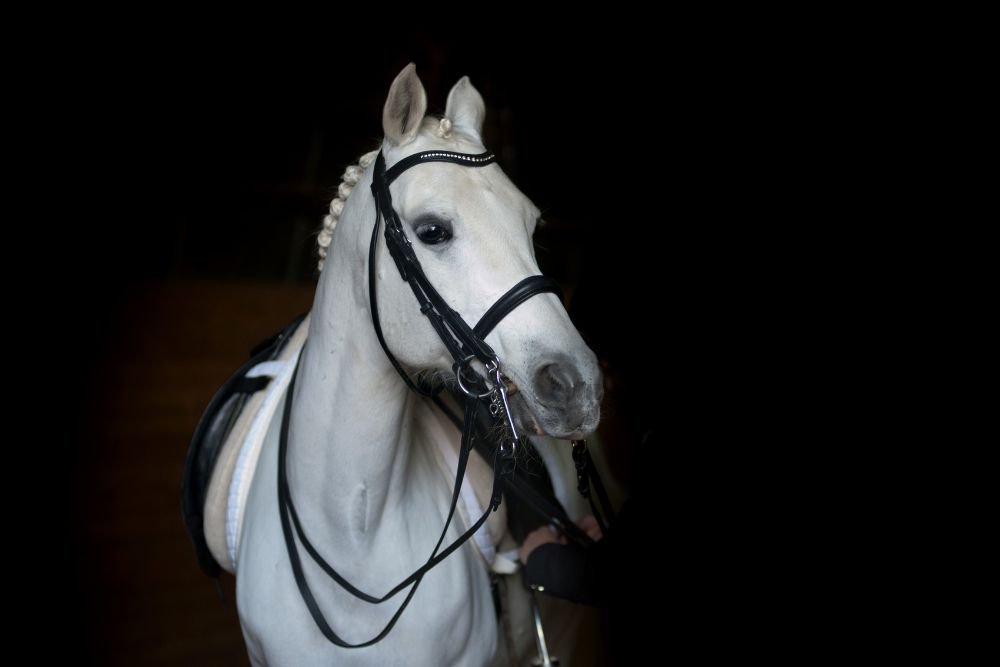 Show Names for a White Horse
Show names are often longer names that accentuate your horse's personality. Here are some ideas:
Alabaster
Angelic Frost
Arctic Blast
Arctic Circle
Arctic Dreams
Arctic Fox
Arctic Light
Arctic Mirage
Arctic Ocean
Arctic Star
Beaming Beauty
Bedazzling Light
Blizzard Storm
Bright Snowfall
Bright Star
Brilliant Starburst
Cotton Tail
Crescent Moon
Crystal Clear
Diamond Dreams
Diamond Dust
Falling Snow
Frostbite
Frosty Dawn
Frosty Flakes
Frozen Elegance
Frozen Light
Frozen Wonder
Gliding Swan
Glowing Moonlight
Ice Crystal
Ice Queen/King
Iceberg Rose
Icy Dream
Icy Mirage
Icy Moonlight
Illuminating Angel
Ivory Coast
Ivory Dawn
Ivory Lace
Ivory Moon
Ivory Queen/King
Ivory Tower
Moonbeam
Moonlight Sonata
Moonstone
Mountain Ice Flow
Mystic White
Opalescent
Pearl Essence
Polar Bear
Polar Express
Polar Ice
Pure Platinum
Radiant Moon
Shimmering Snow
Shimmering Snowflake
Shining Snow White
Shooting Star
Silver Snow
Snow Angel
Snow Bunting
Snow Globe
Snow Queen/King
Snow White
Snowberry
Snowdrift
Snowdrift Symphony
Snowfire
Snowflake Serenade
Snowy Delight
Snowy Glacier
Snowy Mountain
Snowy Owl
Snowy Peaks
Soaring Angel
Sparkling Moonlight
Starlight
Stellar Starlight
Twinkling Star
Vanilla Swirl
White Angel
White Cliff
White Diamond
White Gold
White Heat
White Knight
White Lightning
White Magic
White Rose
White Sapphire
White Satin
Winter Chill
Winter Solstice
Winter Storm
Winter White
Winter Wonderland
Winter Wonderland Waltz
Winter's Breath
Winter's Tale
Winterlude
Tips For Naming Your White Horse
Choosing a name for your white horse is an important decision. It's a chance to give your horse an identity that reflects their beauty and grace.
But with so many options, it can be overwhelming to find the perfect name. In this guide, we'll explore tips and ideas for naming your white horse.
Looking to Famous Horses for Inspiration
One way to find inspiration is to look at famous grey and white horses. Horses like Gem Twist, Snowman, and Milton are legendary and can offer ideas for naming your white horse.
You can also consider naming your horse after white foods, white flowers, or even different types of clouds. Keep a notebook or your smartphone nearby to jot down any name that inspires you.
Choosing a Name that Fits
When brainstorming names, consider the length, pronunciation, and memorability of each name.
An ideal name will be easy to pronounce and remember and just a couple of syllables long, so you can use it regularly while training your horse. Also, avoid names that sound too similar to other horses' names in your barn to prevent confusion.
If you plan to compete with your horse or register them, keep in mind the naming guidelines of your breed registry.
Most registries have strict rules dictating the number of characters a name can contain and whether you can incorporate punctuation. Familiarizing yourself with these rules can help you choose a name that meets the guidelines and is still unique.
Show and Registered Names
For your horse's show or registered name, you have more room for creativity.
While traditionally, these names reference your horse's bloodlines, you can choose to create a unique name that doesn't tie into your horse's heritage.
You can start brainstorming favorite phrases, references to snow or the North Pole, or names that honor some famous grey and white horses mentioned earlier.
Top White Horse Names
If you're still struggling to come up with ideas, consider using one of these top white horse names:
Snowball
Pearl
Ghost
Ivory
Diamond
Blizzard
Any of these names can work as a barn name or be incorporated into a registered or show name.
Conclusion
Choosing the perfect name for your white horse may take time, but it's worth the effort to find the right fit. Remember to choose a name that resonates with you and your horse and reflects your horse's personality and appearance. With these tips and ideas, you're sure to find a name that you and your white horse will love for years to come.
-Kacey
P.S. Did you like this article? Gallop over to:
Kacey has been riding and working with horses since 1998. She got an A.S. in Equine Industries from the University of Massachusetts Amherst, where she was also on the UMass dressage team. She was certified by the American Riding Instructors Association and is licensed to teach riding in Massachusetts. She has been a barn manager and has run a boarding and lesson barn. Kacey was a working student at several eventing and dressage barns. She has owned horses, leased horses, and trained horses from untouched to green as well as retrained racehorses. For more on Kacey, you can look at her About The Blog page.