Looking for heart horse quotes that explain how you feel about a horse in your life?
Do you have a special horse that you can't imagine life without, or a horse that you will never forget? These horses aren't here with us forever but they make an impact so strong that they will always have a place in our hearts.
They may not have been the perfect horse but they stole your heart anyway with the friendship and connection they developed with you.
Here is a list of quotes I collected from around the internet that help to define and explain the magical horse in your life called the heart horse.
The author's names have links to the articles I got these quotes from. Enjoy!

List Of Heart Horse Quotes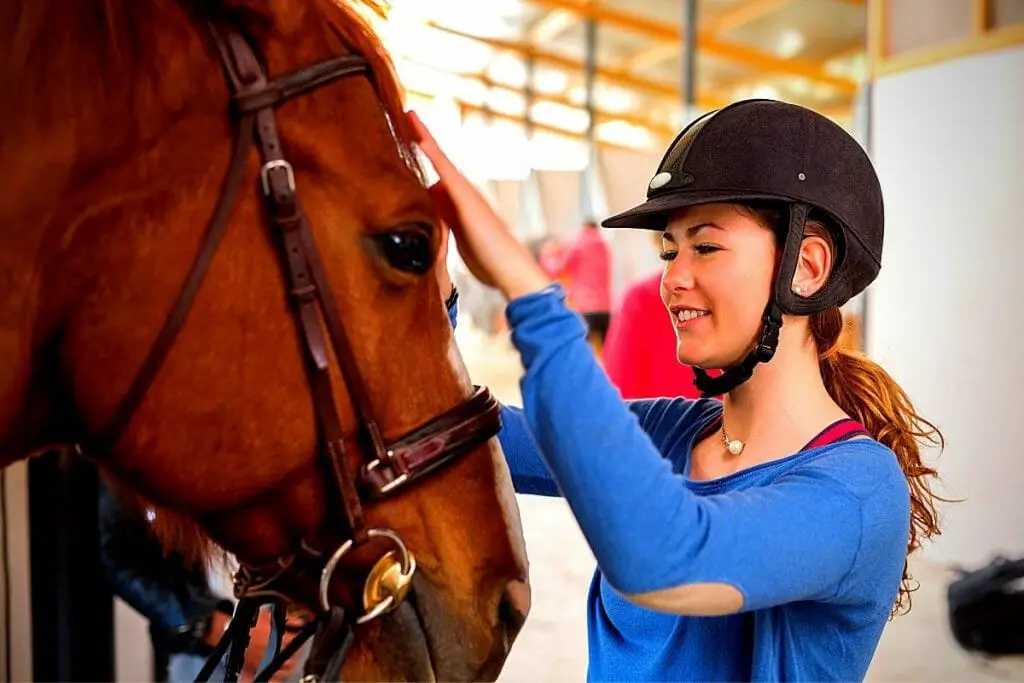 1. It took me almost twenty years of riding to learn what a heart horse actually is.  –Lauren Mauldin
2. I've owned half a dozen horses, leased several more and am fortunate enough to have ridden countless amazing creatures during my equestrian tenure. But I never had a heart horse until Simon. –Lauren Mauldin
3. It's not a myth! Heart horses really do exist. In fact, the one you currently own may actually be your heart horse. –Emily Fought
4. A heart horse may challenge you or be the rock you need to rebuild confidence. –Emily Fought
5. Perhaps a horse's personality makes them a heart horse.  Kate Boggan
6. A heart horse isn't always the obvious choice. No one else may understand the connection;… Kate Boggan
7. But these horses that earn the title of heart horse are perhaps a different creature than the horse you might call your best horse. Kate Boggan
8. A heart horse doesn't always give you piles of ribbons or make all your riding peers envious (sometimes they make them pity you). Kate Boggan
9. A heart horse may not always give you an easy ride, but when they do they are the sweetest experiences to revel in. Kate Boggan
10. But the heart horses are the ones that give you their heart in return and those are the horses we cherish above all others. Kate Boggan
11. Some may think us silly or foolish, but heart horses are real. Emily Fought
12. Don't be fooled though! Heart horses are not always the easy rides. Most of them are far from perfect.  Emily Fought
13. Whatever you ask, they'll try! You may both fail miserably, but a heart horse is dependable. They've got your back! Emily Fought
14. The term 'heart horse' was coined by horse lovers. It describes the dream of finding a horse that is much like your soul mate in life. Emily Fought
15. I believe you can have more than one "heart horse" in a lifetime. They can come into your life at different times and for different reasons but they leave a mark on your soul, more so than other horses or animals, which is why they are a bit more special. k9kenai
16. Don't limit yourself to thinking you'll only have one heart horse and this mare is it; chances are another will enter your life at some moment and will have just as big an impact, but possibly in a different way. k9kenai
17. So don't worry – your heart horse(s) will come along when you're least expecting it, and they will be your teachers for a while or a lifetime, and you will cherish your time spent with them even if they are eventually sold. –Kai
18. And when your heart horse has no lessons left to teach you, another horse will volunteer for the solemn duty, and the cycle will start again.-Kai
19. I believe in the, " heart horse" theory. I believe that as a horse owner, you can actually have a perfect horse that fits you. Amanda Pearce
20. There are horses, and then there are "heart horses." A heart horse is a horse that you share a unique connection with. They are your greatest pride and joy . . . your equine soulmate. Nicole Fava
21. Your heart horse is that one horse that stands out to you more than any other, and in turn they leave the biggest hoof prints on your heart. Nicole Fava
22. Your heart horse is one that will make every bad day better. Chances are, they've been with you through some of the biggest highs and lows of your life. Nicole Fava
23. When you need an escape, your heart horse is standing at the stall door waiting for you. They are more than just a competition partner or a pet… they are your best friend! Nicole Fava
24. This is where the real meaning of what a heart horse is trots onto the scene – because it blows apart the old understanding of what horses are meant for and why they are in our lives in the first place. -Alexa Linton
Last Thoughts
These are horses that will forever be in our hearts. I hope you enjoyed reading this collection of heart horse quotes.
Who is your heart horse? Write in the comments below. What's the horses name, color, breed and whatever else you want to share. I would love to learn more about you.
Cheers,
-Kacey
P.S. Did you like this article? Gallop over to:
Kacey has been riding and working with horses since 1998. She got an A.S. in Equine Industries from the University of Massachusetts Amherst, where she was also on the UMass dressage team. She was certified by the American Riding Instructors Association and is licensed to teach riding in Massachusetts. She has been a barn manager and has run a boarding and lesson barn. Kacey was a working student at several eventing and dressage barns. She has owned horses, leased horses, and trained horses from untouched to green as well as retrained racehorses. For more on Kacey, you can look at her About The Blog page.