So many of us horse lovers just want a good horse game to play on our PC. Is that so hard to ask for?
I am sharing the best computer horse games I myself have played. After playing many horse games over the years they are good but not the best they could be.
So who makes it in the top 7 PC horse games of 2023?
The top 7 horse PC games of 2023 go to Star Stable, Sims 3 Pets, Horse Riding Tales, Riding Club Championship, My Riding Stable: A Life With Horses and Horse Isle 3 and Rival Stars Horse Racing.
First I wanted to mention I have not played Rival Stars Horse Racing. It made the list this year because so many people are loving the game. I have it last just because I have not played it not because it is the worst game. But I will share what I know and some videos I found.
Also!! Very excited! I found out they will be making a jumping update in the Rival Stars game. Looks like cross country jumping. Yay!
Related Post: The 7 New Horse Games To Play On Your PC
There is so much that can go into a horse game that could make it the best.
Good graphics
Accurate conformation of the horse and breed
Correct animation of the horse
Realistic horse care and chores, but no so much that game is slow.
Depth to the game story and character building
A cool riding experience with easy controls
Horse personalities and relationship progression between horse and rider
Good user experience
Connecting with other players: chat, visiting each other's barns, competing against one another, team competitions.
Ability to create content for the game
Different "kinds" of fun horse competitions
Training progression being visually noticeable in horse and rider
Realistic horse breeding outcomes
These are just a few of my many of my ideas of how a horse game could be really good.
The order of these games are starting best to worst. I am giving a little bit of info on each of them, how much they cost, the game play and what I like and don't like about each game.
1. Star Stable Online
Star Stable Online is my number one horse game at the moment. It's not perfect there is a lot that could be done to make it better.
That being said, there are a good amount of features that I think make it rank number 1.
Star Stable is an MMO or a Massively Multiplayer Online game. This means that a large volume of players can compete, interact and cooperate in an ongoing virtual world.
Quick Look At Jorvik
The video on YouTube shows footage of gameplay around the different places in Jorvik, which is the fictional location on which this game is based.
Playing Star Stables Online
There are many objectives in the game. Such as leveling up your character as well as the horses you have. 
Competing and racing while trying to beat leaderboard times and your own times. As well as competing in races live with other players.
Exploring the world of Jorvik is fun as the graphics are very decent and the music is fun as it changes when you go to different areas on the map.
There is roleplaying by the Star Stable players and you can join clubs that do that. There are many quests to be fulfilled so it keeps you always having something to do.
If you like matchy-matchy you will love this game. There is so much gear, equipment, and clothes in many styles and colors that you can buy in-game with Jorvik Shillings or Star Coins. You can matchy-matchy to your heart's desire.
The other cool thing is that your horses progress in their abilities. The most noticeable is the horse's turning ability and speed.
If you are a subscribed Star Rider as you progress in the game you unlock new areas on the map and as you level up new horses, activities, clothing and equipment become available for you to buy.
Another thing you work on in the game is improving your ranking of being like in the different areas on the island of Jorvik.
What Breeds Are In The Game?
The following breeds can be seen in Star Stable:
There are from The Site
Regular Breeds
Akhal-Teke
American Paint Horse
American Quarter Horse
Andalusian, Appaloosa
Arabian Thoroughbred
Clydesdale, Curly Horse
Danish Warmblood
Dutch Warmblood
English Thoroughbred
Fjord
Friesian Horse
Friesian Sport Horse
Haflinger
Hanoverian
Icelandic Horse
Irish Cob
Knabstrupper
Lipizzaner
Lusitano
Morab
Morgan
Mustang
North Swedish Horse
Oldenburg
Pintabian
Selle Francais
Shire
Trakehner
Westphalian
Ponies
Connemara
Chincoteague Pony
Welsh Pony
Fictional Breeds
Ayla
Brinicle
Fawncy
Jorvik Pony
Jorvik Warmblood
Jorvik Wild Horse
Pepita
SuperShire
Star Horse
Umbra
Vega
Woodear
Zony
How Much Does Star Stable Online Cost?
You can play for free up to level 5 then you either have to buy the game with lifetime membership or pay a monthly membership fee, otherwise you will be stuck at level 5 and in one area on the map.
I think the price to play the game is fair. However, all the micro-transactions can be ridiculous and you can end up spending a lot of money if you are not paying attention.
For example, Star Coins cannot be earned you must pay for them out of pocket, even after subscribing to the game.
Star Coins are one of the main currency in the game and you can't buy horses without them.
The Jorvik Coins you are able to earn in the game but it can only be used for equipment, feed, and other certain things.
Right now As of April 2020:
Pay Once $74.99
no more monthly fees – play Star Stable as much as you like!
a one-time gift of 1200 Star Coins
a weekly allowance of 100 Star Coins
free weekly updates and access to new areas
exclusive Star Rider-only items
3 Months $20.99
a one-time gift of 300 Star Coins
a weekly allowance of 100 Star Coins
1 Month $8.49
a one-time gift of 100 Star Coins
a weekly allowance of 100 Star Coins
5 Things I Like About Star Stables
I love that the graphics look fairly realistic. 
I like that you can own as many horses as you want in the game. 
I love all the places you can visit. That they have different themed areas that you can explore with different horses available to buy in each area.
I like that the different breeds of horses have different physical characteristics and movements.
I like that there are championship races and that you are competing against other players.
Bonus: I like that there is always something you can do to keep the game play going.
5 Things I Don't Like About Star Stables
I don't like that horse races are the only competitions available in the game. There is some variation like barrel racing, pole bending and steeplechasing/cross country jumping type race, but I would like to see dressage competitions, show jumping competitions, maybe reining competitions.
I don't like that the horses look good but then the avatars look almost awful compared to the horses.
I have not experienced this myself but apparently many players get banned from chat for saying certain things that Star Stable deems as not okay, even if is not bad or a big deal. Hopefully, I won't run into that.
I don't like that the updates are kind of boring. It would be nice to see some really cool updates like different horse care tasks, new movements for horses maybe for dressage, showjumping competitions, new horse equipment like half pads, leg boots, ear bonnets, horse blankets, supplements to improve performance, turnout paddocks for our horses, etc.
I don't like how high the horses jump even over small obstacles. It would look way better if the horses adjusted their heights based on the size of the jumps.  And I wish you could knock jump poles down.
Bonus: I don't like that the game just has girl characters because boys play this game and they want to play a boy character. It seems a bit unfair.
Overall I would say Star Stable is a really fun game that will keep you entertained for a long time.
It is worth getting a subscription. But you will also want to buy gems to be able to buy a few horses. It is not as much fun only riding one horse all the time.
Check out this funny spoof video of Star Stable on YouTube.
2. Sims 3 Pets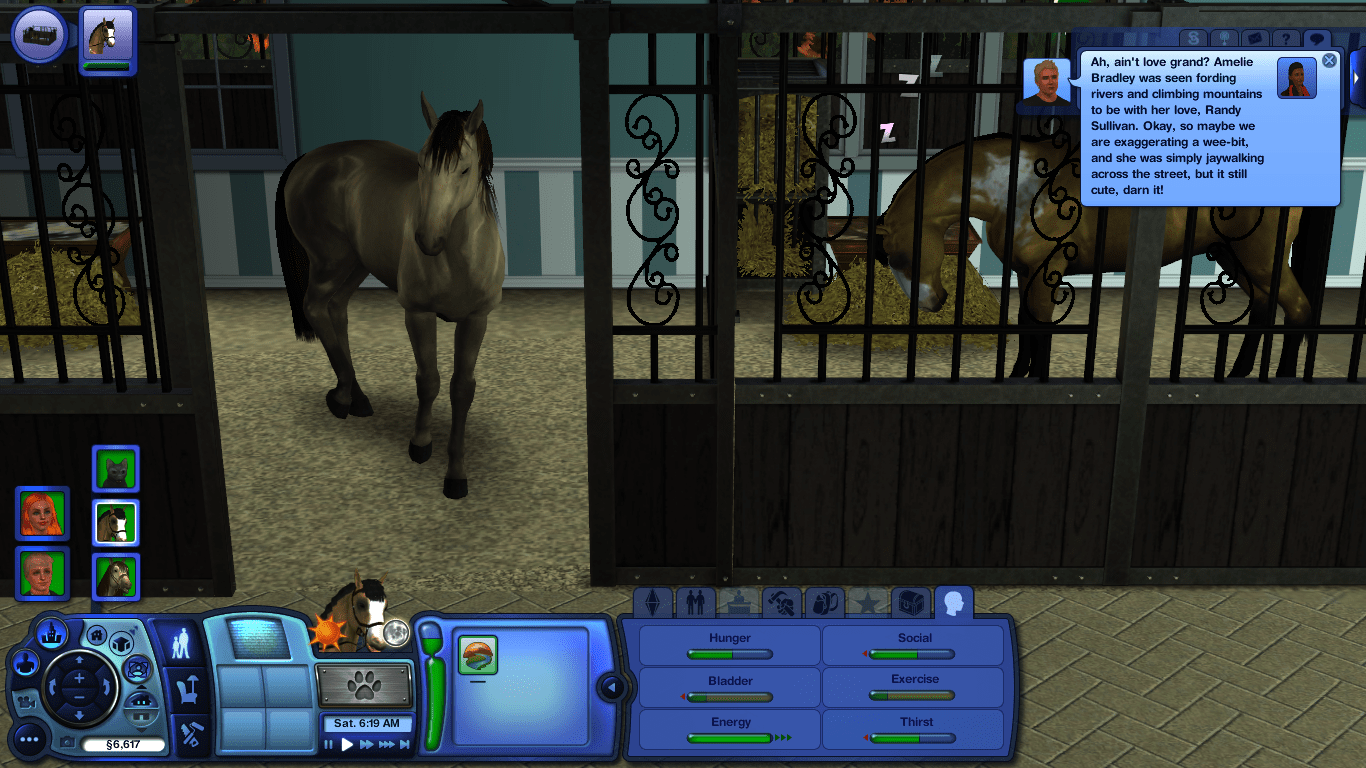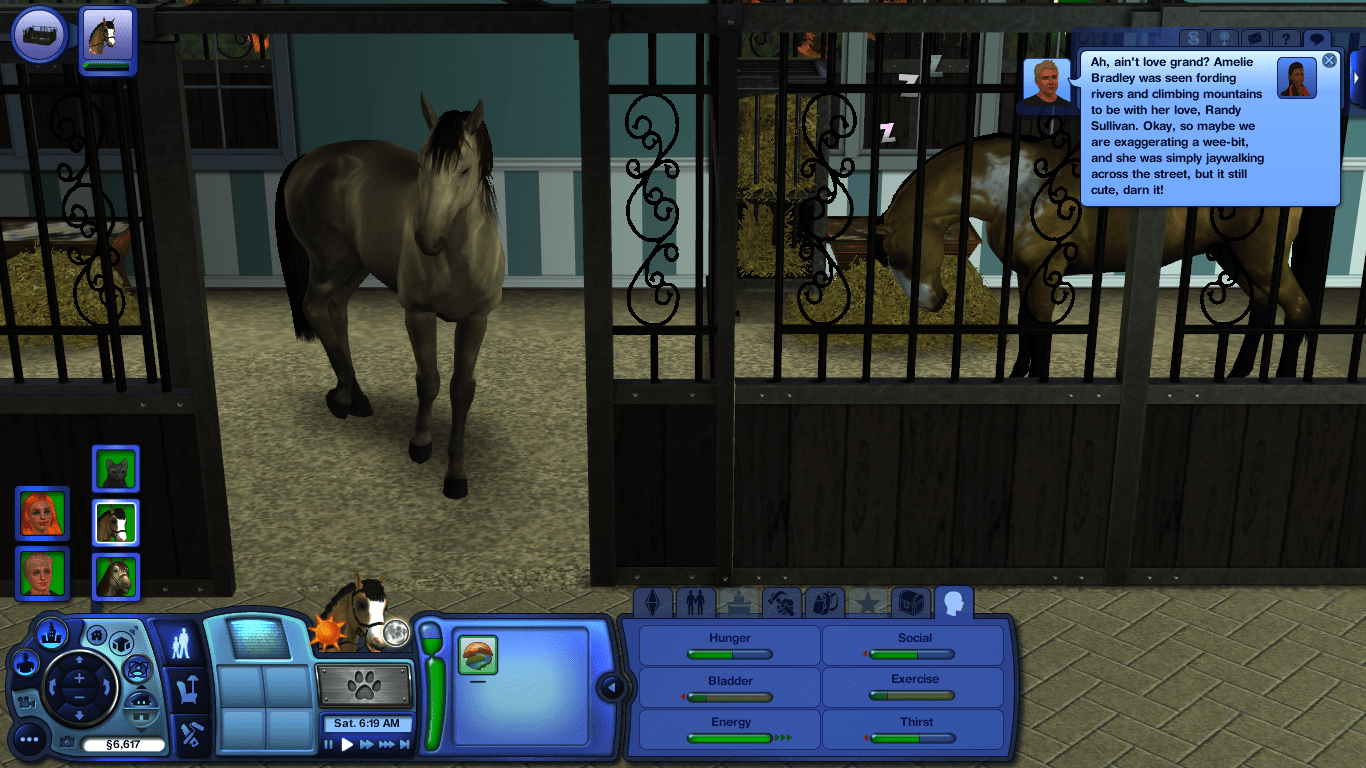 Sims 3 Pets is second on my list, because it has fun game play with horses and so much more. It is a combination of Sims 3 base game and Sims 3 Pets expansion pack.
You need the base game to play The Sims 3 Pets. This is a one-player simulation and role-playing game.
Check out the expansion pack trailer for Sims 3 Pets on YouTube.
Playing Sims 3 Pets
I love this game because you can live out your life in the game as you want to, look how you want and own, breed, train and compete horses.
You make up your own story for your sims and you can control all the aspects of their life.
Things you want to work on are keeping your household, happy, healthy, working toward their aspirations, fulfilling their wants and needs.
I love the fact you can create your own horse farm just how you like. This game is partially like an architecture computer program in some respects.
Now you can't control the horse directly while riding which kind of stinks.
But you can tell them were to go by clicking on the ground and telling them to go there. I did find a mod online that allows you to have direct control over the Sims with arrows like any other horse game.
The horses have some personality and abilities different from each other but it is not super significant. The horses can die or be taken away if not taken care of well and they die of old age.
You can ride all around the open world of your neighborhood. You can also compete but you don't do anything in the competition and don't see anything except a leaderboard during the show which is dumb I think.
Keep in mind there are some adult things in this game. Although it is censored. Like going to the bathroom, showering, streaking, "woohooing" to get pregnant or not… So mature audience is best.
Video of Sims 3 Pets Building Farm:
Check out this video on YouTube of a player building an equestrian center on Sims 3 Pets.
What Horse Breeds Are In Sims 3 Pets?
These are the breeds that are supposedly in the game.
Akhal-Teke
American Quarter Horse
American Standardbred
Andalusian
Anglo Arab
Appaloosa, Arabian
Australian Stock Horse
Barb, British Warmblood
Clydesdale
Friesan
Gelderlander
Gypsy Vanner
Hanoverian
Holstein
Irish Draught
Lipizzaner
Lusitano
Morgan
Mustang
Paint
Palomino
Pinto
Salerno
Selle Francais
Shire Horse
Thoroughbred
Trakehner
Welsh Cob.
However even though you can choose a "Breed" when creating your horse. The supposed breeds are basically there just to label horses with slightly different confirmation that we can change in the game anyway.
In the game if you want to play the horse it doesn't even show what breed the horse is. Aside from when you go to buy or adopt a horse and then it is never mentioned again.
Horse breeds in the game are more of role playing left to the players imagination.
How Much Does Sims 3 Pets Cost?
You can buy the game on Steam or Origin.com. You have to buy the Sims 3 base game and then the Sims 3 Pets Expansion pack.
It is $53.88 for Sims 3 Plus Pets on Amazon for CD Rom and $40 if you download from Origin or Steam.
Of course, it will be a lot more money if you buy more of the expansion packs. Each of the packs is around $20.
You could buy all of them if you want and spend a good chunk of money… like me. I was obsessed with Sims 3 for a while, still enjoy it after years.
Then there are also extra downloads you can buy and add to the game but why do that when you can get free downloads from creators around the internet. hehehe.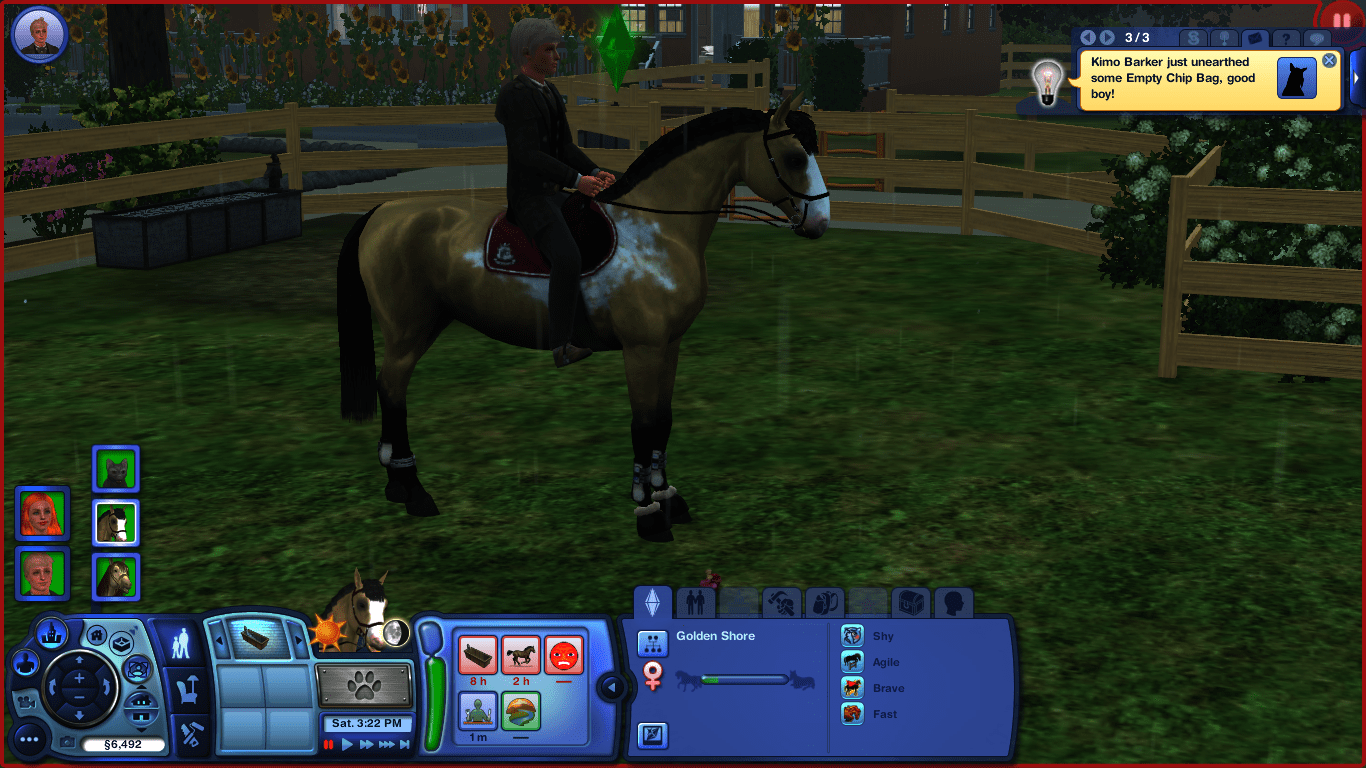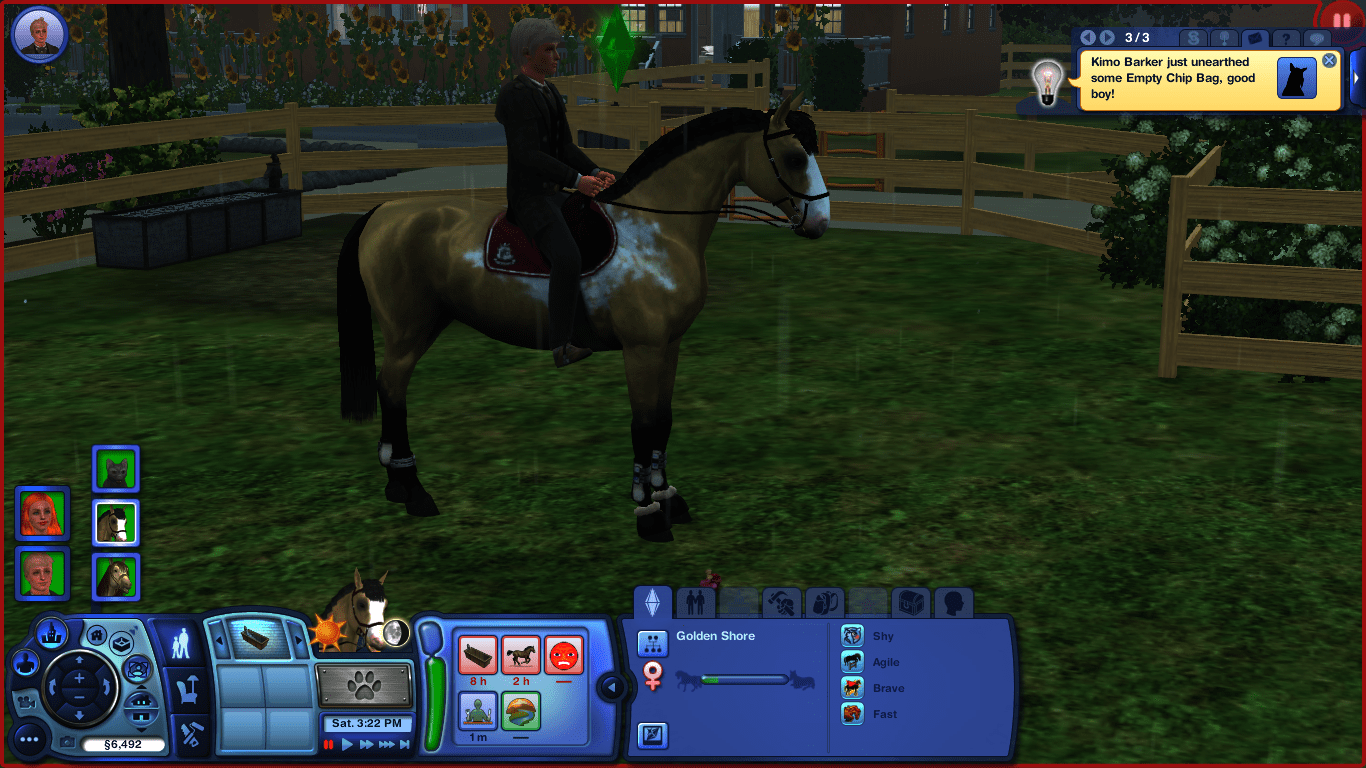 5 Things I Like About Sims 3 Pets
I love that there are downloads and mods you can add to the game to make it look more realistic.
I like that there is a big Sims 3 horse community online that you can connect with despite the game being single player.
I like that you can create your own horse farm just how you want it and can pretend to have your own horses.
I like that you can breed the horses and raise the foals, train and compete with them.
I like that sims learn to ride and you can see somewhat of a progression visually of their riding skills as they start out with a horrible riding position and get better as they improve. 
Bonus: I like that you can have a relationship with the horse and that they have somewhat of personalities.
5 Things I Don't Like About Sims 3 Pets
I don't like that Sims 3 is prone to crashing especially if you don't have a very powerful computer. 
I don't like that though Sims 3 gives you the ability to download items and mods it is not very easy to do so and it can cause crashing.
I don't like that you can directly control the horses when you are riding them.
I don't like the fact that you can't see your horse and rider during competitions and that it is just a leaderboard being adjusted till the end of the competition.
I think the game would be more fun as an MMO where you could have visitors at your place, compete against other simmers, and sell horses to each other.
Bonus: I don't like that with Sims 3 being all real-life simulation that the horse portion is not more realistic, like having a farrier to put shoes on weekly, and pregnant mares with actual growing bellies, and bathing the horse, real grooming tools, blankets for cold weather, tying up the horse to groom and tack up. etc.
Overall the game is worth paying for. It is pretty fun and can keep you busy for a long time. Creating your own farm, living a fake life with horses, creating your sims, creating stories.
Custom content for the game you can download is so much fun. Just make sure it is from secure sights.
Steam Custom Content Download Guide
3. Horse Riding Tales
Horse Riding Tales is another MMO like Star Stable Online. It was very hard deciding to place this game above Riding Club Championship which is next.
I think the games have a very different feel and it is similar to how good RCC is. I put this game above only because it seems to have more features than RCC.
Playing Horse Riding Tales
Video of Horse Riding Tales:
In the beginning you create your character and don't start with a horse. You have to catch your first horse. However before you can catch your first horse you need horse taming orbs to do so. 
You create these orbs by mining for different materials. There are iron, wood, cotton, stone, opal, amber that you will mine.
There are different level orbs and require different amounts and types of materials. The rarer the horse, the more orbs needed and the higher level the orbs that are needed in order to catch the horse.
You need to create a stable or stall for each horse you get or you are able to put the horse out in the paddock. If the horse is in the paddock too long they will jump out and escape so you do need to create a stall. You could also decide to sell the horse and get coins.
You have different levels based on the quests that you do and the horse competitions you score well on and complete. There are also daily quests that you need to do.
There are things in the game that come unlocked when you reach a certain level.
There are 4 main competitions in the game. 
Horse Show Academy
Dressage Academy 
Air Show Academy
Cross Country Races
What Breeds Are In The Game
The horses are mostly classified by their color and how rare they are instead of breeds.
Common- White common, dun, skewbald, bay
Uncommon- Black beauty, piebald, majestic white
Rare- Dapple grey, appaloosa
Epic- Blue fantasy, unicorn, frye horse
Fantasy- Fire pegasus, pink pegasus, black pegasus, white pegasus, aqua horse, purple fantasy
How are the graphics?
How much does Horse Riding Tales cost?
Horse Riding Tales is available to play for free on Amazon, Steam, Google Play, and the Apple Store. 
However Horse Riding Tales is very expensive with the in-game purchases. In the game you have gold coins and gems to buy things. 
The game is super slow with all the mining and trying to make orbs, buying gems and gold coins speeds things way up. But they are a good chunk of money. 2600 gems are $89.99. Then you can use gems to buy a bunch of things in the game.
You can earn or find gems. But it takes forever!! I have 39 gems right now. I never spent money on this game.
Another thing to note is that you can't leave the main town unless you get a lifetime subscription which is $79.99. 
The lifetime subscription not only allows you to explore other areas but also makes mining for materials faster by 60% and building stables faster by 50%.
5 Things I Like About Horse Riding Tales
I like that you can catch and tame horses. 
I like that you can own more than one horse.
I like that the horse animations are fairly correct.
I like that there are a ton of competition levels that you can keep working on and advancing.
I like that there are quests to keep the game moving forward.
5 Things I Don't Like About Horse Riding Tales 
I don't like how much time the mining takes to get the needed materials.
I don't like how repetitive the game can be, which can make it boring.
I don't like that the horses all look the same except for their colors.
I don't like that the horses only back up, turn and gallop.
I don't like that you only feed the horses apples and they don't get fed hay, grain, or at least grass.
Overall it is a fairly fun game but it is super repetitive and can get boring over time.
Maybe the other areas you can explore would make the game better but I don't know since I don't have the lifetime membership. So far I don't think the lifetime membership is worth it, maybe I'm wrong.
Horse Riding Tales Steam Guide
Horse Riding Tales Video Walk-through
4. Riding Club Championship
Riding Club Championship comes in at a close number 4 because the competition experience is pretty good better than Horse Riding Tales I think but it has fewer features in my opinion. This is another MMO game. The game is all about jumping competitions.
Playing Riding Club Championship
This game is fun and you get to compete against other people. Though there are other people playing this game you don't see them unless you click to look at their profile.
There is not a whole lot of interaction between players that I have noticed.
You can be a male or female and choose your skin and hair color combo. You also get to customize your horse's color. All the horse models look the same.
There are no breeds, just the generic horse in the game similar to Horse Riding Tales. The horses' faces look a little weird but I have seen much worse horse graphics.
The woman rider looks decently normal, the male rider looks somewhat off and ogarish.
The main features of this game are 
Riding clubs
Building courses
Competing in shows against yourself or others
Jumping competitions or timed obstacle competitions, 
Riding gear and equipment you can purchase 
Groom your horse to keep them clean and happy.
Video of Riding Club Championship:
How Much Does Riding Club Championship Cost?
It is free to play on Steam. But there is an option to become a pro rider for $10.61 per month. Then there are also in-game coin purchases.
There are different packages for coins from 3000 coins for $2.99- 150,000 coins for $99.99.
5 Things I Like About Riding Club Championship
I like that the horse jumping seems fairly realistic with the form and height over the jumps.
I like that the controls are straight forward and easy to use.
I like the physics in this game like knocking the poles, barrels, cones and hay bales. It seems fairly realistic.
I like that you can make your own courses and let other players try it out.
I like that when you groom you have a variety of tools 
a curry comb, 
brush, 
a towel, 
a sponge for the face 
a hoof pick. 
5 Things I Don't Like About Riding Club Championship
I don't like that you are only able to have one horse at a time.
I don't like that there is just one generic horse just with different colors. I wish there was more variety.
Though I like that grooming the horse offers different tools to use this part of the game is clunky and sometimes freezes and gets stuck.
It would be nice to have more competition locations and maybe include some cross country jumping. Just having 3 locations for the competitions makes it a bit repetitive and boring after a while.
I don't like that though it is an MMO with other players you can't really interact much with the other players and there is not that much to explore.
Overall I would say definitely play this game if you like show jumping horse games. You may get bored after a while but it will be fun at first and doesn't cost you any money if you don't want to pay for anything.
Riding Club Championship Forum on Steam
5. My Riding Stables: A Life With Horses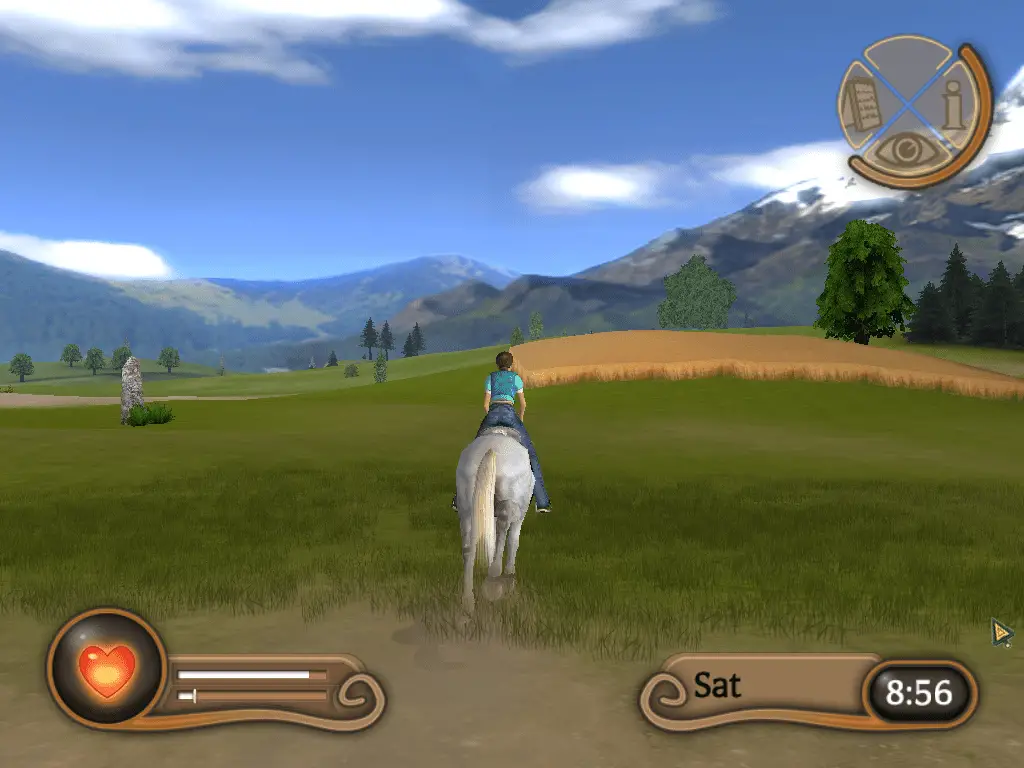 The reason My Riding Stables: A Life With Horses is at Number 5 is not because its a terrible game but because it is a big investment of time and takes a lot of work.
It actually is pretty cool if you get into it and is somewhat realistic. This is a single player game.
Playing My Riding Stables: A Life With Horses
I have not gone too far in this game yet but I see a lot of potential. You inherit a horse guest farm that is dilapidated and falling apart. You get your first horse which you must take care of. 
Part of the game is repairing the farm so guests can come and stay at the farm. You also take in boarders horses for massages and are able to rent out your horses. Essentially you are running your own horse business. 
You can also breed the horses, then train the foals and eventually sell them.
The game can be a bit tedious and take quite a bit of time, but if you need something to pass the time and are willing to invest it can be fun.
When you get money from selling foals, massaging boarders horses and renting out horses you can use the money to fix up the farm, take care of your horses, and buy horses, clothing, and equipment.
How Much Does My Riding Stable: A Life With Horses Cost?
I bought this game off of Steam. It costs $14.99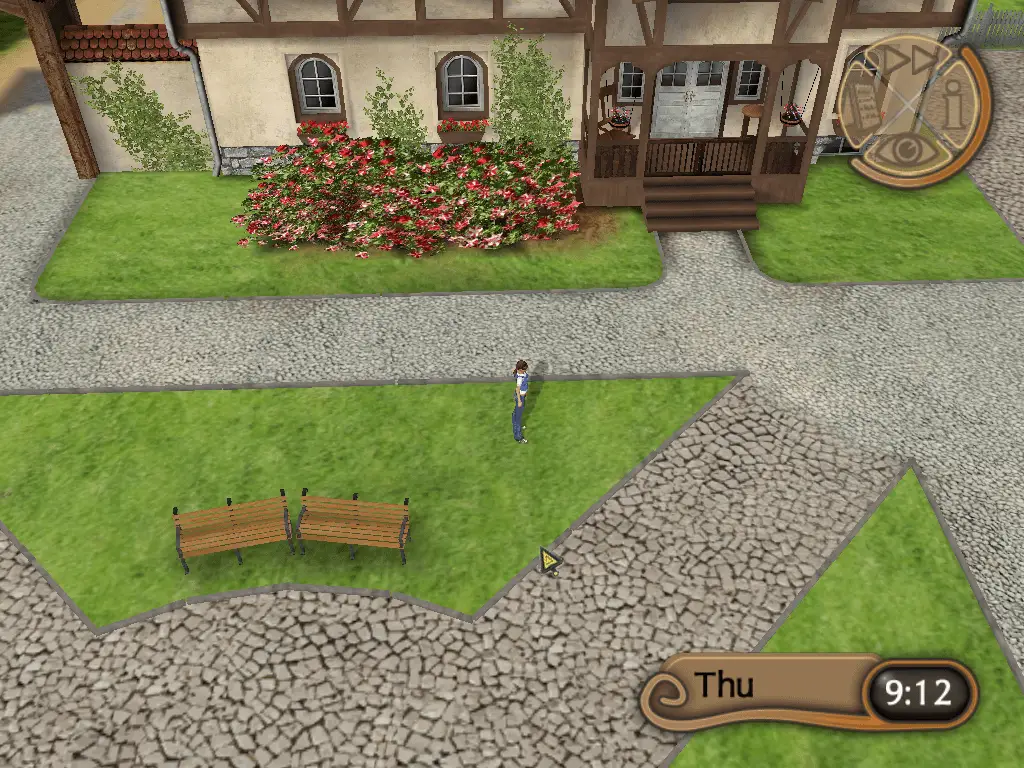 5 Things I like about Riding Stables: A Life With Horses
I think it is cool that the sound of the horses hoof beats changes with the terrain the horse is on. And when the horse goes in the water you hear and see splashing.
I like that they try to make the game more realistic like the horse can get sick if not cared for well. The horse gets tired if you run too long and can get stressed. I like that they have you care for the horse beyond just grooming and feeding the horse.
I like that the graphics are fairly good.
I like that you get to run your own horse business.
I like that you get to breed horses and raise the foals. 
5 Things I don't really like about Riding Stables: A Life With Horses
The controls feel a little awkward using the mouse to control where the person goes and where the horse goes and how fast the horse goes.
The chores and tasks take a bit too long and take away from the gameplay.
I don't like that there are only 3 breed options in the game and the colors for the breeds are wrong.
I don't like that there is only cross country jumping and no jumping or dressage competitions.
I don't like how you train the foals by lunging them because not only is that unrealistic but it would damage the foal's joints in real life.
Overall if you want a more realistic horse game as pertaining to horse care and making money with horses, are patient, willing to figure things out and have a lot of available time.
The game is very reasonably priced unlike some of these other more expensive games.
My Riding Stables: Life With Horses Helpful Guide 1
My Riding Stables: Life With Horses Helpful Guide 2
My Riding Stables: Life With Horses Helpful Guide 3
6. Horse Isle 3
Horse Isle 3 is placed in the number 6 spot because it has great ideas but the gameplay and graphics are rough. Horse Isle 3 is an MMO game.
Playing Horse Isle 3
It takes a while to get started and figure things out.
I have to be honest I don't have a lot of experience with this game, so far it has been taking a while to get started and figure things out. But I could see the potential in this game after I get through the slow beginning.
When I first started playing I was so confused, wearing shorts and a shirt and had no shoes on.
At least now I figured out how to collect essence, go into shops, create tools, catch wild horses, ride them, and look at horse profiles. 
I also learned that you fall off a lot if you don't have tack on the horse your riding.
Essence is one of the currencies in Horse Isle 3 along with coins. I did get coins when I found a pot of gold at the end of a rainbow.
Things You Can Do In Horse Isle 3
You can explore the huge word of Horse Isle 3 with over 20 biomes.
Build your own ranch
Join a club
Catch wild horses
Breed horses
Play musical instruments
You can ride in a hot air balloon
You can go sky diving
Take Photos also take photos
Watch wildlife
Dive into the ocean
Do quests
Play mini-games
Horse competitions and horse shows
Video Of Horse Isle 3:
How Much Does Horse Isle 3 Cost?
Subscriptions are $5 a month or $40 a year.
5 Things I Like About Horse Isle 3
I like that the character customization has a lot of options!
I like that the horse graphics and animations are decent.
Has cool concept building your own stable, buying, selling, breeding horse, joining clubs, catching wild horses
I love that the world is so big and you can explore different biomes with the horses. Reminds me of ARK a teensy weensy bit. The graphics on ARK are way better
I really like that the horses have detailed stats and are unique with there own characteristics and personalities.
5 Things I Don't Like About Horse Isle 3
I don't like that the landscape graphics are low quality takes away from the game.
I don't like that the guide is not super clear about getting started. There is a lot of figuring things out on your own. Luckily there are some helpful websites that can guide you.
The game is pretty slow and requires a lot of wandering and gathering of essence part of the game's currency. There is a lot of walking in the beginning and the essence is far apart from each other.
I don't like how slow the horses move in the game. Sometimes it feels like slow motion but maybe that's because I keep getting lazy horses. I have trouble turning quickly and crash into things a lot. The controls seriously need some work.
I don't like that you can't chat with other players unless you are in their club. A few times I wanted to ask for help from other players and it popped up that they were not in my
Overall I think the game is worth giving a try. I would not invest money into it just yet but I am going to keep playing and see how things go. Just use a helpful online guide to make your life easier.
7. Rival Stars Horse Racing
Like I mentioned at the beginning of this post, Rival Stars Horse Racing is only in the number 7 spot because I do not have experience playing it.
But this is the next horse game I will be getting and trying out. This game is on the list because of all the positive reviews I have been find around the web.
Playing Rival Stars Horse Racing
Here I will just share some of the things people have been saying about this game.
The game is about raising horses to race and win.
You can control the horse when the horse is raising not just sit there and watch the race.
The graphics are very decent.
You never get the same exact markings and coloring in the horses when you breed them.
Not worth $40 for the amount of content better off getting it when it is on sale.
Horse's have different qualities for each of the different race tracks.
Many are saying the game is addicting.
Things You Can Do In Rival Stars Horse Racing
Breed your own horses with an in-depth genetic breeding system
Every horse is unique, featuring a variety of colors and patterns, pedigrees, and stats
Own a barn of horses, customize their tack, and show off their trophies
Create the perfect horse with the Horse Creator and share them with the community
Hire caretakers or raise your own foals
Compete in races against friends
Race in arcade style mode
Race in cinematic mode.
Place bets
Restore your farm to it's former glory.
Unlock stalls for more horses.
Upgrade facilities and horses abilities.
Complete goals for rewards
Ride around the farm and the nearby woods
How Much Rival Stars Horse Racing Cost?
$39.99 on Steam
Horse Computer Games That Sound Fun But I Haven't Played Yet
If you are looking for more horse games to play give these a shot. I have heard good things about the following games.
Red Dead Redemption 2 (Steam) looks like it could be a good horse game. The graphics are really nice and you have a stable but I have not played it yet so I can't yet vouch for it. It does have has violence in the game so it would be for older players.
Another game that looks like it could be fun and the graphics seem pretty darn good is Farming Simulator 19 (Steam). You ride and keep horse conditioned horse, train the horses, groom, breed and sell the horses as well as tons of farming activities.
Like this article? Here's More!
Have fun horsey gaming! Let me know what your favorite horse PC games are!
Cheers,
Kacey
Kacey has been riding and working with horses since 1998. She got an A.S. in Equine Industries from the University of Massachusetts Amherst, where she was also on the UMass dressage team. She was certified by the American Riding Instructors Association and is licensed to teach riding in Massachusetts. She has been a barn manager and has run a boarding and lesson barn. Kacey was a working student at several eventing and dressage barns. She has owned horses, leased horses, and trained horses from untouched to green as well as retrained racehorses. For more on Kacey, you can look at her About The Blog page.