If you want to know what to wear to horseback riding when your just starting out and you want to save money on your riding outfit because you are not sure if horses are going to be your thing, then this is the guide for you. Maybe you are going to your first riding lesson or maybe you are just going on a trail ride.
Even if you are going to be cheap, you are going to want to wear clothes that you'll feel comfortable in and that will also help you to stay safe. No, you don't have to wear a fancy jacket, a velvet show helmet and expensive Italian tall boots.
First Thing You Should Do

If you are going to your first
lesson, call before your lesson day and see if the barn has a dress
code.
Lesson or trail ride… ask if
they provide helmets or if you must bring your own.
I will explain however why it is best to invest and fork out the cash for your own helmet, along with the must haves for your ride.
After 20+ years of riding horses for pleasure and competition, 11+ years of owning horses and 10+ years teaching lessons and training horses. I've been around the block with many different equestrian brands. The guide below will provide you with the minimalist gear needed for you to get started with horseback riding.
Check My Budget Friendly Everyday Riding Outfit Idea List For Newbies Idea List Where You Can Get A Full Riding Outfit For About $100.
VIDEO: What To Wear To First Riding Lessons
Riding Helmet
The helmet is probably the most important piece of equipment you
will need. Always where a helmet when you ride. It can save you from
brain injury and even death. Harsh but true.
Make sure you are wearing an ASTM/SEI approved riding helmet, not
a bicycle helmet. These certified helmets are specifically tested for
the rigors of horseback riding.
I've fallen off one too many times and I definitely believe that
they have saved me from major head trauma. I mentioned earlier that
you should call and ask if the farm provides helmets. Now this may be
okay for temporary use but definitely get your own helmet if you
continue to ride.
I have been on a riding hiatus due to my pregnancy and I need a new helmet. I have my eye on the Fallen Taylor Performance Helmet from Troxel (Check out on Amazon). Oh my gosh, it looks so sleek but what I love most are the colorful designs it comes available in. I honestly can't decide which one I like most. I might have to compromise and buy at least two. Love. Love Love. Update: I ended up getting the solid turquoise colored one and love it!
Troxel Fallon Taylor Performance Helmet
5 Star Rating- Check it out on Amazon
BEFORE YOU DECIDE TO USE A HELMET
FROM THE LESSON BARN KEEP IN MIND:
Helmet Fit-It
may not fit as well as a helmet you bought specifically for
yourself, sized to fit your head. A correctly fitting helmet means
better protection in the case of a fall.
Other Riders Wearing That
Helmet–
Another thing to consider is all the riders before you that have
used the barn's lesson helmets. They are sweating in these helmets,
may have dandruff, could have lice, etc.
Unknown Falls-A
safety issue when using the lesson barn helmets is that you don't
know if someone may have fallen with one of the helmets and that can
cause the helmet to lose integrity. Helmets should be replaced in
the event of a fall to the head or it may not do what it is supposed
to do the next time.
Related Post: Do I Need My Own Riding Helmet For Riding Lessons?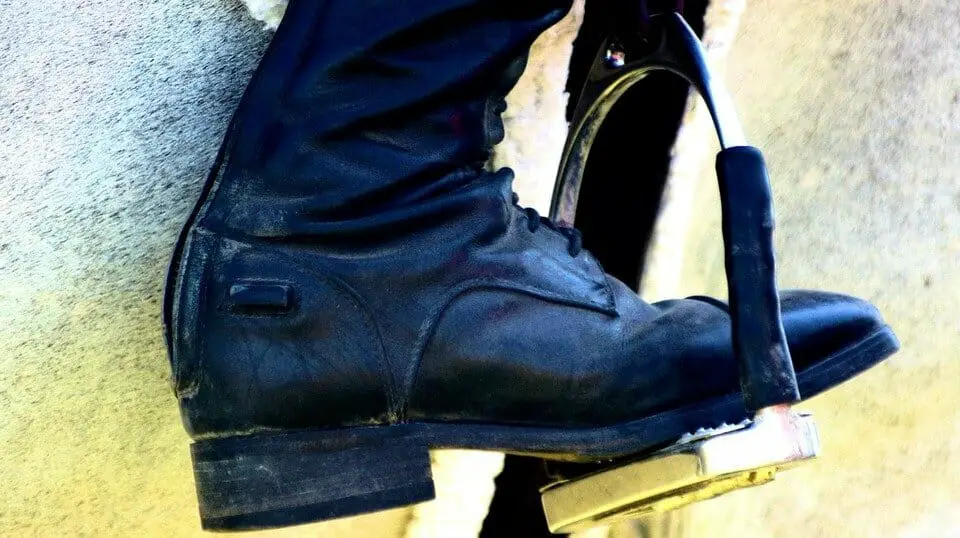 BOOTS
The next important piece of equipment after a riding helmet are
riding boots. You don't need to go out and buy actual riding boots
but you do need boots or shoes that follow some specific guidelines.
DON'T WEAR
Sneakers
High Heels
Sandals
Hiking Boots with Large Treads
DO WEAR
Hard Leather Toed Shoe
Distinct Heel About 1 Inch
Smooth Soles
Shires Moretta Clio Adult's Paddock Boot
4-1/2 Star Rating- Check it out on Amazon
Horses are heavy animals and if they step on your feet without
proper protection, then you may have a very painful situation. Your
toes will be more protected with the tough leather and your feet will
be less likely to slide through the stirrup with the 1 inch heel
while your riding.
You want a smooth sole so that you can slide your feet out of the
stirrups easily if need be, which tread on your boots could make it
difficult.
If you don't have a heel on your boot your foot could
potentially slide through the stirrup and if you happen to fall off
the horse, your foot can get stuck. Essentially you could be dragged
by the horse.
Proper footwear is a necessary safety measure, but it doesn't have to be expensive. You may already have a suitable pair of shoes in your closet. If not there are affordable options like the Tuffrider Starter Boots (Check out on Amazon).
RIDING PANTS
The pants you are wearing can really affect the comfort of your
ride. Make sure you don't wear pants with big inseams, or that are
baggy which will bunch around the knee. This rubs your inner leg and
will most likely result in sores or blisters.
Shorts are also a bad idea and cause the same problem because
there is no protection from the rubbing. So even if it's really hot
out don't wear shorts.
As you probably don't have breeches or riding tights you can get
away substituting with stretchy jeans. Make sure that they are full
length and fitted. Also make sure they cover your whole bum when you
are sitting down. 🙂
Once you decide to commit to riding, invest in some breeches, they
come with knee patches or a full seat patch for extra grip on the
saddle, to protect from wear and tear as well as protect your
precious skin from rubs and sores.
Kerrits low Rise Knee Patch Performance Tight
4-1/2 Star Rating- Check out on Amazon
Sadly I think I am not fitting into any of my breeches at the moment… tear. Either I need to actually start exercising and cut the calories or I could just buy some new breeches… hmm that's a tough one. My favorite brand is Kerrits and I might just buy a pair of their riding tights.
RIDING SHIRT
ARIAT Women's Sunstopper 1/4 Zipshirt
4 Star Rating- Check it out on Amazon
For safety reasons as well as visual, you don't want to wear long baggy shirts or jackets. You may get caught and it's harder for your instructor to see your riding position.
Don't wear tank tops in the summer because if you fall off you are more likely to scratch up your shoulders and it may not be appropriate. In the summer short sleeve polo shirt tucked in work well and they look quite presentable, but a fitted t-shirt works as well.
There are some long sleeve t-shirts that are made for riding in the sun and have sun protection yet keep you cool.
In the cooler weather fitted sweatshirt and jacket work. Just make sure they are fitted and not baggy. Also make sure the sweatshirt or jacket is short enough that you are not sitting on it.
RIDING GLOVES (OPTIONAL)
Noble Outfitters Ready to Ride Glove
4-1/2 Star Rating – Check it out on Amazon
These are optional, however there are circumstances where you will want to have gloves.
Cold weather riding you will want winter riding gloves to
keep your hands from freezing to the reins. Your hands won't really
freeze to the reins but they will be cold!
You are getting blisters on your fingers from the reins.
You want better grip.
If you have fitted leather gloves, gardening gloves, or winter
gloves with grip, any of these can work. You could also just buy some
inexpensive all weather riding
gloves or winter riding
gloves if you decide to keep riding past a few lessons.
SOCKS
C4 Equestrian High Performance Riding Socks
4-1/2 Star Rating- Check it out on Amazon
Knee socks are generally worn under tall boots but you can wear
them with paddock boots as well. They go over your riding breeches
and even if you are wearing shoes or paddock boots it will provide
extra protection for your calf from rubs do to the stirrup leathers.
BRAS AND UNDERTHINGS
SYROKAN Women's High Impact Support Wirefree Bounce Control
4 Star Rating- Check it out on Amazon
There is going to be a lot of bouncing going on in certain areas if you know what I mean. Make sure you wear a supportive bra that will withstand the bouncing that is to come. As far as underwear… seriously… don't wear a thong. It is not comfortable.
These are the basics that you will want
when you start riding. However if you decide that riding is something
you want to continue to pursue then it will be worth while to invest
in purchasing the whole riding getup.
If you haven't already check out my Budget Friendly Everyday Riding Outfit Idea List For Newbies Idea List Where You Can Get A Full Riding Outfit For About $100.
Related Post: Can I Wear Leggings Horseback Riding?
Related Post: Do I Need My Own Helmet For Riding Lessons?
Cheers,
Kacey
Kacey has been riding and working with horses since 1998. She got an A.S. in Equine Industries from the University of Massachusetts Amherst, where she was also on the UMass dressage team. She was certified by the American Riding Instructors Association and is licensed to teach riding in Massachusetts. She has been a barn manager and has run a boarding and lesson barn. Kacey was a working student at several eventing and dressage barns. She has owned horses, leased horses, and trained horses from untouched to green as well as retrained racehorses. For more on Kacey, you can look at her About The Blog page.