Do I need to buy a
helmet when I am just starting riding lessons? Does the barn provide
helmets? Where do I buy a riding helmet? How do I know the riding
helmet fits? Which helmet should I buy?
These are questions that you may be wondering about. Keep reading to get those answers.
Toward the end of the post, I have included Riding helmet recommendations, some are fabulously fashionable and others are comfy and durable. I also included an inexpensive option for those who wanted to save money.
Related Post: Equestrian Helmet Buyer's Guide
Table of Contents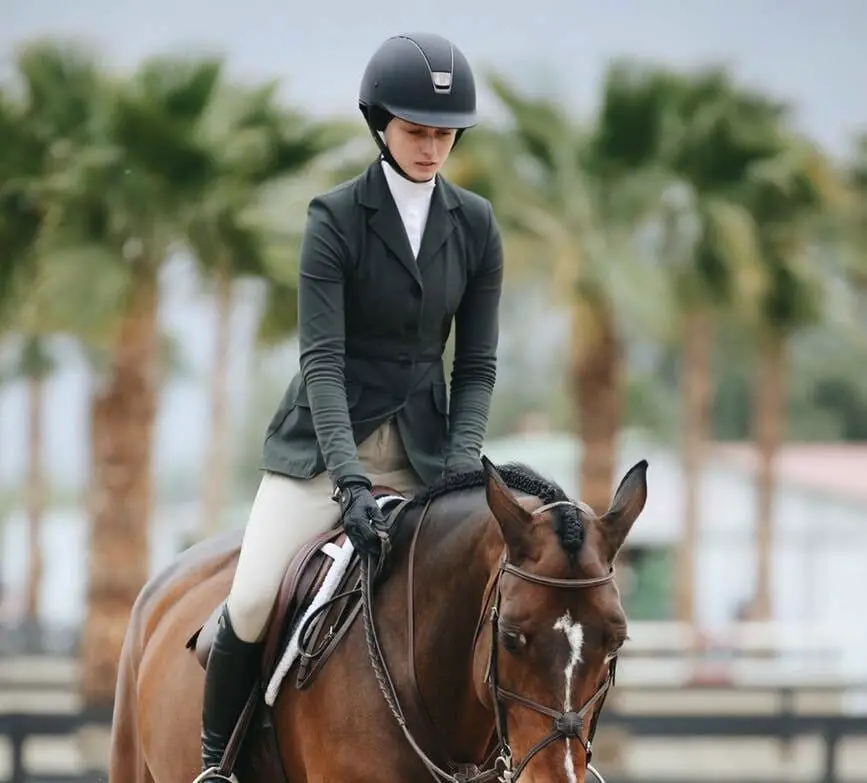 Do Lesson Barns Provide Riding Helmets?
If you want to save money and wait on purchasing a helmet this is possible. However, you definitely need to wear a safe, properly approved, correctly fitting riding helmet.
What you want to do is call up the barn that you are going to lesson at and see if they have different-sized helmets available for you to use. Many barns provide helmets for their lesson program.
Before You Decide To Use A Helmet From The Lesson Barn Keep In Mind:
Helmet Fit
It may not fit as well as a helmet you bought specifically for yourself, sized to fit your head. A correctly fitting helmet means better protection in the case of a fall.
Other Riders Wearing That Helmet
Another thing to consider is all the riders before you that have used the barn's lesson helmets. They are sweating in these helmets, may have dandruff, could have lice, etc.
Unknown Falls
A safety issue when using the lesson barn helmets is that you don't know if someone may have fallen with one of the helmets and that can cause the helmet to lose integrity. Helmets should be replaced in the event of a fall to the head or they may not do what it is supposed to do the next time.
Taking The Plunge and Purchasing Your Own Helmet
If you feel you are going to stick with riding for a while I would definitely spend the money and invest in a riding helmet. Also if you decide to ride western. There are many riders that don't wear helmets.
However, this is very much discouraged because if you fall and hit your head you could get a bad concussion, brain damage, or could be killed.
How Much Does A Horseback Riding Helmet Cost?
The price of an approved riding helmet has a wide range. It depends on the brand and the quality of the helmet. Some helmets are made for schooling and some are designed for showing.
From my experience, the price range for a helmet can be $40-$1000. One thousand dollars, I know… yikes. The average rider usually doesn't spend that kind of dough on a helmet.
However, you can see there is a huge price range.
Where Can You Buy Riding Helmets?
You can buy your helmet online or in a physical store commonly known as a tack shop. Small local tack shops do tend to be on the more expensive side. There are pros and cons to buying either online or from a tack shop.
Pros And Cons Of Purchasing A Helmet Online VS. Tack Shop
ONLINE
STORE
LOCAL
TACK SHOP
PROS
PROS
More options for brands, colors, and sizes
No waiting for delivery
Less
expensive than at tack shops
Can have knowledgeable staff help fit the helmet
Usually can return an item if it doesn't fit
Can see the quality and details up close in person
CONS
CONS
Can't try on a helmet before buying
Fewer options for brands, colors, and sizes
Can't
see it up close and personal before buying
More expensive than online
Must
know the accurate circumference of your head
Have to travel to the store
My suggestion to save money and get a proper fit is to try helmets on at a local tack shop. Find out the brand, product, and size then purchase the same helmet online for a lesser price.
Although tack
shops sometimes do have sales which you can take advantage of. And if
you want to support your local business that would be a nice thing to
do.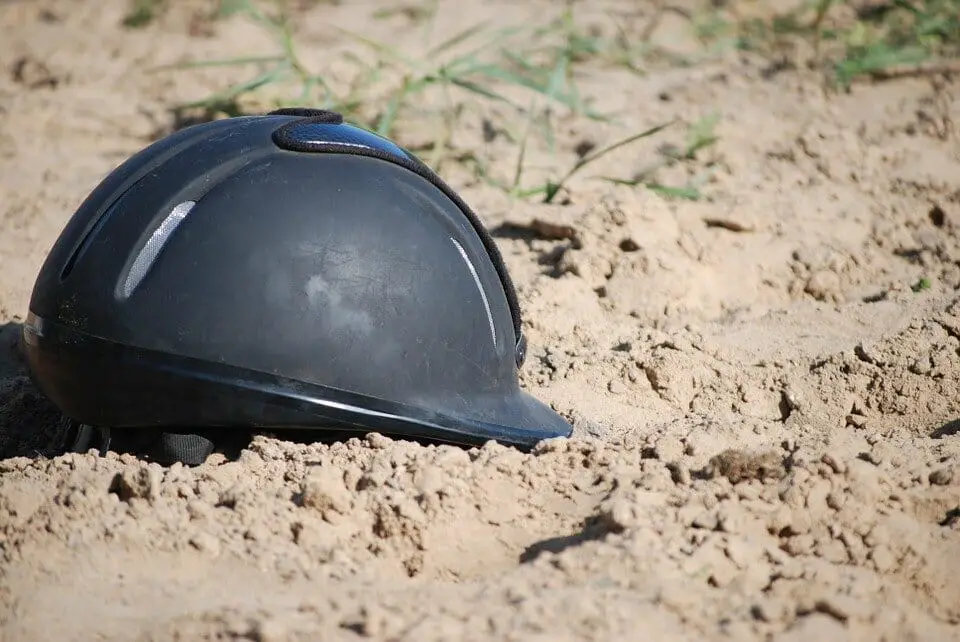 Helmet Safety Requirements
Properly Certified
The helmet has to be ASTM/SEI approved.
Buy New
Do not buy a used helmet on a horsey Facebook group, Craigslist, or any other online classified for the same reasons you wouldn't want to use the lesson barn's helmets.
Proper Fit
Make sure the helmet fits properly. It is best to have someone that is knowledgeable about fitting helmets to help you find the right helmet and fit. If you have some experienced horse person that can go with you can help you fit a helmet… awesome that's great. If not the staff at the tack shops should know what they are doing and be able to help you out.
Recommended Helmets
I've owned these helmets in the past and they have all been good in my book. Keep in mind helmets can be rounder shaped or oval-shaped, so make sure you try a helmet on before purchasing.
Cheap Choice: Troxel Schooling Helmet
This helmet is definitely in the cheapest helmet category, although Troxel is a reliable brand. This was my first helmet when I started riding years ago. It is not my favorite but it did its job.
What I didn't like about this helmet was that it was a styrofoam type of material and it is not the prettiest helmet either. Although it fit my head pretty well, was lightweight and is riding certified and approved. T
he biggest reason I liked it was the cheap price. This helmet comes in black or white.
Comfort Choice: Tipperary Sportage Helmet
I have to say this was probably my favorite schooling helmet.
It fit me so well and the material was comfortable as well. It was very breathable and from what I remember lightweight. It definitely is a few steps up from the Troxel Schooling Helmet.
This helmet has more color options as well. Black, Grey, Brown, Navy, Pink, Light Purple, and Blue. The price is about double the cost of the Troxel Schooling Helmet but I would say also double the quality.
Traditional & Good Quality Choice: Charles Owen GR8 Helmet
This helmet was probably the most expensive helmet I've owned. I wore this for showing and schooling. It was very comfortable and a popular helmet.
Charles Owens is a sought-after brand, of excellent quality. This helmet was my favorite helmet that I've used as a show helmet.
I believe the quality of this helmet is superb and the materials call for a safer more durable helmet.
HELMETS I HAVEN'T TRIED BUT THEY LOOK FABULOUSLY CHIC
Colorful Options: Troxel Fallen Taylor Performance Helmet
Despite the name, this helmet is for schooling not showing. This helmet comes in a bunch of designs and they look so cool! If you like bright colors, and awesome patterns and want to stand out this might be the helmet for you.
Compared to its lesser cousin the Troxel Schooling helmet, it has a few more features.
Well did I say the colors are amazing :-)?
This helmet has a dial fit system located in the back of the helmet which the schooling helmet doesn't have. So this helmet can offer a better fit. Also, this helmet has a lower profile so it doesn't make your head look as bulky or bulbous. This will definitely be the next helmet I purchase… in love.
Update: I got this helmet in turquoise for Christmas and I love it so far. Pretty airy and lightweight. Plus I love how it looks!
Like Sparkles? Ovation Z-6 Glitz Helmet
Although I have never tried this helmet, I have owned an Ovation helmet which was a good helmet. I like this helmet because it has sparkles. I would like to get this helmet with pink sparkles. I also love that it has a leather harness, which makes it look smart. This helmet uses the dial fit system which offers a more secure and accurate fit.
Happy Horse Riding!
Kacey
P.S. Did you like this article? Gallop over to:
Kacey has been riding and working with horses since 1998. She got an A.S. in Equine Industries from the University of Massachusetts Amherst, where she was also on the UMass dressage team. She was certified by the American Riding Instructors Association and is licensed to teach riding in Massachusetts. She has been a barn manager and has run a boarding and lesson barn. Kacey was a working student at several eventing and dressage barns. She has owned horses, leased horses, and trained horses from untouched to green as well as retrained racehorses. For more on Kacey, you can look at her About The Blog page.