To the inexperienced horse person it may seem like equestrians are wearing leggings horseback riding. But they are actually wearing riding breeches or tights.
Leggings are stretchy. They are comfortable. They are inexpensive when compared to the average riding breeches and tights.
You probably have a pair in your dresser.
The short answer is yes you can wear them.
However, do I recommend wearing them on a regular basis? You can when you are starting out but they will wear out more quickly than actual riding pants. You would be better off wearing stretchy jeans which can put up with more wear if you don't yet have breeches or riding tights.
If you want to buy a pair of riding breeches I have a guide to help choose the best pair for you and I also suggest breeches that I've owned and really liked myself. Check out the page here: Best Equestrian Breeches For Schooling and Show.
Why Don't I Recommend Wearing Leggings While Horse Riding?
It is not that you shouldn't ride in leggings at all or that you can't. They are certainly fine just starting out in riding or if it is what you have available. These are just some of the cons of wearing leggings horseback riding.
They were not designed for horseback riding.
The thin material tends to wear down quicker.
The inseam can rub on your legs.
Lack of protection can cause your legs to be rubbed raw.
There is no grip and leggings can be slippery in the saddle.
Not to mention your underwear lining is more noticeable.
When Riding in Leggings Is Acceptable
I love to wear leggings and though I personally would not want to wear them horse riding. There are certain times you can wear them.
So when it's okay to wear leggings:
When you don't have breeches or riding tights or jeans available at the time and you only have leggings.
Your on vacation and decide spur of the moment to go riding and you only have leggings.
You are doing a one time ride on your friend's horse or one time trail ride with friends or family and you only have leggings.
If you do decide to ride in leggings, make sure they are full length and solid with no see-through areas that could cause rubs or get caught up in the tack.
My Favorite Leggings For Horse Lovers
Because we are on the topic of leggings I thought I would make a few suggestions for those interested in some fabulous horsey leggings. I love wearing leggings. It is a staple in my wardrobe.
Though I don't tend to ride in leggings I enjoy wearing them on the daily. I believe every horse lover should have a pair of horsey leggings in their collection. Check these bad boys out and see which one suits your liking.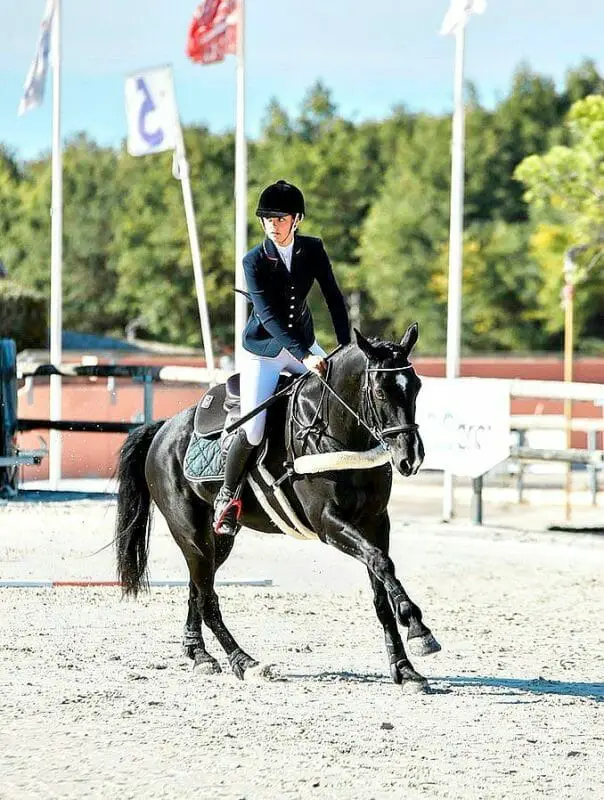 Why You Should Invest in Riding Tights Or Breeches
Breeches and Riding Tights were designed for the purpose of riding. They provide you with comfort and safety, not to mention they come in all different options for style of riding, body type and colors of course.
Longer Lasting– Riding pants are made for the rigors of ride and are built to last unlike leggings which will wear down very quickly.
Comfort– Leggings may be comfortable off the horse but on the horse riding pants are much more comfortable. Riding pants have an inseam on the outside and they have a knee patch or full seat option which protects the legs where there is extra rubbing.
Better Grip in the Saddle– The knee patch or the full seat option not only protects areas of extra rubbing but also provide you with a better grip on the saddle. This is unlike leggings which can be slippery. These patches are usually a suede type material but also may come in silicone material as well.
Looking the Part– Although this is not the most important part of why you should invest in a pair. You will look more put together and be taken more seriously.
Seasonal Options- They also come in styles designed for the summer or the winter, to optimize you riding experience.
My Favorite Brands For Breeches and Riding Tights
So I have some brands that I really like that I would love to share with you. I have link it with amazon search so you can look around and browse. I am putting the brands in order of my most favorite first.
Pants are just a part of your riding outfit. Stay tuned for more blog posts on equestrian attire.
I'd Like To Hear From You
Are you interested in starting horseback riding as a hobby? Do you already ride horses? Do you own horses?
Happy Horse Riding,
Kacey