Rather Listen To Post Instead?
Finding The Best Horse Games To Play On The Computer
On the hunt for an actual good horse game to play?
I get you!
I have tried many horse computer games over the years.
Sadly it is not easy to find a good pc horse game you actually enjoy playing.
This I've come to realize is because the horse gaming genre is very under served and has much to improve upon.
However I have a best game list for you here. This is the updated version for 2022. Out of all the horse related games I have played, these rank as the top 16.
Star Stable Online
Red Dead Redemption II
Horse Riding Tales
Sims 3 Pets
My Riding Stable: A Life With Horses
Horse Isle 3
Riding Club Championship
Rival Stars Horse Racing
Petz Horses 2
Horse Club Adventures
Let's Ride: Riding Star
Horse Riding Deluxe 2
Tales Of Rein Ravine
That Horse Game
Farming Simulator 19
Ark Survival Evolved
By the way at the bottom of the post I have a free printable checklist for these games. You can keep track of which ones you play and mark off as you go.
What A Good Horse Game Should Be Like
A really great horse game doesn't exist at this point.
I am thinking about writing a post on the ultimate horse game that I wish existed. Comment at the bottom of the post if you think I should write an article on this.
If a great horse pc game did exist these are things it would have:
Good human, animal, horse, and surrounding graphics
Good animations and interactions with the horses and items
Accurate conformation of the horse and breed
Correct animation and movement of the horse
Realistic horse care
Character building and a story line with some depth
A cool riding experience with easy controls, but ability to combine keys for more advanced movements
Horse personalities, relationship and bonding progression between horse and rider
Good user experience, not too difficult to figure out
Chat with other players, visiting or looking at each other's barns, competing against one another, team competitions
Ability to create content or mods for the game
Different "kinds" of fun horse competitions
Training progression being visually noticeable in horse and rider, not just stats
Breeding horses with realism and genetics
I've got more ideas for a fantastic horse game. These are just a few examples.
Fortunately, such a game may be on the way. Check out this blog post about the 7 new horse games coming out in 2022.
16 Best Horse PC Games
This list is made up of different types of horse games such as:
Horse MMO (Massive Multiplayer Online) Game
Single Player Horse Game
Horse Game Still in Development
Not A Horse Centered Game But Has Horses
I'll give a brief look at each game, including a video preview, as well as my favorite and least favorite aspects of each one.
FYI this list is not in any specific order.
Game 1: Star Stable Online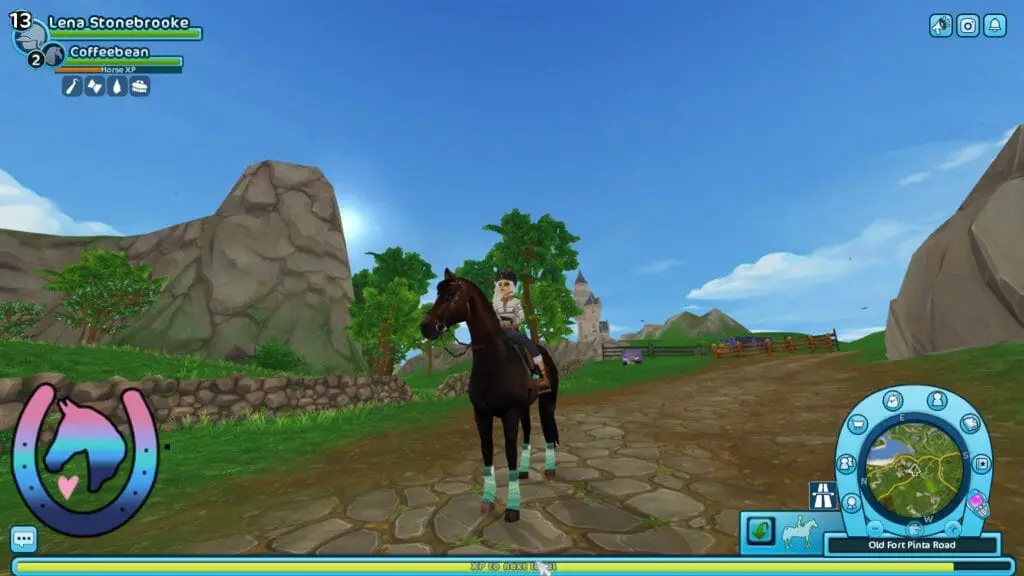 Star Stable Online is a popular MMO horse game aimed for young girls and woman. There's lots to see and do in this game.
Star Stable is set on a fictional isle called Jorvik with hidden magical secrets and a dark force at work. You learn about these overtime as you accomplish quests and meet new characters.
Quests are only one part of the game you are also able to:
Race individually or in a group.
Ride cross country, show jumping, western races.
Join a riding club where you can role play with club members.
Buy different horse breeds and pets.
Build up your horses level and stats.
Explore the open world and different areas.
My favorite things I like to do on Star Stable is race against other players. It challenges me to level up my character and my horses so I have a better chance at winning. I also l enjoy collecting and riding my favorite breeds and colors of horses.
My least favorite things about Star Stable are how you have to pay out of pocket with star coins for new horses instead of being able to earn them with Jorvik shillings. This is extra cost even after purchasing the game.
Another thing I don't like is that there are no options for a boy character, because there are boys such as my son who likes to play this game.
Game 2: Red Dead Redemption II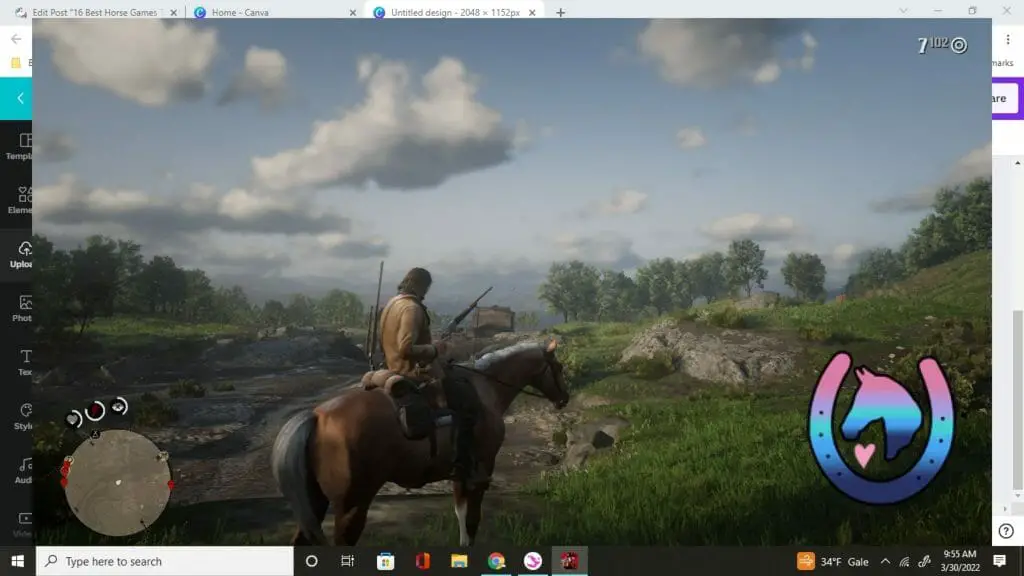 Red Dead Redemption 2 is not a horse centered game, yet horses are still a big part of it. You can play in single player mode or online as an MMO game. It is for mature audiences because of language, sensitive topics and violence.
This game is set in the times of the Wild West. Online you get to create your own character male or female and on single player you play as outlaw named Authur Morgan.
You get to own horses in the game, catch wild horses or buy horses at the stables. You can explore the map riding your horse, and you can also drive horses in carriages. However you may have to steal the horse and carriage.
The graphics and especially the animations for the horses are really very good. There is an equestrian community that plays this game and get together online for trail rides and horsey role playing.
My favorite thing to do on Red Dead Redemption other than roaming the beautiful landscapes is finding different breeds of wild horses to catch. There are different breeds in different locations around the map.
My least favorite things are that you can't own or sell wild horses in the online multiplayer version of the game and when you do sell wild horses in the single player version you don't make much money at all.
Game 3: Horse Riding Tales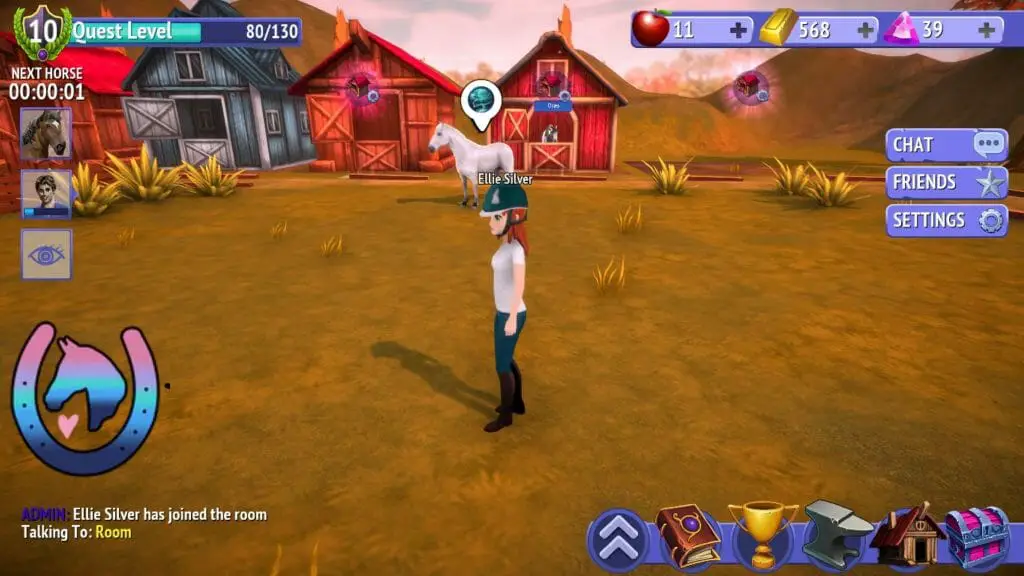 Horse Riding Tales is another popular MMO horse game for young girls and woman, also lacking a boy character.
Horse Riding Tales is not your normal horse game. It has some strange features and is set in a fantasy like world. You mine for resources to create magical orbs in order to tame and catch wild horses that all look the same aside from color.
You also train and compete in competitions to build up your horses stats.
My favorite thing in Horse Riding Tales is catching and selling the horses. The horses differ based on color and how common or rare the horse is.
My least favorite things are how much money this game cost to play. It is not really worth the cost for what it offers, but you can play the free. It just takes more time and effort.
Also there is a lot of inaccurate things about horses such as hay for bedding, apples for feeding, and new horse shoes daily.
Similar to Star Stable they have gems instead of star coins and they make it very difficult to progress without purchasing these.
The lifetime price not only doesn't include any gems but it is more expensive than Star Stable.
Alice from The Mane Quest accurately says,
The problem with such a model is not even that the options are there, but that the gameplay is obviously designed specifically to feel too slow and tedious if you don't pay.
You can see her review for Horse Riding Tales here.
This said, it is worth playing the free version to try it out and see if you like it.
Game 4: Sims 3 Pets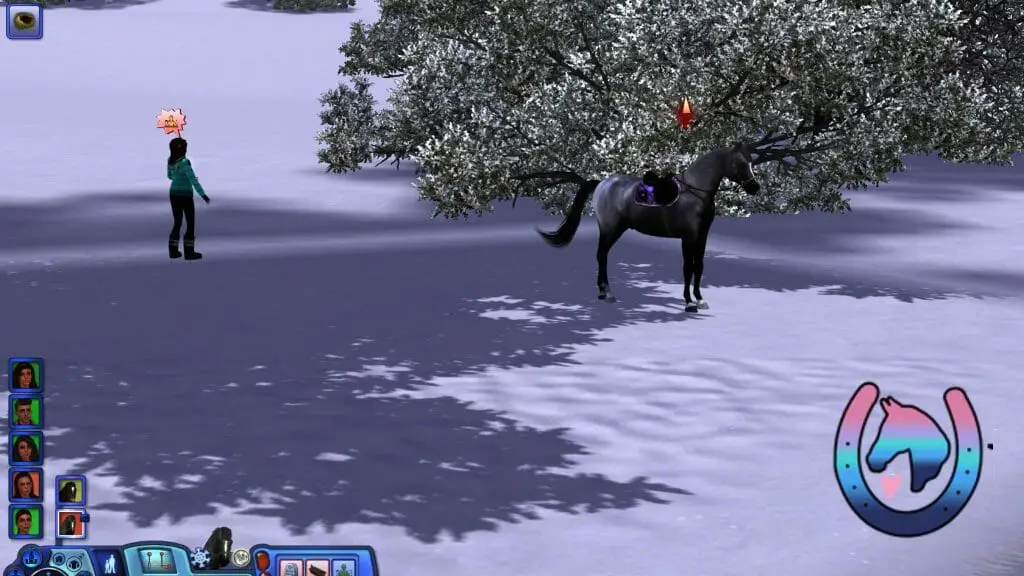 Sims 3 Pets is an expansion pack to the base game Sims 3. It is a single player game geared toward teens and adults.
This is not a horse centered game but you can have horses as pets.
Sims 3 Pets has different worlds you can choose to play on depending on what expansion packs you have and whether you decide to use a mod.
You are able to make the horses a big part of the game if you want to.
There are mods you can use to have your career be with horses.
You can breed and sell horses. You can train and sell horses. You can compete and win Simoleans. Though it is only competing on a leader board.
These are just some of the things you can do with horses in Sims 3 Pets.
My favorite thing about Sims 3 Pets is breeding the horses and creating a long bloodline of horses, and also using player made mods to improve the gameplay and look of the graphics.
My least favorite things about Sims 3 Pets is that you can't see the competition going on when you compete your horses and with too many mods, Sims 3 can become laggy.
Game 5: My Riding Stable: A Life With Horses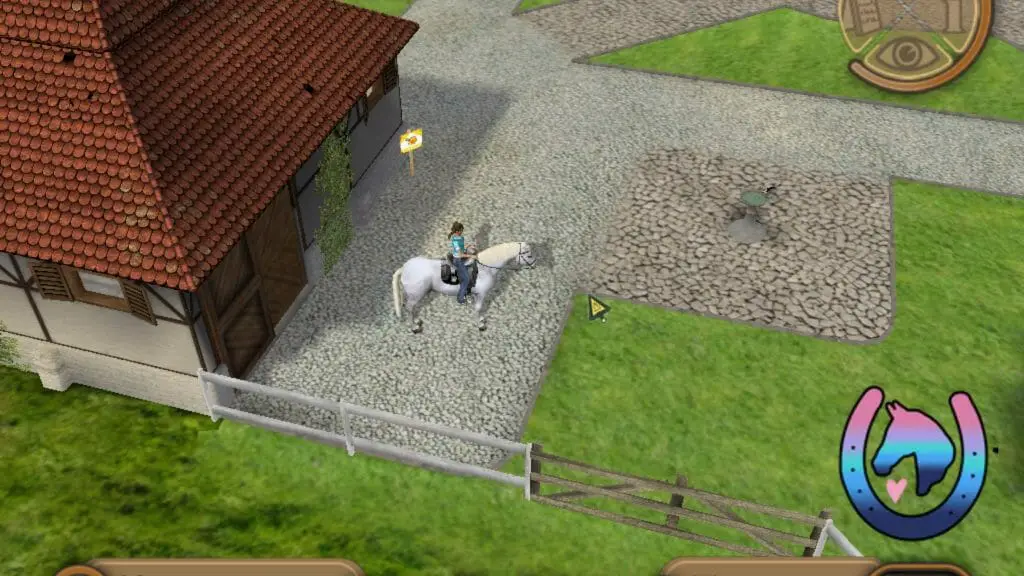 My Riding Stable life with horses is a single player horse game intended for all ages.
The game is set on a farm that is run down and needs to be rebuilt and restored. You start off with one horse, caring and training the horse. Then you take in foals needing to be trained.
It can be repetitive and slow, but it has daily tasks to accomplish to help you keep moving along in the game.
My favorite thing about My Riding Stables A Life With Horses is that it is trying to be realistic with the idea of running a horse business.
My least favorite things are how long it takes to progress with this game and the repetition of the daily tasks.
Game 6: Horse Isle 3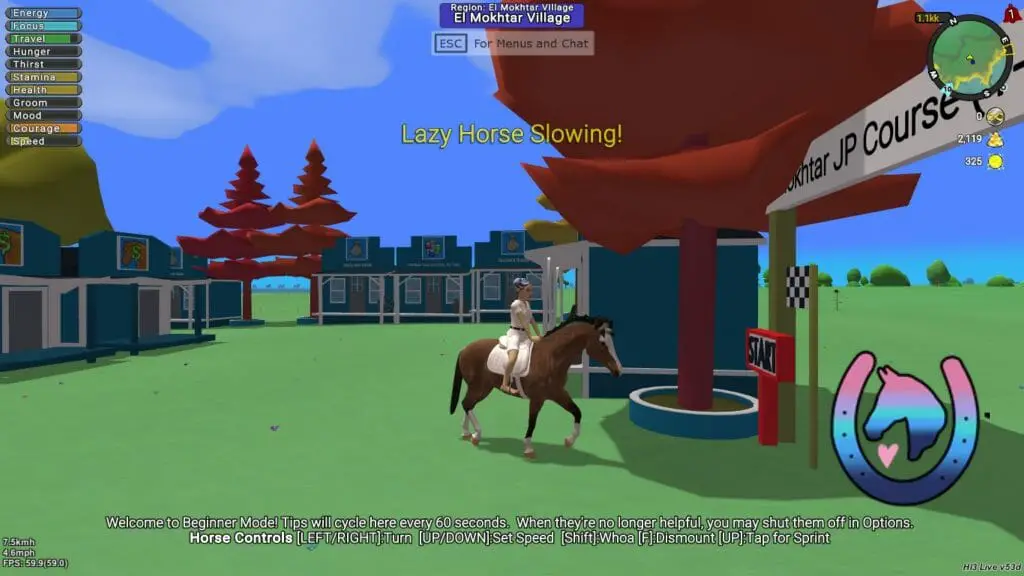 Horse Isle 3 is an MMO horse game intended for all ages.
This game is set in a world of horses, with all kinds of places to explore. There are different clubs on the map and you can choose to join one or visit. You begin with a tutorial by a talking parrot to help you get started.
The idea of this game is pretty cool, with competitions, building your own ranch, buying horses, tack and equipment, breeding horses. Joining a club and completing quests.
There are even question marks around the map that have trivia and math questions and if you get them right you earn gold dust, one of the games currencies.
My favorite things about Horse Isle 3 is that you can own and breed a bunch of horses. The genetics in the game are supposed to be very realistic. I also think the biomes and expanse of the map is pretty awesome.
My least favorite thing about Horse Isle 3 is how you need to be a gold member of a club to buy land to build your ranch nearby.
Otherwise you need to buy land far enough away from any clubs however you must be buddies with any immediate neighbors. I'm struggling to find land I can purchase.
Game 7: Riding Club Championship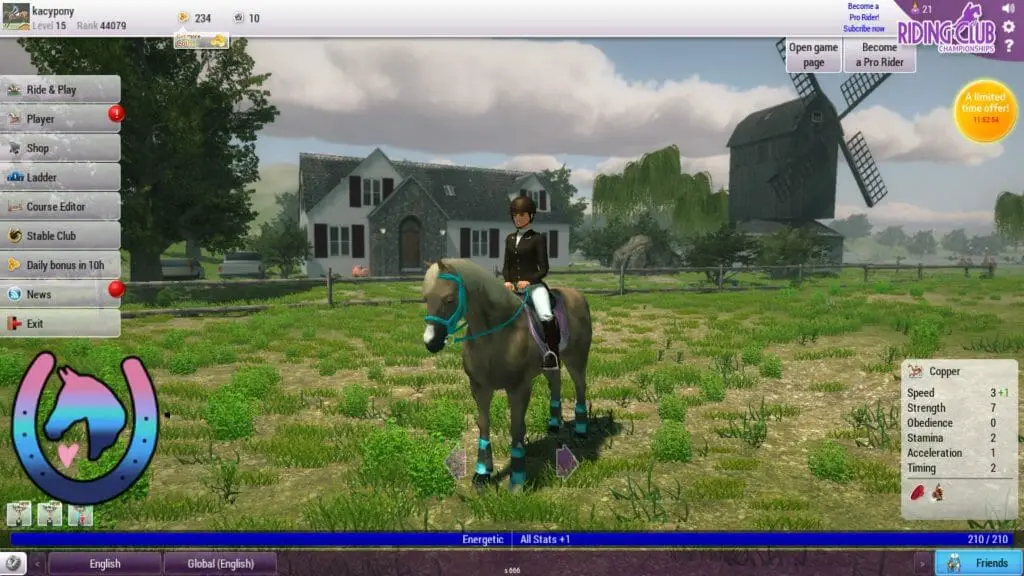 Riding Club Championship is an MMO horse game for all ages. You don't ride around with other players, but you can compete against them on the leader board or talk to them through chat rooms.
The main goal of Riding Club Championship is leveling you and your horse up by competing in different show jumping competitions. You even get to create your own courses for others to try out. However you need to to pay to build the jumps with in game coins.
Your horses energy level called action points do get low and eventually run out. You need to wait until the following day to get more action points. unless you find or purchase apples which gives you more action points.
My favorite thing about Riding Club Championship is jumping courses made by the community members.
My least favorite thing about Riding Club Championship is how there are only 3 basic areas where jump courses can be built. It would be nice if there were more locations or landscapes.
Tip Game 8: Rival Stars Horse Racing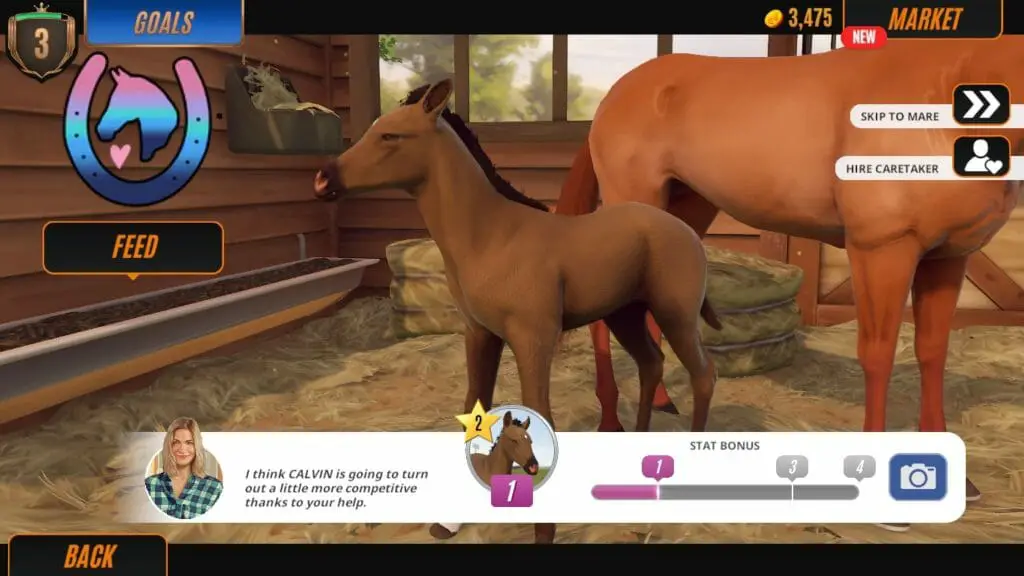 Rival Stars Horse Racing is a horse game that you can play online and compete against others or as a single player. This game is meant for all ages.
Similar to My Riding Stables, your goal is to rebuild and bring the farm back to it's former glory. However in this game it is all about breeding champion race horses.
The graphics are nice and the racing is enjoyable.
My favorite thing about Rival Stars Horse Racing aside from the racing game play is the horse breeding. It is fun seeing how the foal will turn out. They each have different colors and markings depending on the parents.
My least favorite thing is parts of the free riding cross country. I was disappointed with how the jump animation is the same each time.
You don't ask the horse to jump which typically you use the space bar in most horse jumping games. In this game the horse does it on it's own.
It could be cool if there were more chances of a refusal, different jump animations or maybe situation where you have to go faster or slower in speed to make it over the jump.
Game 9: Petz Horses 2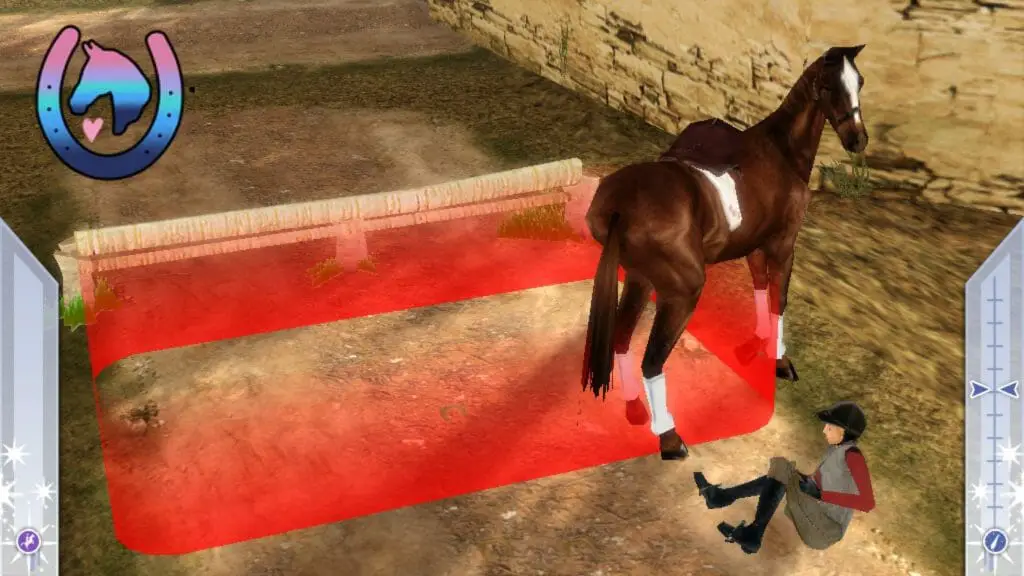 Petz Horses 2 is a single player horse game suited for kids and teens.
This is an adventure game where you start out as Emma a veterinarian in training on her way to her new home.
She gets side tracked to help a stud farm with a new foal being born and ends up decided to stay to help with the farm and finding the missing farm owner.
Think mystery and adventure, but not the best graphics by far and gameplay can be repetitive and slow sometimes.
My favorite thing about Petz Horses 2 is the story line. It actually feels like you are playing in a story or a movie, which I don't often find with most horse games.
My least favorite thing about this game is the horrible graphics of horse and rider. It is just awful. If the horse and rider graphics were good this game would be so much better.
Alice from The Mane Quest describes the horse graphics very accurately in her review of Petz Horses 2.
The look of the titular animals is atrocious: they have edges in all the wrong places, the angles of their bodies are all wrong, their legs look broken more often than not, and all of that is covered in a photo texture that adds muscles and shiny coats on top of the disturbingly crooked body shapes.

Alice Ruppert author of The Mane Quest
Game 10: Horse Club Adventures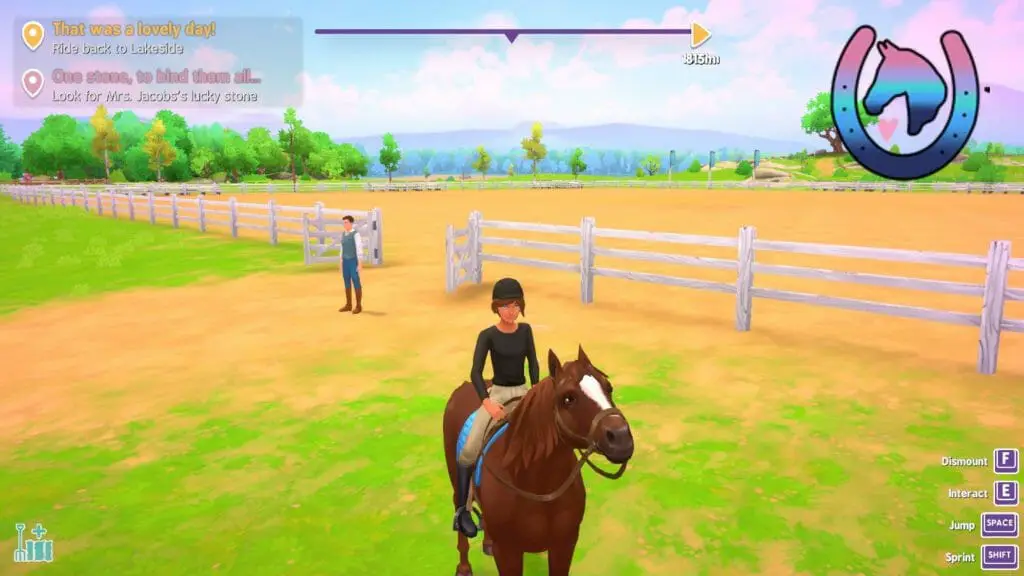 Horse Club Adventures is a single player horse game intended for girls and woman.
You get to name and subtly customize your horse and character. You start off as a girl on a summer vacation at a lakeside equestrian farm, training and entering in several competitions.
A laid back game you follow the story line and learn about the other characters as you go. The competition is basically horse racing. Along with races there are quests and places to explore as well as secrets to uncover.
My favorite thing about this game is that it is laid back, easy to follow and you don't have to think too much. They tell you what to do next. The graphics are okay.
My least favorite thing about the game is that the competition is horse racing. I would much rather do show jumping or at least cross country.
Game 11: Let's Ride: Riding Star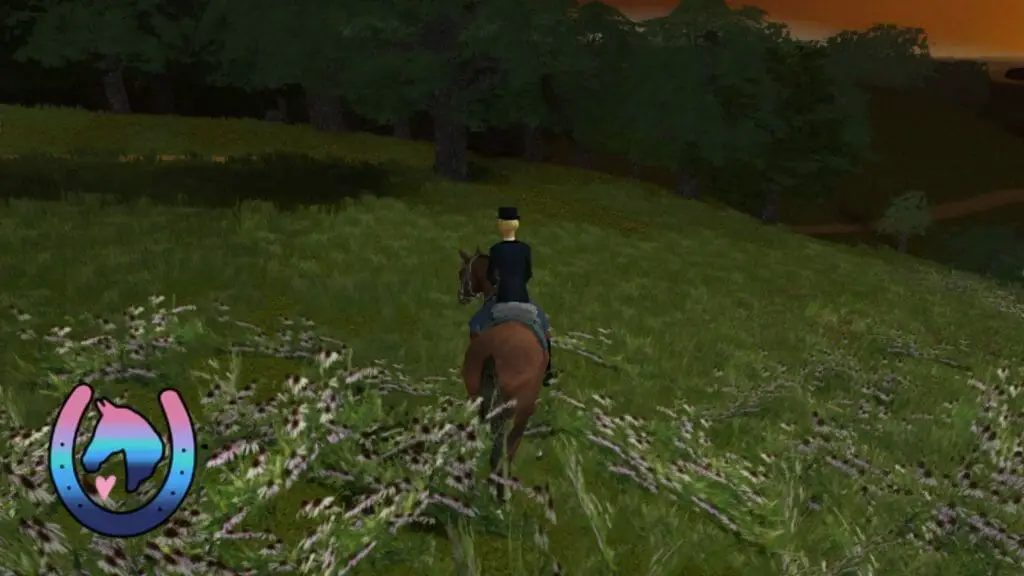 Let's Ride: Riding Star is a single player horse game and meant for all ages.
 I like the idea of this game being a three day eventing game. But it seems hard to move up the levels and not super straightforward. So it takes some time to figure out the game.
Basically you start with a show jumper and as you move up the levels you unlock horses of the other riding disciplines such as dressage and cross country.
My favorite thing about Let's Ride Riding Star is the training and progressing to the next level with the horses.
My least favorite things are the repetitiveness of grooming after every ride, and how difficult it can be to get a clean round in competition so you can move on to the next level.
Game 12: Horse Riding Deluxe 2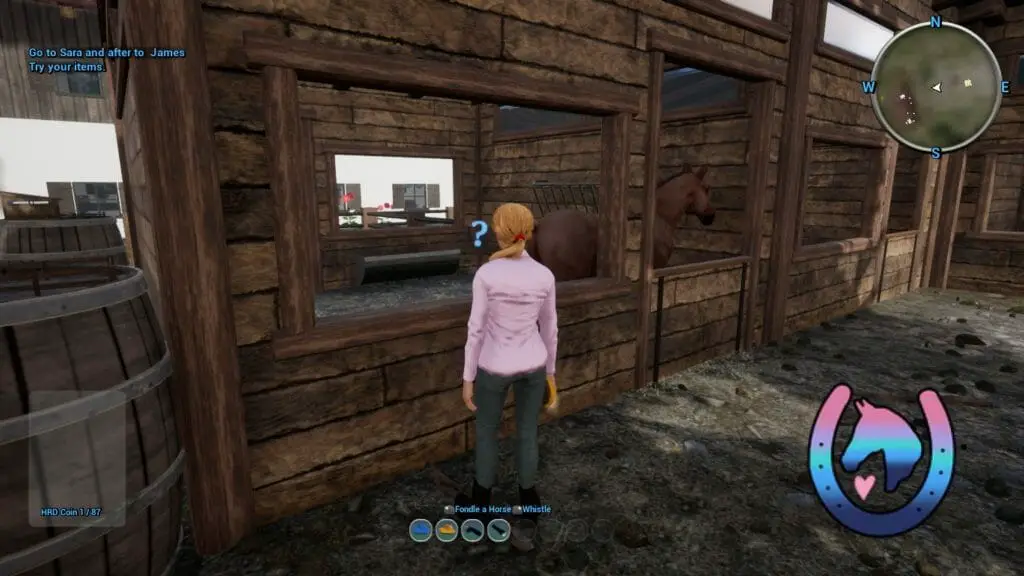 Horse Riding Deluxe 2 is a single player horse game still in beta. This game is meant for any age.
This game has nice looking landscapes and at first glance the horse graphics look cute and decent… aside from the awkward tail position and not ideal conformation.
However when you ride, then you really see this game needs some work. The rider is stiff as a bored, barely moves, is hunched in the saddle with heels up.
I hear my former instructors screaming at me in my head to …"get my heels down."
The horse moves around side to side a bit awkwardly like a motorcycle doing tight turns.
On the ground the character looks awkward enough with a slouched standing posture also evident at the walk. Running she reminds me of Shrek. Get ready to snort when she jumps.
The movements and controls of the horse are a bit clunky. The horse is very slow to turn or speed up. The jumping animation is a bit off as well.
Another wonderful feature is whistling and your horse appears to you. Well my horse died and when I would whistle would spawn next to me dead.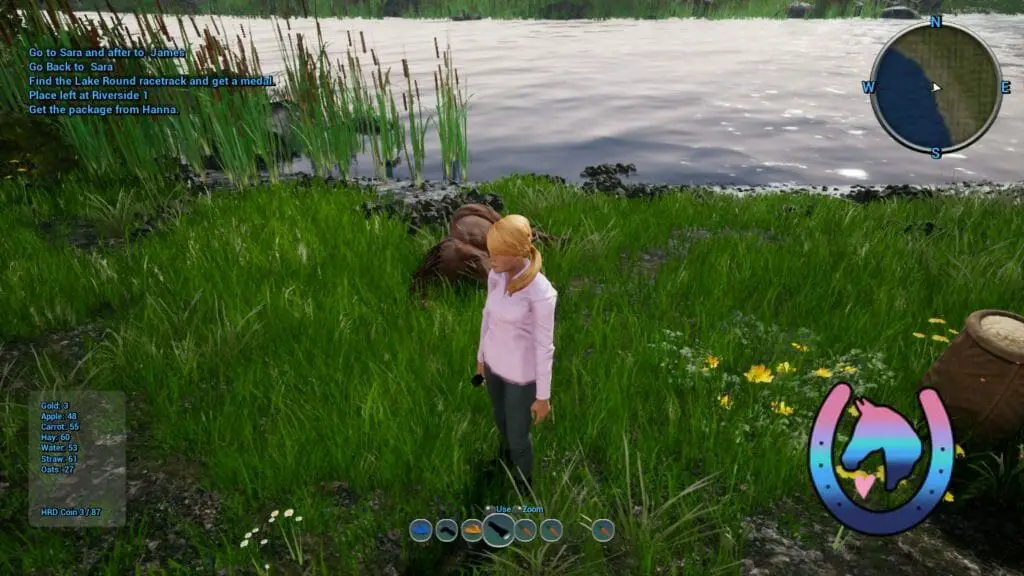 Honestly this game is enjoyable at the very least to make fun of it.
My favorite parts of Horse Riding Deluxe 2 is exploring the beautiful landscape with the horse. At least they got that part right. There are also many places to explore.
My least favorite is the animations such as the way the horse jumps, the character walking and riding… especially the way the rider looks riding! The controls being slow and clunky is not ideal either.
I really can't be too harsh yet because I am still getting into this game. But it is definitely worth a play. It seems like there are a lot of quests still to be done anyway.
Game 13: Tales Of Rein Ravine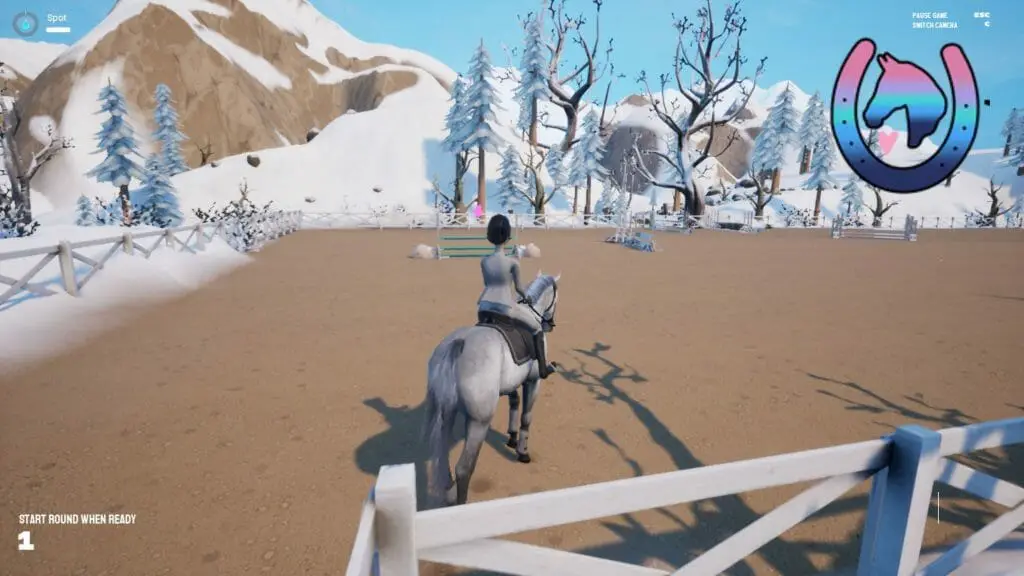 Tales of Rein Ravine is a single player horse game still being created. It has a demo version that continues to be updated.
This game is intended for an older audience based on the realism they are trying to create and sensitive language.
The demo is set in a wintery area by some mountains. You get to play in an indoor arena with a beautiful large window view of the landscape.
My favorite thing about Tales Of Rein Ravine is how you ride the horse using the reins and legs, it is very realistic for a horse game. You can even change the horse's canter lead.
My least favorite thing about Tales Of Rein Ravine is that it is not finished! I am really excited to see more of this game.
Game 14: That Horse Game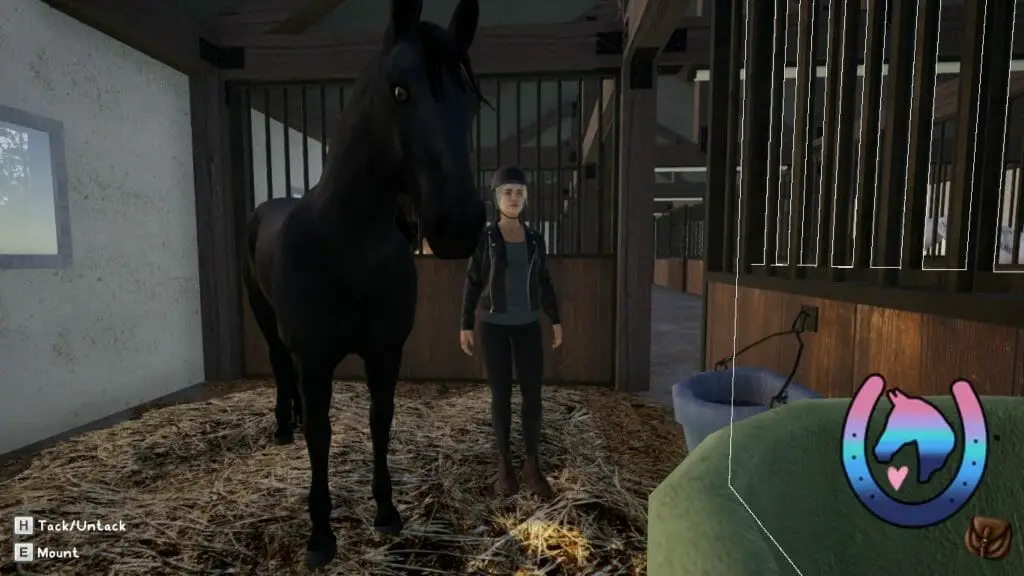 That Horse Game is a single player horse game that is also still being developed. There is currently a demo available. This game seems to intended for all ages.
You get to customize your character and in the demo you get to explore the farm and trails. I can see the potential in this game and am excited to see what they keep adding to it.
Right now you can ride in the outdoor, indoor arena, cross country course and jump arena. You can lead the horses and put them out in the field or in their stalls. There are several horses of the same model available in different coat colors.
My favorite things about this game are the realistic graphics and the fact that you can do some dressage movements on the horse. You can leg yeild, extend the gaits and collect the gaits.
My least favorite thing is how laggy and blurred the game can be around the farm area and how fast the camera moves when you look around with the mouse.
Game 15: Farming Simulator 19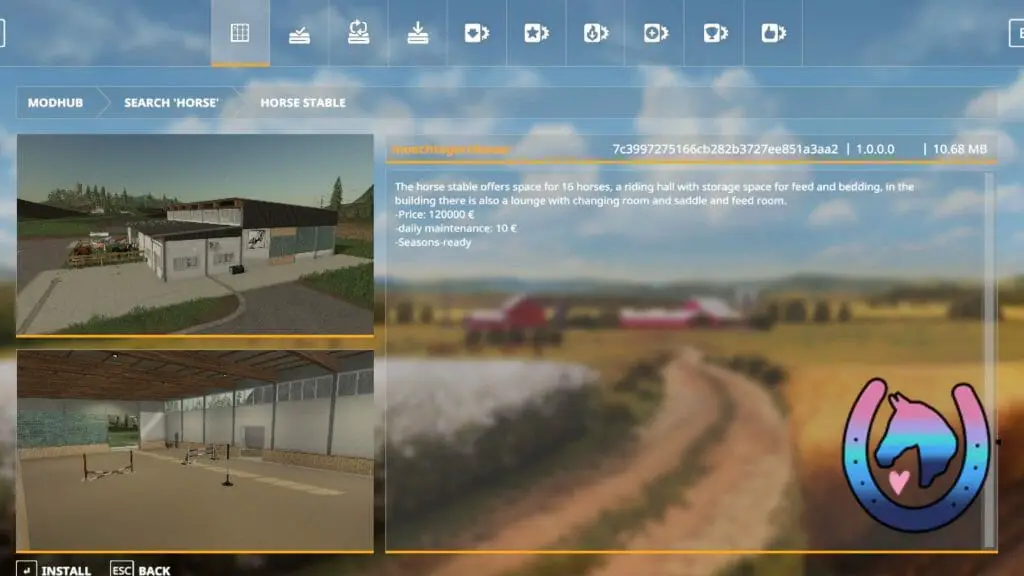 Farming Simulator 19 is not a horse based game but you can own horses on your farm. It is a single player game and is rated for ages 3 and up.
In this game you get to have your own land to farm on. Part of that is owning different animals and as well as planting, growing, and harvesting crops of course. 
 Horses are one of the animals you get to own and there's different things you get to do with the horses. 
Features with horses in the game include:
Caring for the horses by

providing water
feed
straw bedding
and cleaning horses

Ride the horses around to keep them fit
Buy and sell horses
Explore the map with your horse
There are also player created mods available through Farming Simulator 19 that can improve the horse game play experience. Adding breeding, better horse facilities, jumps and first person view for riding.
My my least favorite things about this game is that you can't breed the horses, the horse management and business is limited to just buying and selling and the horses' jump animation is weird.
My favorite thing is that you are able to own and sell horses in the game.
Game 16: Ark Survival Evolved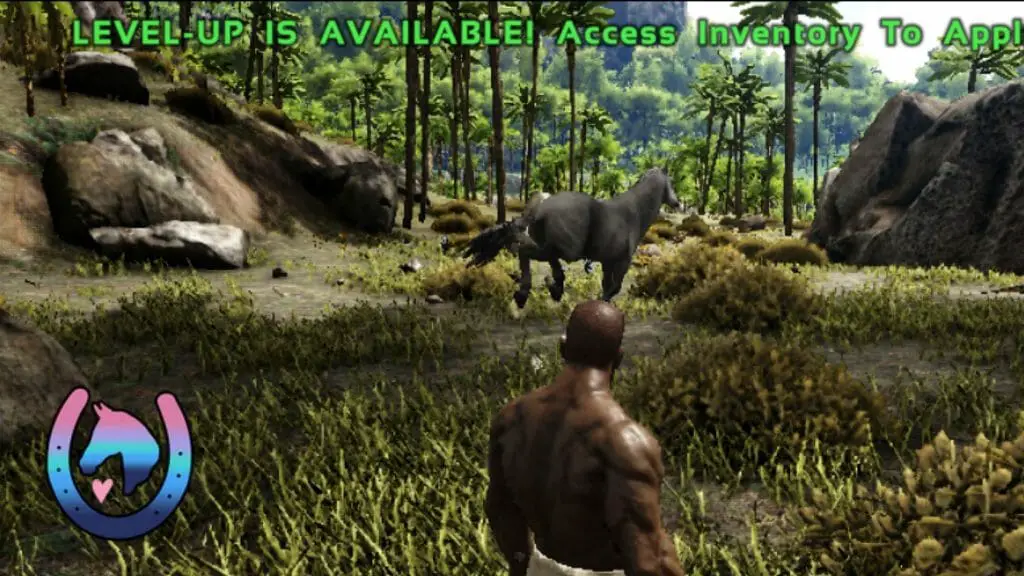 Ark is not a horse game, although they do have an equus you can capture in the game. Ark is a survival game with prehistoric and fantastical creatures. It is geared for teens and adults, due to violence in the game.
There is a way you can make this a more horse centered game with mods. I actually find this kind of fun as a horse game. It's very different from what you would normally play as a horse game.
You are trying to survive and thrive in prehistoric setting with dinosaurs and other creatures. In order to make it more of a horse game you do have to add a couple of mods.
However you can build a horse barn with the materials you create from different resources.
The mod that I like to use is called the "MarniiMods: Horses" mod and it spawns different types of horses in different areas of the game.
It is a lot of fun catching and collecting these horses and then just riding them around the world and you can build up their levels and endurance as well as speed and fighting ability.
Not a game that you would think of as a horse game but can still be fun for a horse lovers who are looking for a different game to play.
My favorite thing is riding the horses around a world filled with prehistoric creatures and trying to survive.
My least favorite things about Ark are when I die. Which happens a lot in the beginning, or when my horse dies.
Conclusion
All 16 of these games are worth a play if you are looking for some horse games to try out.
However if I had to share my top 3 favorite games from this list. It would be Sims 3 Pets, Red Dead Redemption, and Tales of Rein Ravine.
Sims 3 Pets is an old classic. It is fun to play and design your own farm with horses, just how you would want it. I love that there is a community of horse lovers in Sims 3 that have made mods to improve the look of the game and horses. It makes it that much more fun.
Red Dead Redemption II is for mature audiences. It's not a horse centered game but it is one of the best as far as realism, graphics, animations and free riding in an open world.
Tales Of Rein Ravine is not finished and only a demo but I see the potential and it is so realistic in it's animation, graphics and how you control the horse when you ride. I am very excited for this game to be finished!
Leave a comment.
What is your favorite horse pc game of all time?
Don't Miss A Thing!
Follow me on Twitter, Facebook , Pinterest and Instagram. Or why not subscribe to Joyful Equestrian and get my blog posts delivered right to your inbox as they are published?
Freebie Printable Checklist For The Best PC Horse Games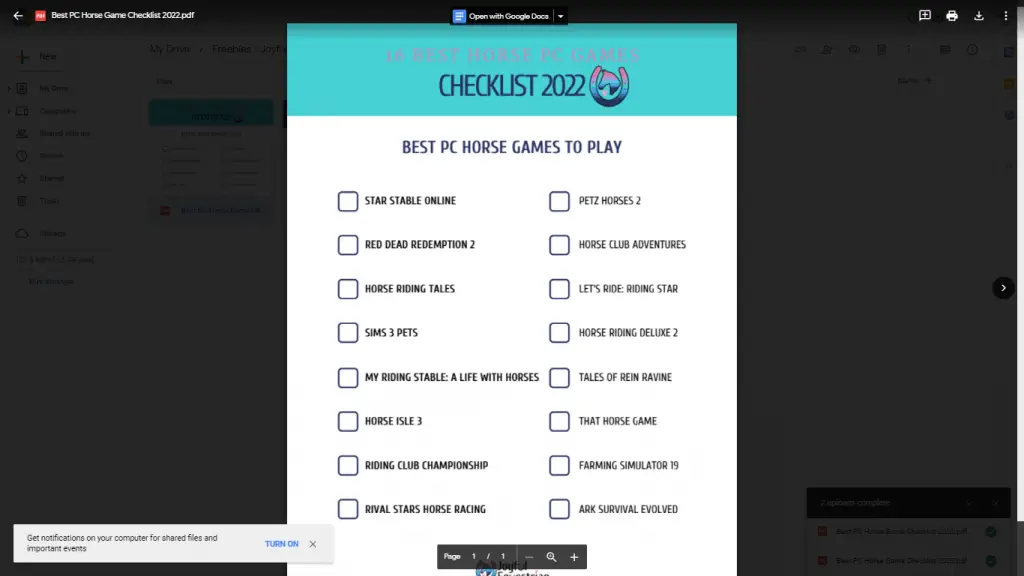 PDF Best Horse Games Checklist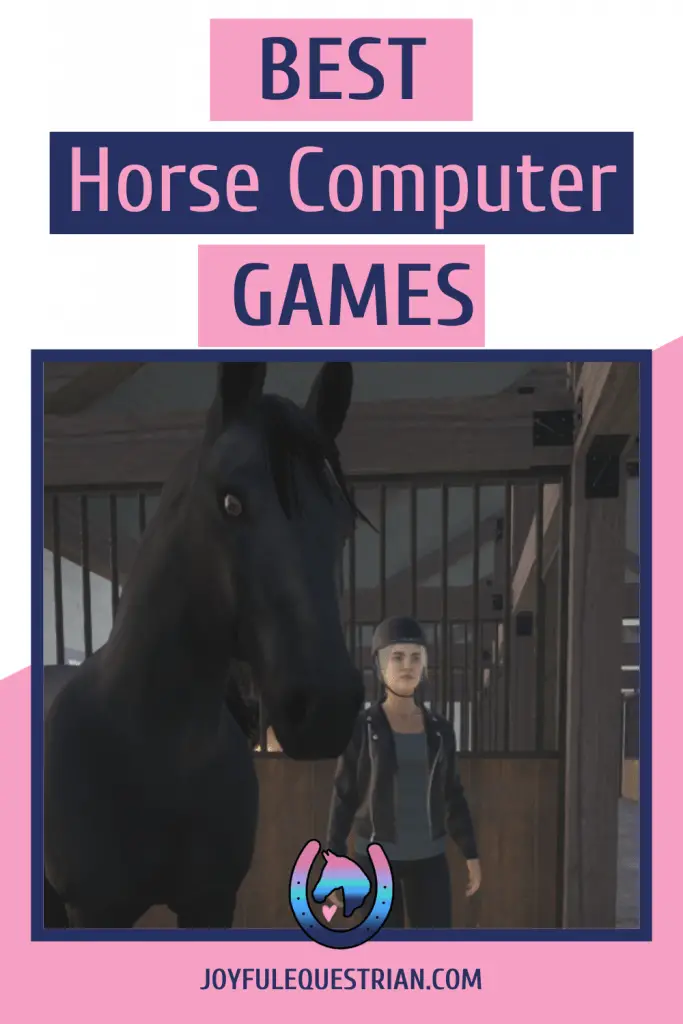 The Best Horse Computer Games Of 2022
Kacey has been riding and working with horses since 1998. She got an A.S. in Equine Industries from the University of Massachusetts Amherst, where she was also on the UMass dressage team. She was certified by the American Riding Instructors Association and is licensed to teach riding in Massachusetts. She has been a barn manager and has run a boarding and lesson barn. Kacey was a working student at several eventing and dressage barns. She has owned horses, leased horses, and trained horses from untouched to green as well as retrained racehorses. For more on Kacey, you can look at her About The Blog page.