Here is a collection of 100 inspirational quotes with horse pictures to go along with a handful of them. These are perfect for the equestrian.
In my mind quotes are meant to inspire, motivate, give a morale boost, a chuckle, bring perspective, hope or joy. 
Some of these inspirational quotes are not directly about horses but can pertain to your equestrian experience and journey with horses and riding.
Grab a drink, relax and let the quotes work their magic on your horse loving equestrian soul and mind. For more horsey inspiration I have included a few inspirational horse videos at the bottom of the post.
Here Are The 100 Horse Quotes
"You carry a certain amount and type of light with you wherever you go, and when you approach a horse, that light can be repelling or attracting. Your bearing is the air about you, your outlook, your manner. With it, you might fool some people on occasion, but you never fool a horse."

― Cherry Hill, 
A true horseman does not look at a horse with his eyes, he looks at his horse with his heart.

– Allan J. Hamilton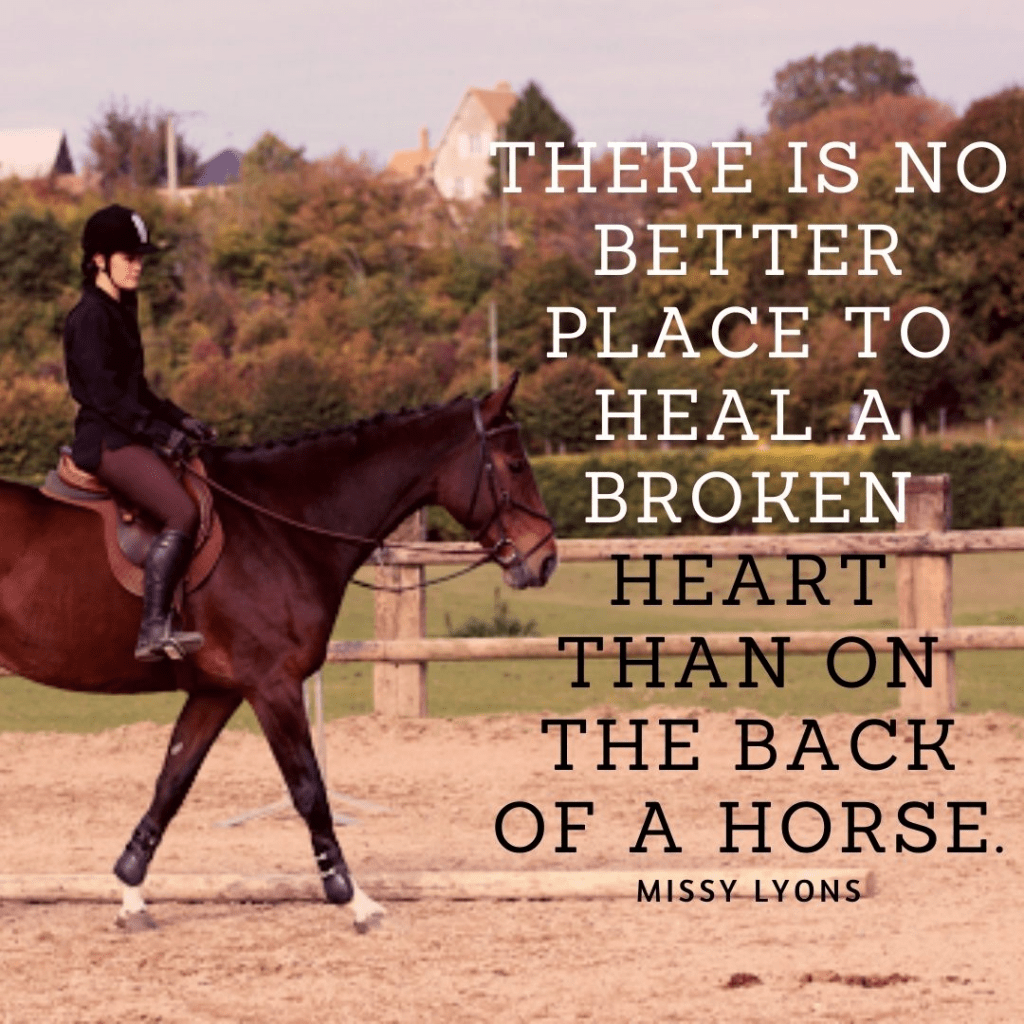 It is the difficult horses that have the most to give you.

– Lendon Gray
If your horse says no, you either asked the wrong question, or asked the question wrong.

– Pat Parelli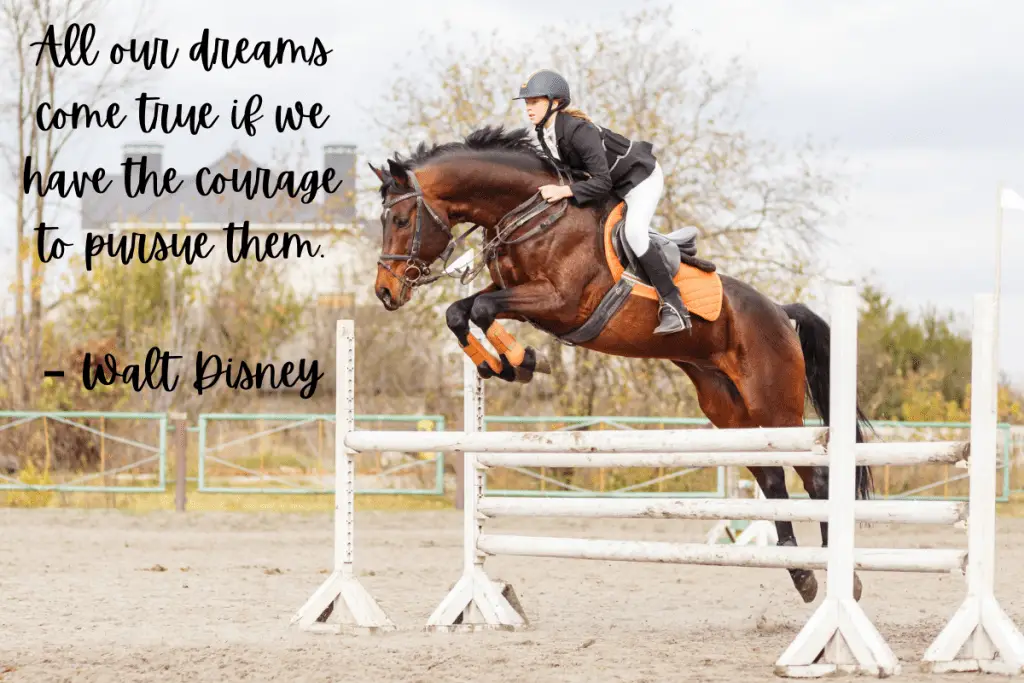 Average talent, plus hard work and dedication, will always beat talent by itself.

Clinton Anderson
To change your horse you must first change yourself!

Clinton Anderson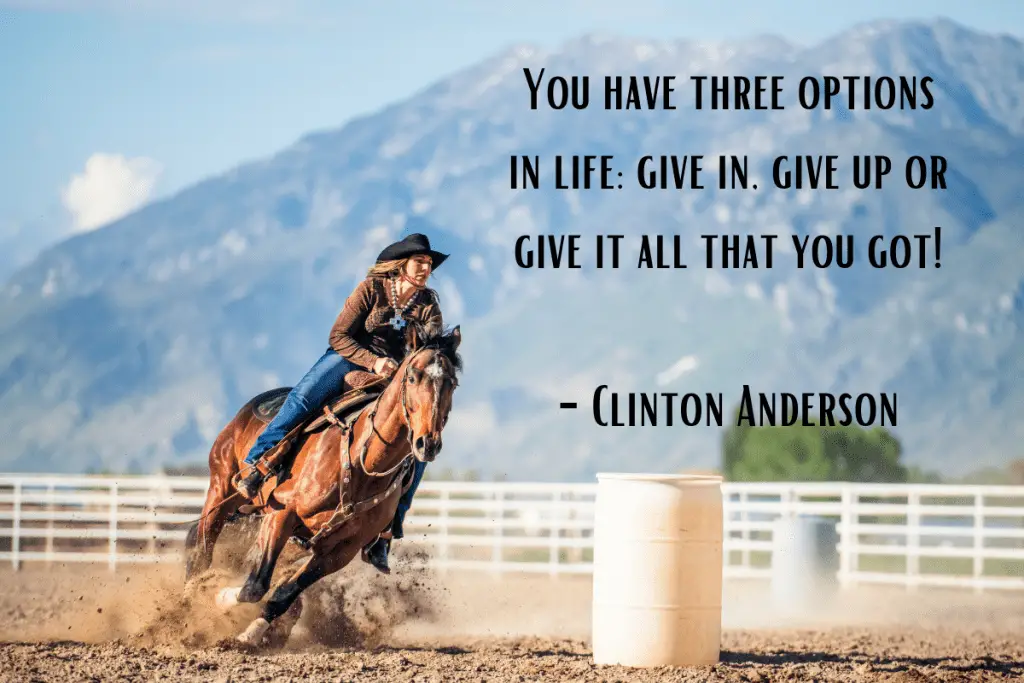 When you feel like quitting think about why you started.

– Clinton Anderson
Some dream of success while others wake up and work hard at it.

Clinton Anderson
Stop being afraid of what could go wrong and start being positive about what could go right.

– Clinton Anderson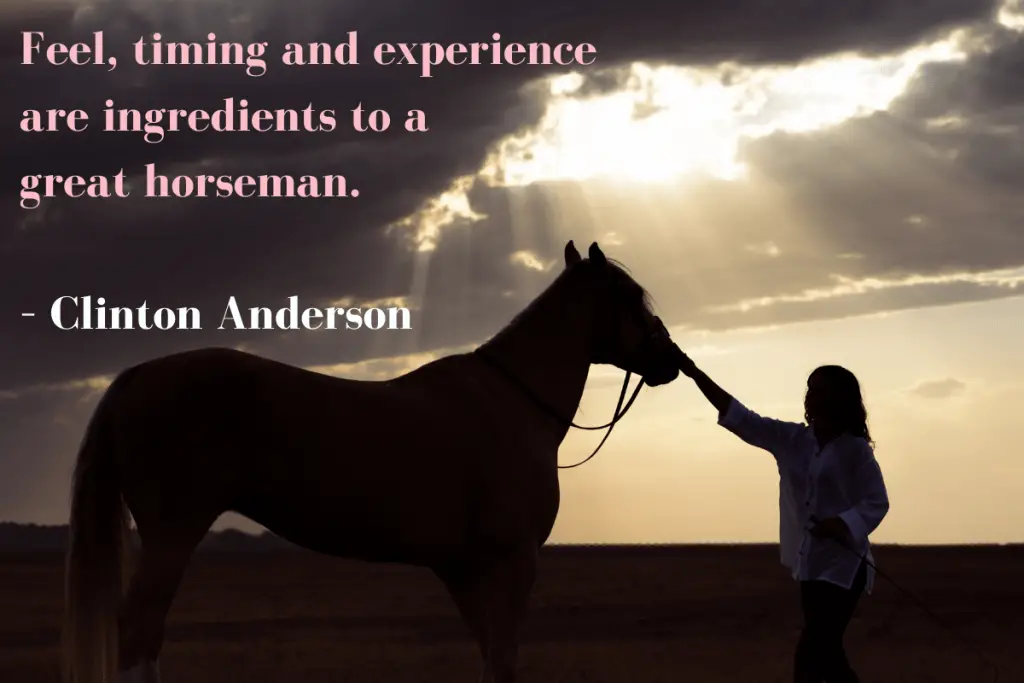 Give a horse what he needs and he will give you his heart in return

– unknown
I live in a house but my home is in a stable.

Anonymous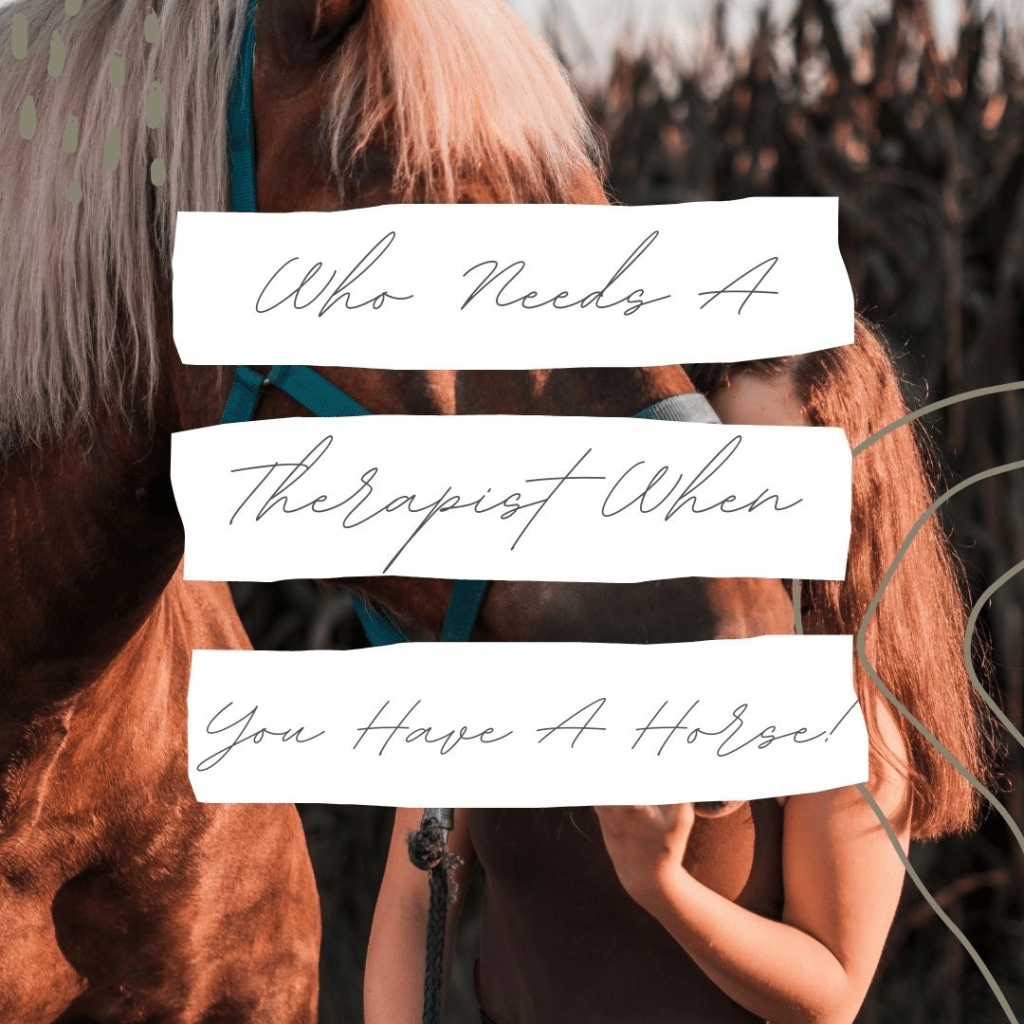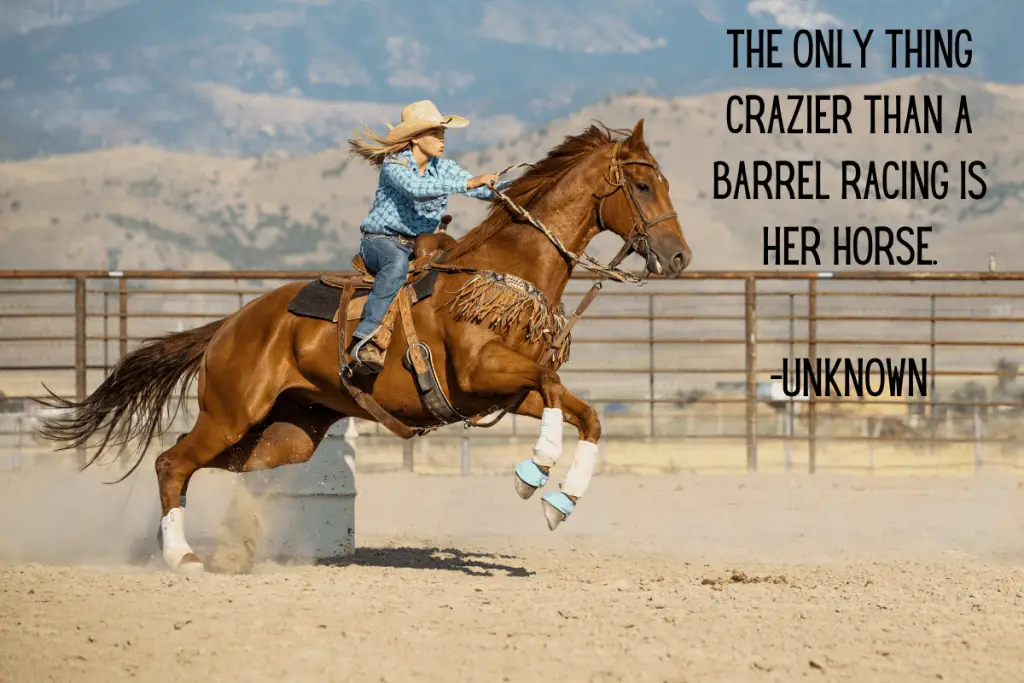 The only thing crazier than a barrel racing is her horse.

-unknown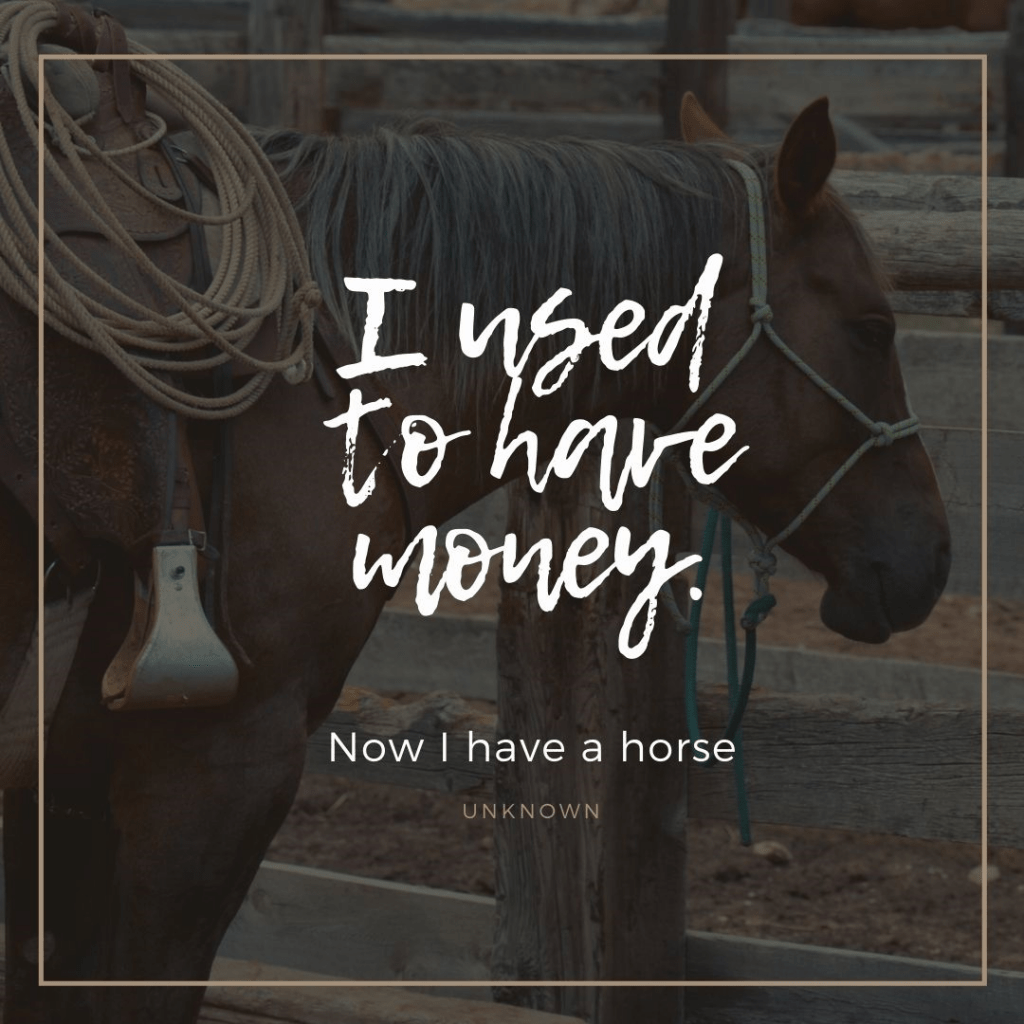 I used to have money now I have a horse.

-UNKNOWN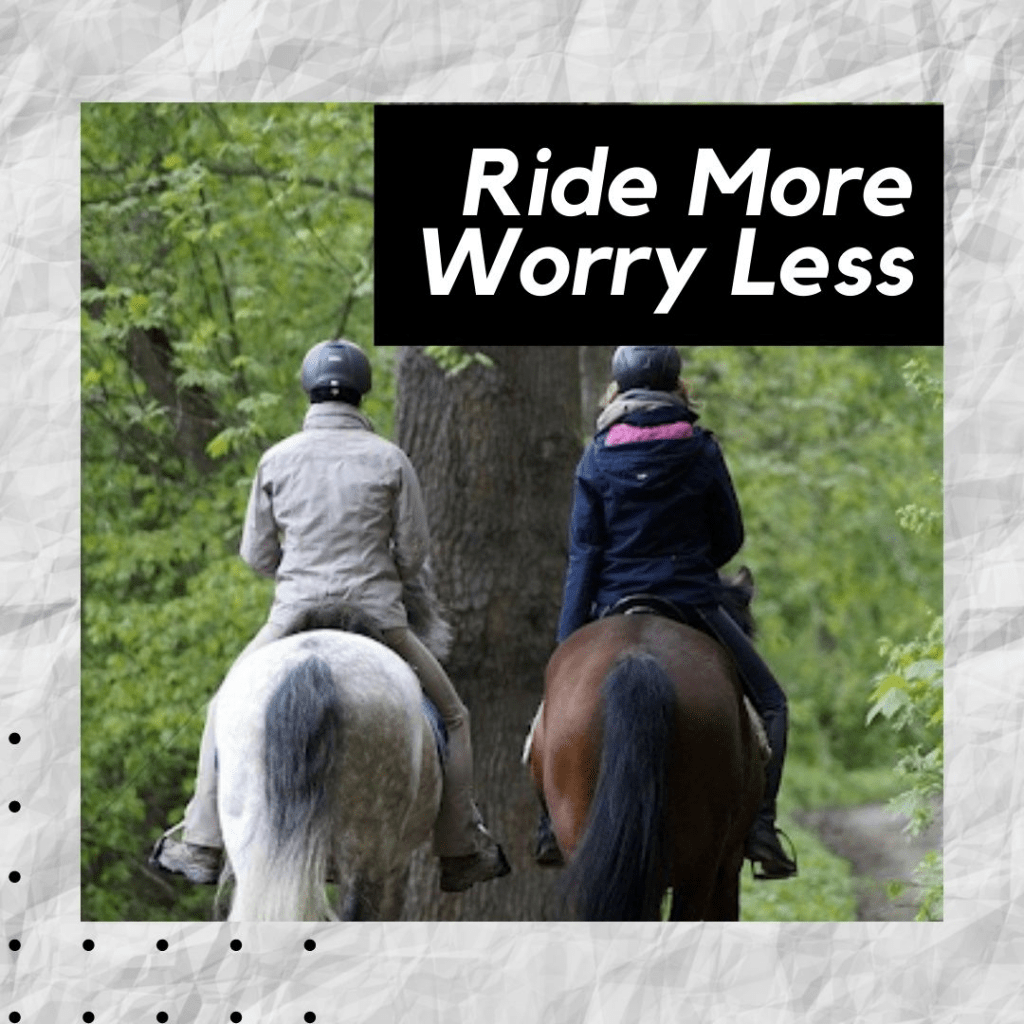 Ride More Worry Less

-unknown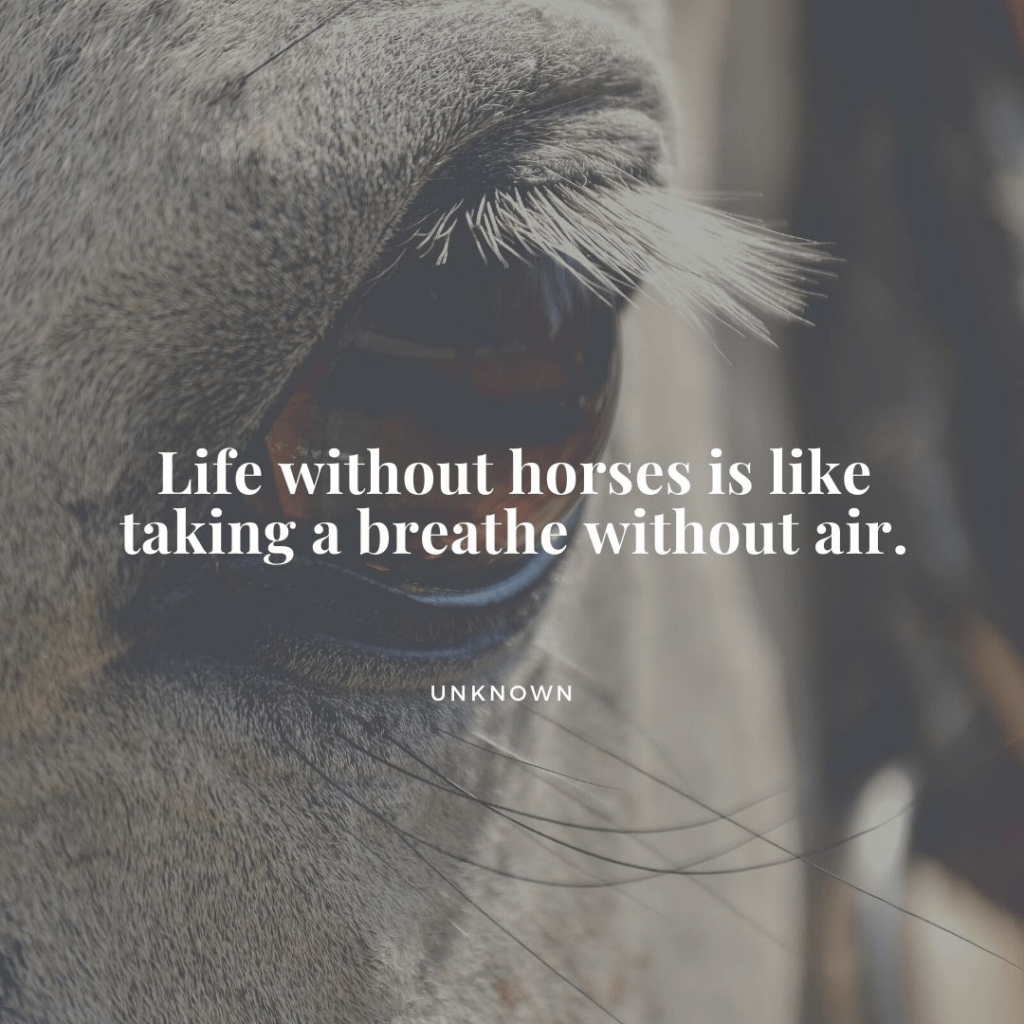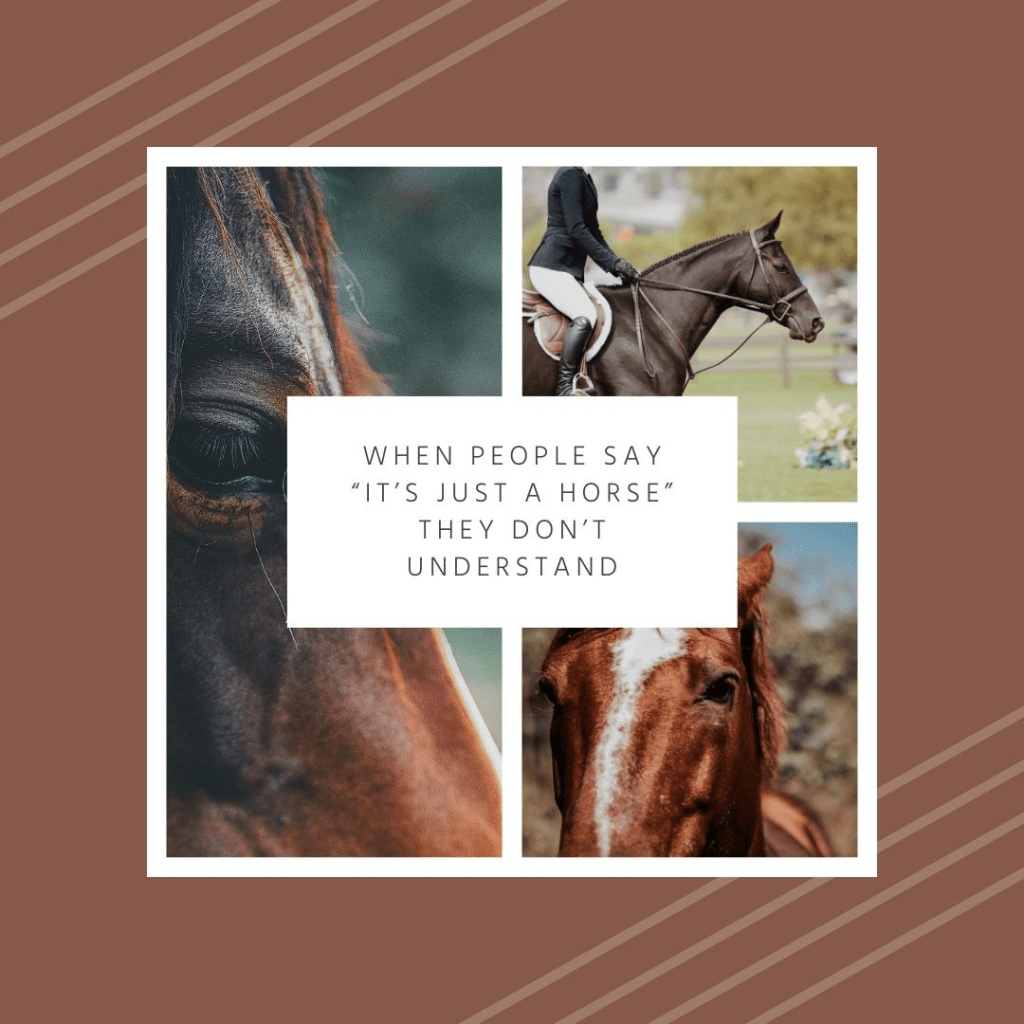 When people sat "it's just a horse" they don't understand

-unknown
Progress always begins when your comfort zone ends.

-unknown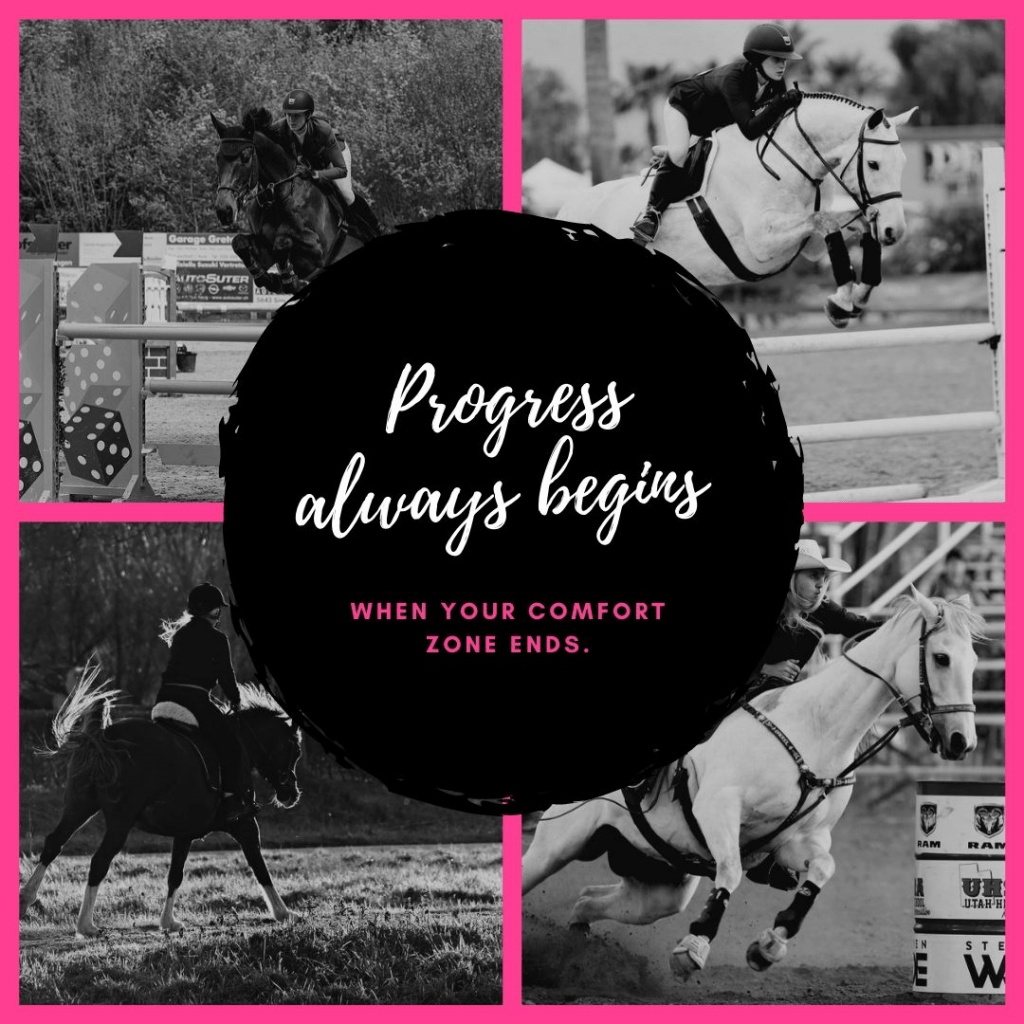 We don't meet horses by accident. They were meant to cross our path for a reason.

-unknown
They're the most forgiving creatures God ever made

– Nicolas Evans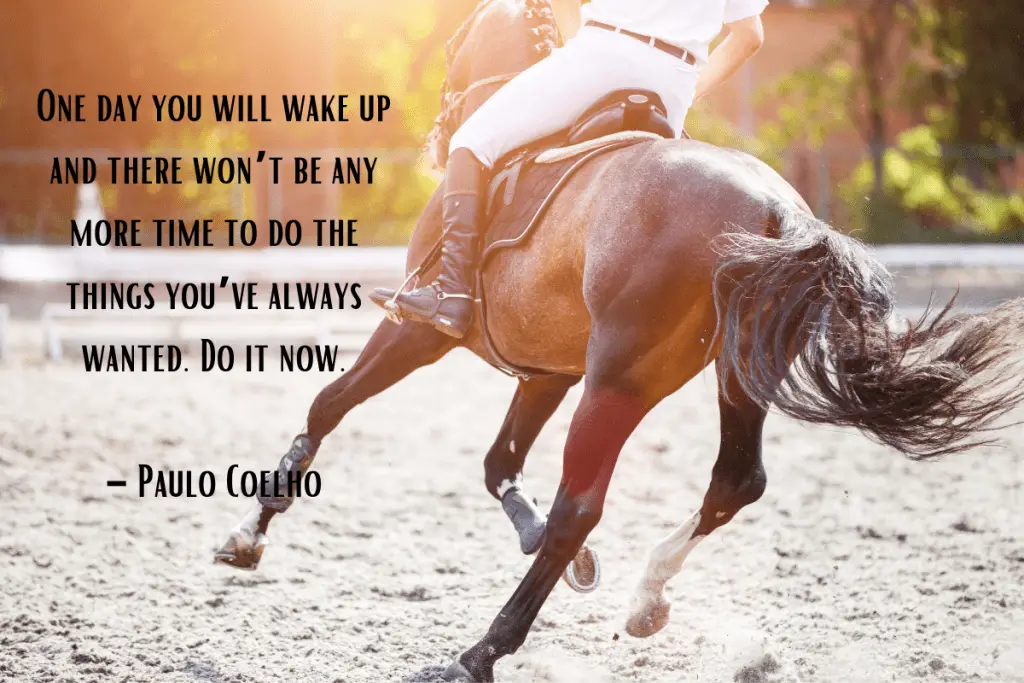 It's a beautiful thing to meet someone who makes you forget your troubles.

-UNKNOWN
Behind every legend lies an impossible dream.

-UNKNOWN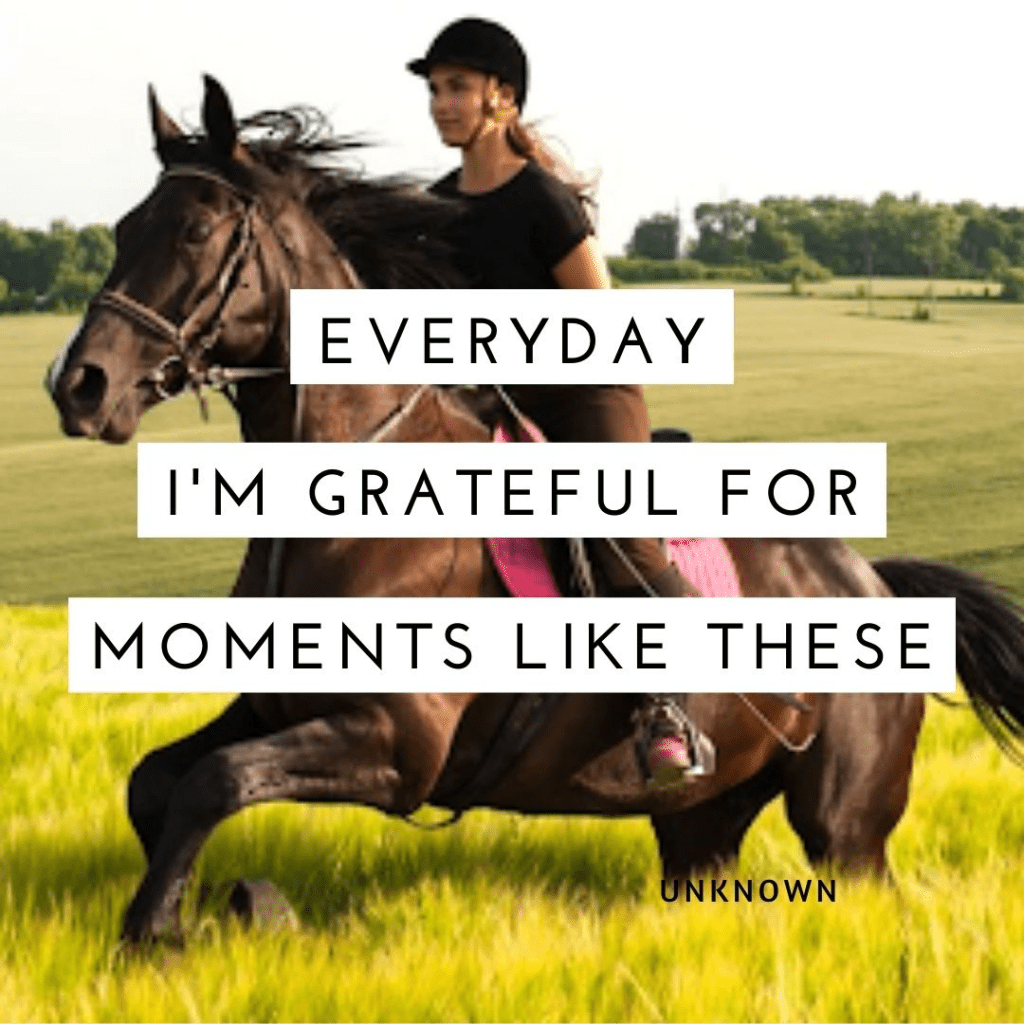 If the plan doesn't work then change the plan but never the goal.

-UNKNOWN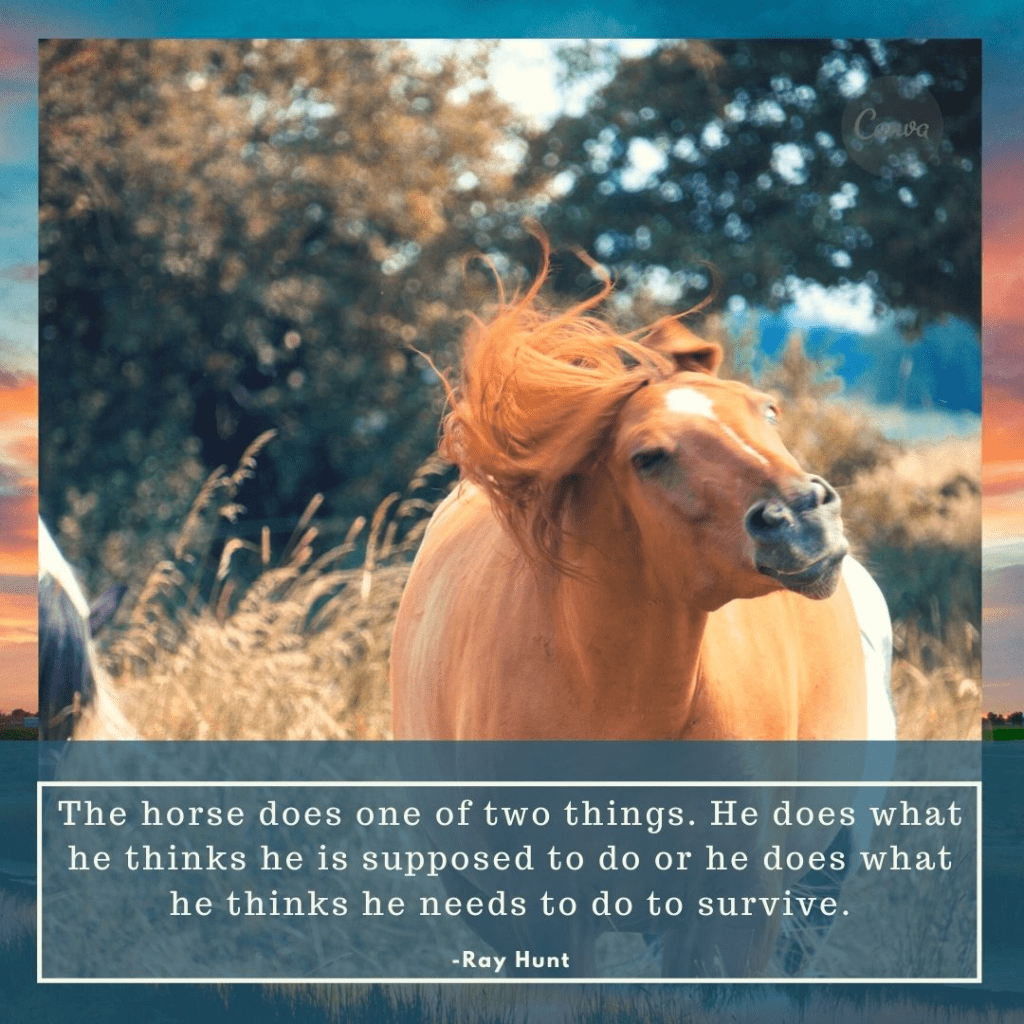 Focus on where you want to go not on what you fear.

-UNKNOWN
You get what you work for not what you wish for.

-UNKNOWN
Great things never came from comfort zones.

-UNKNOWN
Expect a lot, accept a little and reward often.

-UNKNOWN
Happiness does have a smell!

-UNKNOWN
If you wait for perfect conditions you will never get anything done!

-UNKNOWN
In the end we only regret the chances we didn't take.

-UNKNOWN
Be fearless in the pursuit of what sets your soul on fire-

-UNKNOWN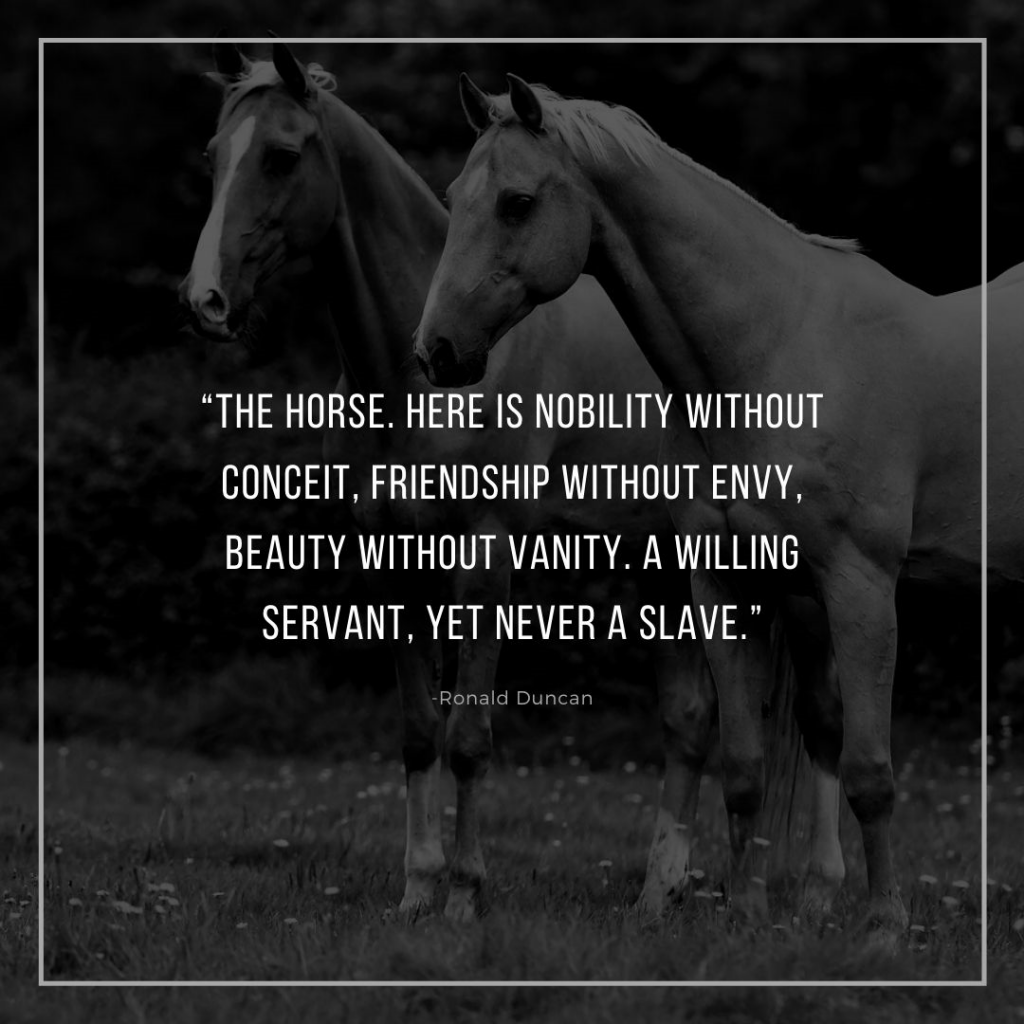 "The horse. Here is nobility without conceit, friendship without envy, beauty without vanity. A willing servant, yet never a slave."

Ronald Duncan
"The horse, with beauty unsurpassed, strength immeasurable and grace unlike any other, still remains humble enough to carry a man upon his back."

Amber Senti
"The horse moved like a dancer, which is not surprising. A horse is a beautiful animal, but he is perhaps most remarkable because he moves as if he always hears music."

Mark Helprin, A Winter's Tale
"Through the days of love and celebration and joy, and through the dark days of mourning – the faithful horse has been with us always."

Elizabeth Cotton 
"Riding never gets easier. You just get better."

Author Unknown
"A good rider can hear his horse speak to him. A great rider can hear his horse whisper."

Author Unknown
"YOU DON'T HAVE TO BE GREAT TO START, BUT YOU HAVE TO START TO BE GREAT."

–ZIG ZIGLAR
"BE STUBBORN ABOUT YOUR GOALS AND FLEXIBLE ABOUT YOUR METHODS."

–UNKNOWN
Good, better, best. Never let it rest. 'Til your good is better and your better is best.

St. Jerome
Life is 10% what happens to you and 90% how you react to it.

Charles R. Swindoll
Set your goals high, and don't stop till you get there.

Bo Jackson
Once you replace negative thoughts with positive ones, you'll start having positive results.

Willie Nelson
If you're not making mistakes, then you're not doing anything. I'm positive that a doer makes mistakes.

John Wooder
You cannot have a positive life and a negative mind.

Joyce Meyer
Ability is what you're capable of doing. Motivation determines what you do. Attitude determines how well you do it.

Lou Holtz
Although no one can go back and make a brand new start, anyone can start from now and make a brand new ending.

-Carl Bard
Be positive, patient and persistent. –
Shine like gold, sparkle like glitter

-UNKNOWN
Be the person your horse would follow anywhere.

-Northstarhorse.com
Consistent small steps lead to amazing results-

-UNKNOWN
Everything happens for a reason. Learn the lesson and move forward. –

Natasha Althoff
Success is a journey not a destination.

-UNKNOWN
Inspirational Horse Videos
These videos I picked out are to inspire you to keep going with your riding dreams, to not give up or be controlled by fear or your limitations, to see what is possible with horses and the amazing relationship you can have with these animals. Enjoy.
I hope you enjoyed reading and watching these inspirational horse quotes and videos. 
Maybe a few quotes resonated with you that you may want to write down to read when you really need it most. Or maybe one of the videos touched you and you may want to add it to one of your YouTube playlist to listen to again in the future.
Hoping this lifted your spirits and encouraged you in your equestrian journey.
Is there a quote you love that inspires you but is not listed here? Would love to see it in the comments!
May horses always make your heart smile!
-Kacey
P.S. Did you like this article? Gallop over to:
Kacey has been riding and working with horses since 1998. She got an A.S. in Equine Industries from the University of Massachusetts Amherst, where she was also on the UMass dressage team. She was certified by the American Riding Instructors Association and is licensed to teach riding in Massachusetts. She has been a barn manager and has run a boarding and lesson barn. Kacey was a working student at several eventing and dressage barns. She has owned horses, leased horses, and trained horses from untouched to green as well as retrained racehorses. For more on Kacey, you can look at her About The Blog page.