To the inexperienced horse person it may seem like equestrians are wearing leggings horseback riding.
But they are actually wearing riding breeches or riding tights.
Leggings are stretchy. They are comfortable. They are inexpensive when compared to most breeches and riding tights.
And you probably have a pair in your dresser.
So is it okay if you wear leggings horseback riding or not?
Stay tuned! In this article I will:
answer that question
explain the pros and cons of leggings horseback riding
answer some related questions you may have
and make some recommendations for riding pants
Table of Contents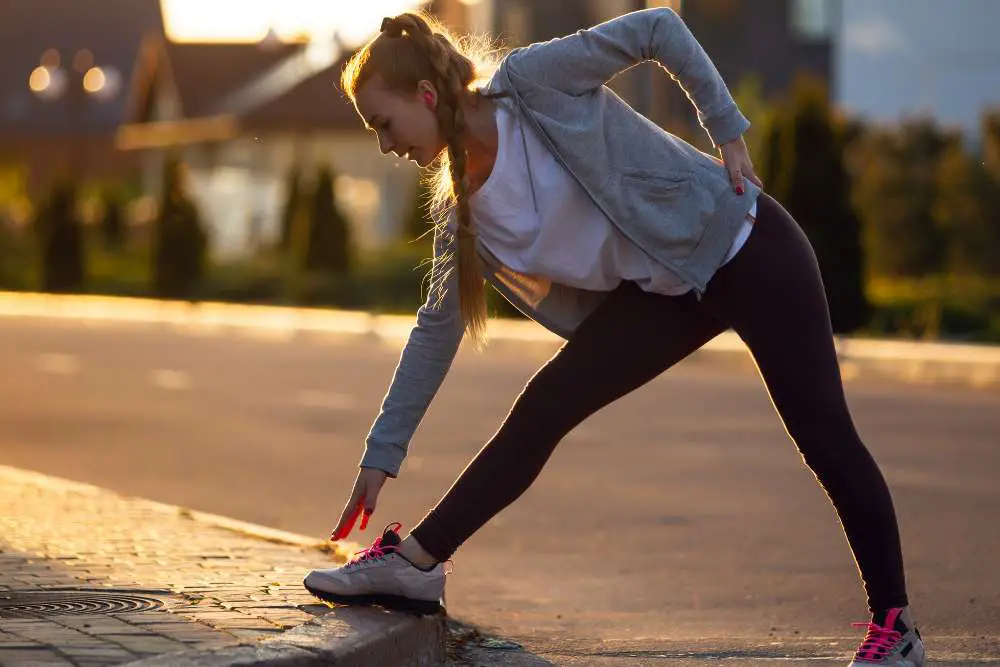 Can You Wear Leggings Horseback Riding?
The short answer is yes you can wear leggings horseback riding. There's no specific rule against their use while riding. But, if you are taking riding lessons, you should find out which riding pants are okay. When a rider is just beginning, most lesson programs allow jeans and leggings. If you want to compete, you will need to buy the correct riding pants for your sport.
However, do I recommend riding in leggings on a regular basis?
No I don't recommend riding in them all the time.
In the next couple section I am going to answer why I don't recommend wearing leggings as your go to pair of riding pants.
Then I will explain when wearing leggings horseback riding is understandably acceptable.
If you want to buy a pair of riding breeches I have a guide to help choose the best pair for you based on purpose, style, materials, sizing, and more.
Check out the page here: Best Equestrian Breeches For Schooling and Show.
Why Don't I Recommend Wearing Leggings While Horseback Riding
It is not that you shouldn't ride in leggings at all or that you can't.
They are certainly fine when you just start out horseback riding or if it is what you have available at the moment.
These are just some cons of wearing leggings while horseback riding that you should know about.
My biggest reason for beginners to forgo the leggings is lack of security.
Leggings have no grip and are slippery in the saddle.
I would recommend full seat breeches or at least breeches with longer knee patches. This will help the beginner rider feel more secure in the saddle.
My biggest reasons for more experienced riders is that not only does it not look very professional but the thin materials tend to wear down more quickly than breeches made for riding.
Not to say breeches don't wear down either. But I have noticed wearing leggings riding on a regular basis I get holes more quickly in the crotch and inner thigh area.
Cons of wearing leggings horseback riding:
They were not designed for horseback riding.
The inseam can rub on your inner legs.
The thin material tends to wear down more quickly. (Although many leggings these days are a thicker material than they used to be.)
Lack of protection can cause your legs to be rubbed raw. (This can be solved with half chaps or tall boots.)
There is no grip and leggings can be slippery in the saddle.
Not to mention your underwear lining is even more noticeable, especially talking about thin leggings.
At some barns, lesson programs, and clinics it is looked down on to ride in leggings and not proper riding pants.
When Wearing Leggings Horseback Riding Is Acceptable
I love to wear leggings, they are so comfy and although I personally would not want to wear them riding all the time. There are certain times wearing them is totally acceptable.
So when is it okay to wear leggings?
It is okay when:
You don't have breeches or riding tights for English riding or jeans for Western riding available at the time and you only have leggings.
You are on vacation and decide to go riding spur of the moment and the only pants you have that don't wrinkle, rub or bind are leggings.
You are doing a one-time ride on your friend's horse or a one-time trail ride with friends or family and you only have leggings.
You are riding your own horse, you are comfortable riding in leggings and you don't care if they are not proper riding pants.
You don't plan to make horseback riding a regular hobby.
If you do decide to ride in leggings, make sure they are full-length to protect your calves from rubs or pinching and thick enough with no see-through areas, because I am sure you don't want the world to know what kind of panties you wear.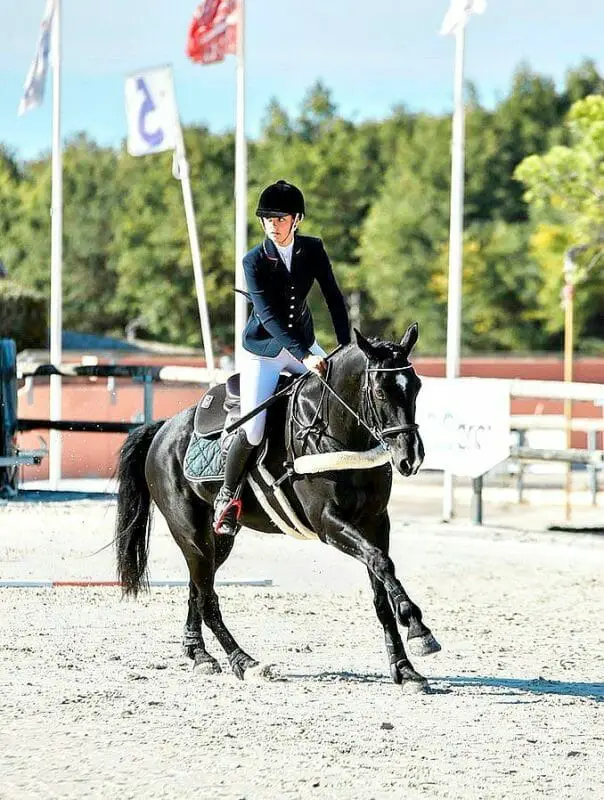 10 Reasons To Invest in Riding Tights Or Breeches
Breeches and Riding Tights were designed for the purpose of riding. They provide you with comfort and safety, not to mention they come in all different options for the style of riding, body type, and colors of course.
1. Longer Lasting
Riding pants are made for the rigors of the ride and are built to last, unlike leggings which will wear down very quickly. You are more likely to get holes in leggings than you would with breeches. The material in leggings is thinner and not as durable as they are in breeches and riding tights.
2. Protects Legs From Rubbing
Leggings may be comfortable off the horse but on the horse riding pants are more comfortable. They have a knee patch or full seat option which protects the legs where there is extra rubbing, from all the movement in the saddle.
3. Inseam Is Better For Riding
The inseam on breeches and riding tights is meant for riding. Instead of having an inseam on the inside of the leg, breeches and riding tights have the inseam on the outside. This makes it much more comfortable for you when riding.
4. Better Grip in the Saddle
The knee patch or the full seat option protects areas of extra rubbing and provides you with a better grip on the saddle. This is unlike leggings which can be slippery. These patches are usually a suede-type material but may also come in silicone.
5. Longer Length
Breeches and riding tights although not always in the past, now tend to be longer in length down to the ankles. Though leggings do come down to ankle length they are more often found cropped above the ankles.
6. Belt Loops
Leggings do not offer belt loops and there are some riding tights that don't either. But many breeches and riding tights do have belt loops. Wearing your shirt tucked in with a belt looks proper. But more than that it is a safety measure. In Pony Club we learned to use our belts as an emergency restraint if a horse gets loose without a halter or bridle.
7. Affordable Prices
It used to be that breeches and riding tights were very expensive and they still are expensive pairs today, but there are also more inexpensive pairs available than there used to be. Especially the riding tights you can find at a very affordable price point. Just remember in general the quality is not always as good as the more expensive pairs.
8. Cell Phone Pockets
Many breeches and riding tights are now coming out with cell phone pockets. Especially perfect for when you are out on a trail ride in case of an emergency.
9. Looking More Professional
Although this is not the most important part of why you should invest in a pair. It also doesn't make you a professional. You will look more put together, and respectable and be taken more seriously.
10. Seasonal Options
They also come in styles designed for the summer or the winter, to optimize your riding experience.
My Favorite Brands For Breeches and Riding Tights
So I have some brands that I really like that I would love to share with you. I have linked it with an amazon search so you can look around and browse. I am putting the brands in order of my favorite first.
Pants are just a part of your riding outfit. Check out my other articles on equestrian attire at the bottom of this page.
New Riding Leggings On The Market
You may have noticed their are now riding leggings on the market.
I wondered what was the difference between riding leggings compared to breeches and riding tights.
What I found out is that "riding leggings" is just a new term being used for "riding tights".
Maybe because so many people wear leggings nowadays and because it is so mainstream, many people were searching the term leggings for riding. So they thought "Let's create a new name that aligns with what people are looking for".
That is my theory at least.
This is what horsze.com (riding gear shop) says on their riding tights page:
Riding tights (or leggings) are a relatively recent phenomenon, though they are becoming increasingly popular. Wearing horse riding tights feels as comfortable as sitting not in the saddle, but on a sofa, though they still perform all the functions of breeches.
Horseback Riding Leggings To Check Out
Here are a couple brands of horseback riding leggings that I found around the web.
I don't get any commissions from these. I am just sharing, so you can check them out.
My Favorite Non-Riding Leggings For Horse Lovers
Because we are on the topic of leggings I thought I would make a few suggestions for those interested in some fabulous horsey leggings. I love wearing leggings. It is a staple in my wardrobe.
Though I don't tend to ride in leggings I enjoy wearing them on the daily. I believe every horse lover should have a pair of horsey leggings in their collection. Check these bad boys out and see which one suits your liking.
I'd Like To Hear From You
Are you interested in starting horseback riding as a hobby? Do you already ride horses? Do you own horses?
Happy Horse Riding,
Kacey
P.S. Did you like this article? Gallop over to:
Kacey has been riding and working with horses since 1998. She got an A.S. in Equine Industries from the University of Massachusetts Amherst, where she was also on the UMass dressage team. She was certified by the American Riding Instructors Association and is licensed to teach riding in Massachusetts. She has been a barn manager and has run a boarding and lesson barn. Kacey was a working student at several eventing and dressage barns. She has owned horses, leased horses, and trained horses from untouched to green as well as retrained racehorses. For more on Kacey, you can look at her About The Blog page.